Value of fixed mortgages moved back above 50% of total in May, just 13 months after a record high 63% was floating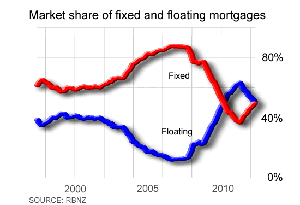 By Gareth Vaughan
 The percentage of home loans by value on fixed-term mortgages almost certainly smashed back through 50% of the total last month, a dramatic turnaround from 13 months earlier when the value of floating mortgages hit a record high.
The latest monthly data from the Reserve Bank shows $90.368 billion worth of home loans on fixed-terms as of the end of April. That's 49.33%, and up from just 36.8%, or $64 billion a year earlier.
 The Reserve Bank started tracking fixed versus floating data in 1998. The 63% on floating rates in April 2012 marks the high point for floating rates. As of April this year, 50.61%, or $92.724 billion worth of mortgages, were on floating rates. The balance of $89 million, neither fixed nor floating, was unallocated.
 The surge back to fixed-term mortgages means if the Reserve Bank was to raise the Official Cash Rate from its record low of 2.5% any time soon, any feed through to the mortgage belt would take time to gain momentum. 
Banks' advertised "special" home loan offers are all currently for one to three-years. Some advertised one-year "special" rates are at 4.95%, which is up to 80 basis points below the major banks' advertised floating rates of between 5.65% and 5.75%. See all advertised bank home loan rates here.
Year-on-year, from April 2012 to April this year, the value of floating mortgages fell $17 billion, or 16%, to $92.724 billion. That came even as the overall total value of mortgages rose $9 billion, or 5%, to $183.181 billion. The value of fixed mortgages, meanwhile, surged $26.272 billion, or 41%, to $90.368 billion.
Of the total fixed, $79.858 billion, or 88%, is fixed for less than two years.
 See all our fixed versus floating stories here.
This article was first published in our email for paid subscribers. See here for more details and to subscribe.