Bank fixed-term mortgage rate cuts drive move by customers away from floating mortgages and back to fixed-term loans, Reserve Bank data shows
By Gareth Vaughan
The round of fixed-term mortgage interest rate cuts during April and May has seen a swing by borrowers away from floating mortgages and back to fixed-term loans with net new residential mortgage lending rising NZ$610 million in May.
Fresh Reserve Bank data shows the overall value of residential mortgages up NZ$610 million during May to NZ$173.181 billion. The key growth area was one to two year fixed term deals, with growth of NZ$2.6 billion, or 13%, to NZ$23 billion, as two to three year fixed mortgages fell just NZ$4 million to NZ$5.67 billion. At the same time the value of floating mortgages fell NZ$1.95 billion to NZ$106.865 billion.
The move by borrowers back towards fixed-term loans sees the percentage of mortgages floating, by value, drop from the record high of 63% at the end of April to 61.7% at the end of May. It's the first monthly fall in floating mortgages by value since last August.
Data collected by interest.co.nz shows the average advertised one-year bank mortgage rate was 5.63% on April 20 and had dropped 33 basis points to 5.30% by June 1. And over a two-year timeframe the average advertised mortgage rate fell 22 basis points to 5.59% as all the banks cut fixed-term rates. See more here.
The cuts mean that, ranging from 5.60% to 5.75%, advertised bank floating mortgage rates are now above even most of the advertised two-year fixed-term rates, although some customers in competitive situations are able to get rates of 5.0-5.3%. The major banks' advertised one-year rates range from 5.20% to 5.29% and their two-year rates from 5.30% to 5.65%, although some customers are also getting reductions on these in competitive situations or through brokers. Advertised 18 month rates range from 5.40% to 5.70% See all advertised bank mortgage rates here.
Another standout in the May data is the growth of three to four year fixed mortgages. Up NZ$79 million, or 9%, month-on-month to NZ$989 million, the growth in mortgages fixed for three to four years was steady. However, year to date it's spectacular, rising NZ$458 million, or 86%, to NZ$989 million. Over the same period, mortgages fixed for four to five years are down NZ$4 million to NZ$459 million.
Meanwhile, May's NZ$610 million rise in net new lending is the most in a month since NZ$1 billion last October. The Reserve Bank has been compiling fixed versus floating data since 1998.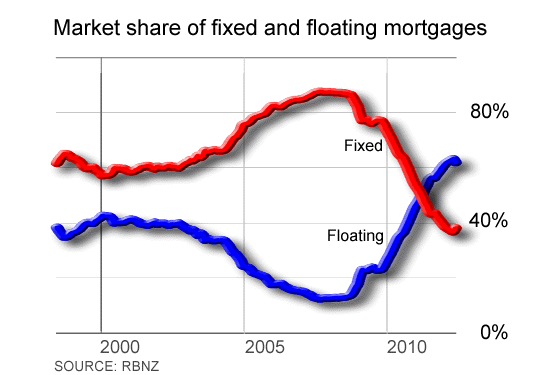 (Update adds video, further detail).
This article was first published in our email for paid subscribers this morning. See here for more details and to subscribe.
----------------------------------------------------------------------------------------------------------------------------------------------
Mortgage choices involve making a significant financial decision so it often pays to get independent professional advice.
A Roost mortgage broker can be contacted by following this link »
----------------------------------------------------------------------------------------------------------------------------------------------