Last year's house prices reflected last year's interest rates says Westpac's Dominick Stephens. This year higher rates will change affordability, renting and property investment decisions he says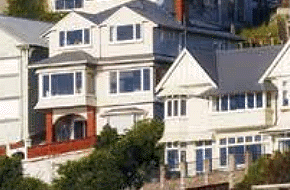 By Dominick Stephens*

There is now no doubt about it.
New Zealand's housing market is slowing.
The number of house sales per month fell 11% over the three months to December, in seasonally adjusted terms – the sharpest decline in house sales since 2009.
Lower turnover is one classic indicator of a market slowdown.
The other is that it takes longer to sell houses.
This month's Real Estate Institute data showed that the number of days taken to sell a house did indeed lengthen a little. The drop in turnover is not purely to do with buyer reluctance.
The realestate.co.nz Property Report showed a sharp drop in new listings, especially in Auckland, and a diminishing stock of unsold homes. It seems sellers are reluctant to put their houses on the market in the current uncertain environment.
The slowdown has hit low-price houses especially hard, indicating that the Reserve Bank's mortgage lending restrictions are having an impact, as are rising mortgage rates. Barfoot and Thompson (B&T, Auckland's largest agency) provide data on sales by price bracket, which we are able to seasonally adjust.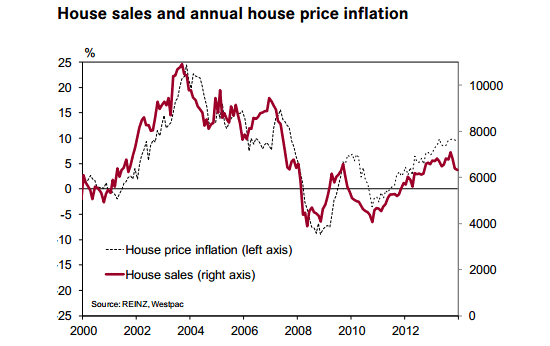 B&T's sales of properties under $500,000 have fallen 26% in the space of three months, while sales over $750,000 have actually risen (both figures seasonally adjusted).
Similarly, the Real Estate Institute reported that nationwide sales of houses under $400,000 are down 14% compared to a year ago, whereas total sales are down just 1%.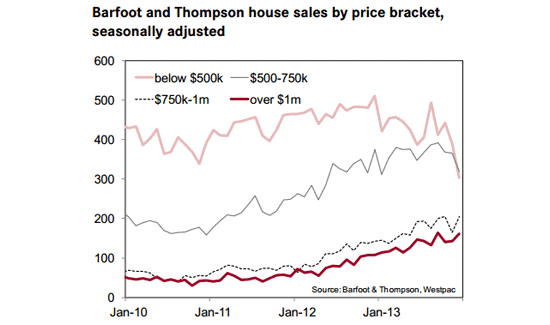 Ironically, the dearth of sales in cheap categories means that the median price of those houses that did sell is higher – up 7% in three months.
We have seen some rather specious reporting casting this jump in median price as good news for property owners!
The REINZ's House Price Index is a better measure of the change in the value of houses on a like-for-like basis. It has risen 1.8% over the past three months.
That said, it remains true that house prices are rising.
House prices tend to follow sales with a lag of a few months, so we expect house price inflation to begin cooling a month or two from now.
We are forecasting 6.5% house price inflation for 2014, down from almost 10% in 2013.
So if the housing market is slowing, will the Reserve Bank persist with its plans to increase interest rates this year?
In a word, yes.
The current housing market slowdown is no more or less severe than the Reserve Bank anticipated when it laid out its plan to normalise interest rates.
One must always bear in mind that the goal of monetary policy is to keep inflation close to 2%. With the Canterbury rebuild hitting its straps, dairy farmer payouts booming, and consumers in an ebullient mood, there is a fair degree of certainty that inflation is set to rise.
So the Reserve Bank has ample reason to lift interest rates even without double-digit house price inflation.
Of course, the housing market and the Reserve Bank dance a two-sided tango. Each affects the other.
Our big concern is that last year's house prices reflected last year's interest rates.
The market may have been operating under the mistaken impression that low interest rates would last forever. As interest rates rise over the next couple of years mortgages will become less affordable, rent-or-buy decisions will swing in favour of renting, and property investment will appear less lucrative.
House prices could come under downward pressure around the middle of this decade.
REINZ housing data, December 2013
| | | | |
| --- | --- | --- | --- |
|   | Dec-13 | Nov-13 | Dec-12 |
| House sales, number, s.a. | 6,319 | 6,390 | 6,568 |
|    Mth % chg | -1.1 | -5.9 | -1.2 |
|    Ann % chg | -1.1 | -6.6 | 8.2 |
| Days to sell, sa | 35.1 | 34.5 | 35.1 |
| House Price Index (s.a.) | 3,842.4 | 3,841.0 | 3,515.9 |
|    Mth % chg | 0.0 | 0.5 | 0.4 |
|    Ann % chg | 9.2 | 9.6 | 6.7 |
---------------------------------------------------------
Dominick Stephens is the chief economist of Westpac NZ. This is a reprint of Westpac's January 21, 2013 "Home Truths". It is used here with permission.