Switch from floating to fixed-term mortgages continues although most fixers are locked in for less than 2 years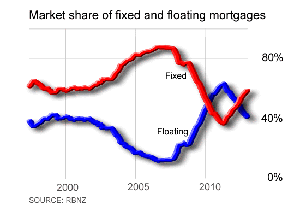 Home loan borrowers continued flocking to fixed-term rates in January with fixed growth of $2.7 billion, and a decline of $1.8 billion on floating, or variable, rates.
The latest Reserve Bank figures show $114.147 billion worth of mortgages were fixed at the end of January, or 59.73% of the $191.090 billion total. Some $76.717 billion, or 40.14%, worth were floating leaving a small balance unallocated.
The month-on-month December to January percentage growth of fixed was 2.4%, and the floating drop was 2.3%.
However, the good news for the Reserve Bank and its much expected cycle of Official Cash Rate hikes from March 13, its that the value of home loans fixed for less than two years is $96.487 billion. That's 84.5% of the fixed total, meaning a lot of borrowers would be likely to feel higher mortgage rates, if they rise, in the pocket at some point over the next couple of years.
 The Reserve Bank's figures show mortgage growth of $958 million in January, or 0.5%, to $191.090 billion.
This article was first published in our email for paying subscribers. See here for more details and to subscribe.