Barfoot & Thompson reports February sales were lower than those for January; big proportion of sales in high price brackets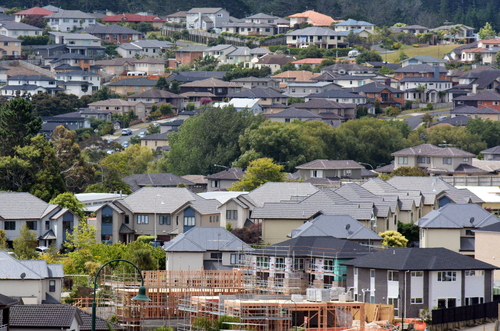 Auckland's largest real estate firm is reporting that February sales of properties were down some 13.6% on those for the same month a year ago.
And the 771 properties sold during the month (compared with 892 in February 2013) was actually lower than the 854 sold during January 2014. ASB estimated that on a seasonally-adjusted basis the February figures were down 13% on those for January this year.
The slowing of the market in February has also been confirmed by latest figures from government valuer Quotable Value.
February/March are generally the particularly busy times for house sales. The last time B&T's January sales exceeded those for February was in 2008, when the market was starting to go from hot to cold in the build up to what would become the global financial crisis.
But the general expectation among economists has been that the full impacts of the Reserve Bank's 'speed limits' on high loan-to-value lending were likely to show from February onwards.
ASB economist Daniel Smith said February's sales data "provides a hint that the LVR restrictions' impact on sales may linger for longer than previously anticipated – especially if the drop in sales is mirrored in next week's more comprehensive REINZ figures".
Westpac senior economist Michael Gordon said the latest figures demonstrated that the housing market "has cooled substantially" since the high-LVR restrictions came into force in October last year.
Sales were now 23% below the cycle peak reached last October, he said.
"The flow of new listings has also slowed in that time, although not enough to match the decline in sales; as a result, the stock of unsold homes rose for a second straight month. 

"Unfortunately the B&T figures don't shed much light on the impact that the LVR restrictions are having on house prices. The average and median sale price series are not quality-adjusted, and as the breakdown of sales shows, there has been a massive shift in the composition of sales.
"The LVR limits have gutted the lower end of the market (the habitat of first-home buyers), while the higher end remains largely untouched (sales of properties over $1m set a new record high in seasonally adjusted terms in February). Consequently, both the average and median price measures are being skewed sharply higher - an 18%yr rise in the median sale price is well out of line with other indicators of what's going on in the Auckland housing market," Gordon said. 

ASB's Smith said B&T's Auckland February sales figures suggested the slowdown in sales volumes seen over the November-December period "may be carrying over into early 2014".
"January data had pointed to a partial rebound in sales, but this data for February suggest that was short-lived. According to our own seasonally-adjusted estimates, the number of sales in February was the lowest since March 2012.
"If that softness is sustained, and if it is reflected in the more comprehensive REINZ data released next week, it points to a further slowing in demand. We should point out that the Barfoot data has shown quite a bit of volatility over recent months, and a similar drop-off in sales volumes in December was not mirrored in the REINZ figures."
According to the latest B&T figures, in February some 15.8% of the houses it sold were in the above $1 million bracket.
Banks have appeared to be surprised by the way they have managed to maintain high levels of mortgage lending by targeting customers with high deposits through two-tier mortgage interest rate pricing. Those with higher deposits are being offered better interest rates.
As Westpac's Gordon commented, the big moves in the relative number of houses being sold at both ends of the market is throwing both average and median price figures around.
B&T's average and median prices both hit record highs in December.
Then in January the average was $647,207, down from $700,387 and the median price was $580,000, down from $629,000.
In February, both the average and median figures have blipped up again - but on lower sales. The average was back up to $678,533. The February median price was back up to $620,000.
Million dollar sales
B&T said that it had sold 122 homes over the $1 million dollar mark in February, up 60 per cent over the same time last year. Sales of homes $750,000 and above were up 50 per cent on 2013 figures.
Comparing this February's figures with those for February 2013, according to interest.co.nz calculations, in the latest month the sales of homes in the under $400,000 bracket (148) made up just 19.1% of the total sales, while a year ago the number (267) made up some 29.9% of the total. This would clearly suggest the impact of the LVRs on the lower end of the market.
ASB's Smith said that according to ASB's seasonally-adjusted estimates, sales below $500,000 in February were almost 30% below January's level, back in line with the "weak" December numbers.
"Sales between $500k and $750k also fell, while sales of more expensive properties continue to show a lot of vigour – sales over $1m set a new record (in seasonally-adjusted terms). Unless the composition of inventory has shifted significantly, the lopsided drop in overall sales activity suggests that the RBNZ's LVR restrictions are a major factor, rather than, say, a shortage of supply."
Realestate.co.nz reported this week that the number of new listings nationally had plummeted 10.4% in February, and had fallen 5.7% in Auckland.
Listings fall
B&T managing director Peter Thompson said his firm's number of available listings reached its highest level since March 2013, at 3674.
The latest figure is down 7.9% on the 3988 B&T reported having on its books at the end of February 2013, a month in which had it reported an "excellent" number of 1752 new listings.
"We are starting to see a return to listings levels of October and November last year. For buyers, that's good, they can start to shop around, but greater choice means more competition. Sellers will need to be realistic and not overvalue their assets if they want them sold."
He said February sales figures were "consistent across all price spectrums" with a "slight increase in the number of sales across higher price echelons".
"These signs are positive and an indication that the economy is stable, banks are lending, and buyers and sellers remain confident. But there is more choice out there and that will ultimately affect prices."
Westpac's Gordon said the bank's view had long been that the LVR lending restrictions would bite hardest initially, as first-home buyers dropped out of the market.
"However, over time we expect investors will step into the gap. This, combined with a strong lift in inward migration, should help to limit the fallout for house prices in 2014. Nationwide, we expect the pace of house price inflation to slow from almost 10% in 2013 to around 6.5% this year."