BNZ boss Anthony Healy says he can't see any short to medium-term shocks that are likely to correct Auckland house prices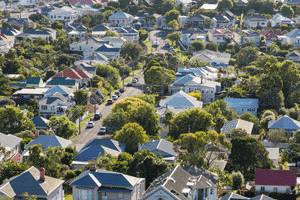 BNZ CEO Anthony Healy says although he's "very concerned" about housing affordability in Auckland, "we're not in bubble territory at all."

Healy told interest.co.nz Auckland's housing affordability woes are driven by fundamental supply and demand issues.

"Supply being a historical one where we just weren't building enough houses so we've got a shortfall in the stock, plus we should be building about 15,000 houses a year in Auckland and I think we're building 7,000 or 8,000. So we're still not at the level we need to be," Healy said.
"So you've got your supply constrains, and obviously the Government is working with Auckland Council to try and address some of those, the RMA reforms, the consenting processes etc."
 
Then there's net migration at historical highs, adding tens of thousands of people to Auckland's population, driving the demand side.
"I don't see a lot of factors that are going to change those dynamics in the short to medium term. I don't think we're in bubble territory at all, but I do think we've got housing affordability challenges," said Healy.
The data flow continues to show the Auckland housing market
running red hot and net migration, of which Auckland takes the lion's share, running at record highs.
The Auckland median house sale price
hit $720,000 in March
, according to the Real Estate Institute of New Zealand, a new record high.
Debt servicing capability, LVRs, key risk measures for BNZ
According to figures in parent National Australia Bank's interim results material, 40% of BNZ's $31.4 billion home loan portfolio is sourced from Auckland, and 23.2% of the bank's total home loan book is paying interest only.
In terms of risk stemming from its Auckland housing exposure, Healy said BNZ looks at the debt servicing capability of its customers.

"The one area that you always worry about is high LVR (loan-to-value) lending, and of course the RBNZ (in 2013) put their macro-prudential tool on which limited the flow to 10% (of new residential mortgage lending). We were always the lowest in that category anyway, in terms of lending above 80%, but all of the banks have come down because of that flow restriction," said Healy.
"We focus on serviceability as well as LVR, and I can't see in the short to medium-term any shocks that are going to hit Auckland housing that are suddenly going to correct housing prices. Because you've still got a significant shortfall of supply, and you've still got strong migration," Healy added.
At 10.5%, BNZ has a lower percentage of its home loan book at LVRs above 80% than ANZ, ASB, Kiwibank and Westpac.
In September 2013
, on the eve of the introduction of the LVR restrictions, BNZ was at 15.2%.