All the jawboning on the Auckland housing market is demonstrating the unwillingness of politicians to actually do anything about the rapidly inflating bubble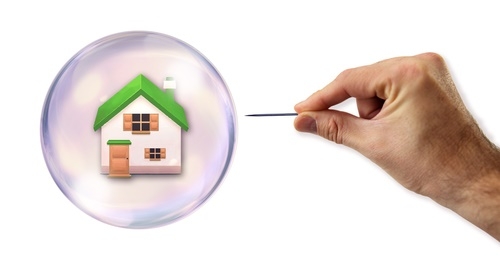 By David Hargreaves
The development of the worrying situation that is the current Auckland housing market can be measured through the Prime Minister's denials.
Last year John Key denied existence of a housing 'crisis' - whatever that actually is supposed to be anyway. And he's continued to do so.
Now he's denying existence of an Auckland housing bubble. I leave it to readers to decide whether they think a 'crisis' or a 'bubble' is worse, though for my money the 'b'-word is far more scary.
Of course, denials only serve to put the subject being denied more and more into the public domain. If the Prime Minister's denying something, there must be a problem.
It is a standard management technique to attempt to handle a problem by denying its very existence.
With all this in mind, I was intrigued to read research by academics Peter C B Phillips, of Yale, and Auckland University's Ryan Greenaway-McGrevy (Sunday Star-Times, business section, page D10).
This said, unequivocally, that the whole of the NZ housing market was in a bubble from 2003-04 to 2008, while Auckland re-entered the bubble zone in 2013 and has remained there since.
Yep, take note Mr PM, the sums have been done and Auckland's a bubble, all right.
The academics say there's no ongoing evidence the "contagion" from "the latest Auckland bubble" has made it to other centres.
This provides further evidence of the Auckland-as-an-island emerging theme.
In his weekend column Bernard Hickey referred to Auckland having "officially disembarked from the rest of the country". 
They say that a picture (or perhaps a graph) is worth a thousand words. I was absolutely riveted in reading the latest MBIE Housing and Construction Quarterly by one graph in particular, which I include below.
If anything demonstrates just how Auckland's house market has disconnected itself from the rest of the country - in a way not seen, certainly in recent history - then surely this is it.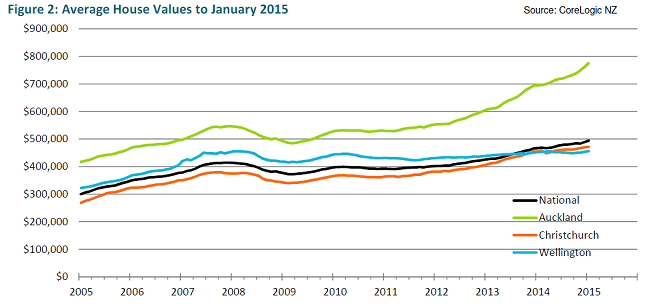 As can be seen, during the previous housing boom, the rises and falls of the Auckland market were matched (albeit at a lower price level) by mirror movements in other parts of the country.
But since about 2013 - when the academics say the Auckland bubble started inflating - our largest city's house market has completely disconnected itself from 'the rest' and is now heading for goodness knows where.
So, of course with such a problem visibly manifesting itself by the week, politicians - and this is including local government ones - are doing what politicians do best, and are talking up a storm.
But amid all the chatter, what I'm not hearing is any concrete proposals to give the naughty Auckland market a kick up the Khyber Pass.
All we are hearing is about supply and what's being done there, through such strategies as the Auckland Housing Accord.
Supply, supply, supply
In his Radio NZ interview the PM banged on and on about what the Government is doing to help supply.
There's two issues here: One, it will take years not months to ramp up the supply of Auckland housing. Two, the Government and other politicians can happily talk and talk and talk about supply because it's essentially a positive thing to talk about. We'll build houses, and we'll create jobs and people will have places to live. Marvellous.
But, dear politicians, there's another side to this and it's the side you don't want a bar of because if you are seen to be doing anything about this, well, then it would be negative.
Yes, I'm talking about demand.
Demand? What demand?
Reserve Bank Governor Graeme Wheeler recently suggested that about 40% of houses in Auckland were being bought by investors. Now, whatever you want to say about Auckland's perceived housing supply shortage, if 40% of the available houses are being bought as investments then clearly there's a hell of a demand issue as well.
But what's the Government doing about that?
They could immediately do something about about the high levels of immigration that have seen a net 55,000 people arrive in New Zealand - about 25,000 of them in Auckland - in the past 12 months.
They could do something to limit the numbers of offshore-based investors buying properties by introducing a rule that any overseas buyer of a house has to come and actually live in the house, or alternatively that offshore investors must build new houses.
They could introduce capital gains tax on investment properties.
They won't.
Why not?
Because these things would be unpopular.
It's much easier to talk about building new houses than any measures that might discourage investors from pumping more and more money into the inflated Auckland market.
Just keep talking
So, we'll keep talking and talking and talking about supply. And who knows, if enough people believe the mantra then maybe there really will be a whole lot more houses built in Auckland eventually - possibly just in time to coincide with a global event that sees our 40% of investor-buyers take fright of the housing market and disappear overnight.
And that's what really concerns me. Investors might burn their fingers somewhat. But if (when) there is a serious correction in the Auckland market the people who will really stand to get hurt are the people who have bought houses to live in that they've had to pay too much for because they've been bidding against investors.
The only talk about houses that will be worth listening to this week is when the Reserve Bank Deputy Governor Grant Spencer (who crucially doubles as the central bank's Head of Financial Stability - housing being a financial stability issue) will make a speech in Rotorua - er, about housing.
It's unlikely that Mr Spencer will be discussing the outcome of TVNZ's "Our First Home" or the benefits of building a deck. He may of course give some hints - or perhaps even more - about what the RBNZ proposes to do about the Auckland situation.
So, all eyes will be on the RBNZ, trying to do the Government's job for it.
And if whatever the RBNZ comes up with happens to be as unpopular as its restrictions on high loan to value lending, then you can count on the Government to distance itself, shrug its shoulders and say, well, the RBNZ is independent...
Nothing to do with us...