Bernard Hickey argues Auckland's housing market has officially disembarked from the rest of the country. He looks at how to pull it back to shore before it hits the rocks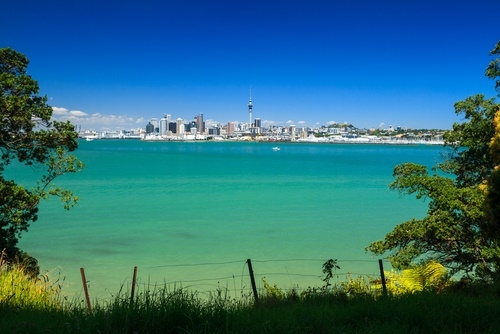 By Bernard Hickey
If you are reading this and you don't own Auckland property, then it would be a good idea not to read any further because it will probably ruin your Sunday.
Figures released this week by Barfoot & Thompson, Auckland's biggest real estate agency group, confirmed everyone's worst fears (or biggest hopes if they owned property in the city). Auckland's housing market has officially floated off its New Zealand moorings into its own orbit. The Reserve Bank can now have no doubts or caveats around the seasonality or size of the trend -- the housing market in New Zealand's biggest city is booming.
The average three bedroom house price on the isthmus of Auckland that used to be the old Auckland Council rose over NZ$1 million for the first time in March. The average house price in West Auckland rose 20.5% over the last year to NZ$632,032. Barfoot sold 420 homes worth more than NZ$1 million each in the 31 days of March, while selling just 300 homes for less than NZ$500,000. Barfoot's agents would have collected almost NZ$1 million of commissions each day in March as they sold over NZ$1.2 billion worth of houses over the month.
Auckland house prices are now rising at double digit rates on an annual basis, while the rest of the country is growing at less than 5%, or not at all. Even in Christchurch, house price inflation is subdued as a wall of new houses hits the market to soak up demand and replace quake-damaged buildings. Prices are still falling in some regional cities where populations and work are drying up.
Unfortunately for the Reserve Bank, taxpayers outside of Auckland and Auckland's renters, there is no relief in sight. Net migration is rollicking along at record highs and at least half of new migrants end up in Auckland, or just as importantly, aren't leaving Auckland. Longer term fixed mortgage rates are low and falling. Employment growth is strong and rental property investors are stocked up with plenty of fresh equity to gear up with much bigger and often interest-only mortgages. New mortgage lending is growing at over 20% per year.
But most crucially, housing supply in Auckland is nowhere near catching up with the shortages built up over recent years. There were just 7,745 building consents issued in Auckland in the 12 months to February, well below the 10,000-plus needed to keep up with population growth, let alone catch up on the shortage of 20,000 dwellings accumulated over the last five years, according to MBIE estimates. That shortage is expected to be 25,000 by the end of 2015.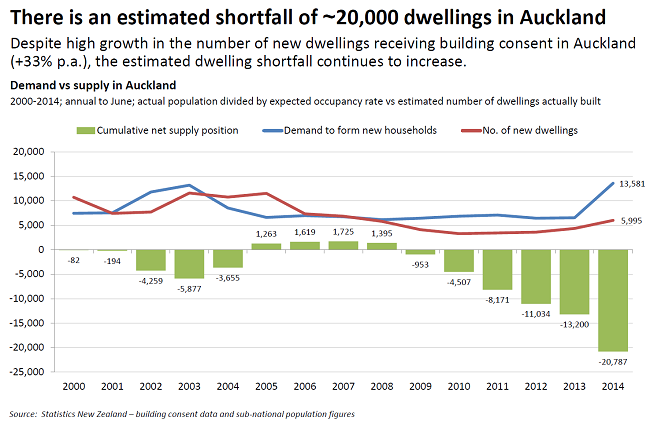 If the current trends continue through the rest of 2015 and into 2016, economists are forecasting another double digit increase in tax-free capital gains for Auckland home owners. Renters are now in all sorts of strife because rents are rising by 5-10% per annum, which is double or quadruple income growth, not to mention more than 5 times faster than broader inflation. Rents are jumping over 40% of disposable across the city.
This rent inflation is rapidly becoming a fiscal issue for the Government, given it spends more than NZ$2 billion a year handing out accommodation supplements to private landlords and Income Related Rents to Housing NZ. Taxpayers throughout New Zealand already provide subsidies for more than half the rental market, and that proportion is higher in Auckland. Taxpayers in Gore will be subsidising landlords in Mt Albert at an even greater rate and rents and prices surge.
By any measure, Auckland's housing market is now officially an issue for the Reserve Bank in financial stability terms, it's a fiscal problem for the Government and it's an affordability problem for first home buyers and renters. Finance Minister Bill English also rightly describes it as a major driver of inequality and child poverty.
So what might be done about it in the short term?
The Government is expected to announce within a few weeks it will ramp up its Tamaki Re-Development of Housing NZ land in Glen Innes into a NZ$1 billion project with hundreds of new affordable homes. It is also looking with the Auckland Council at how to free up Government land for new affordable housing, given it owns 7% of all land on the isthmus. There is more than 80ha of empty Crown land in and around Auckland that could be turned over to new housing within a year or two.
But at some point, the Government and the Auckland Council have to consider more aggressive measures on both sides of the ledger, including supply and demand. Prime Minister John Key has always left open the option of tweaking migration settings if the pressure on infrastructure and the economy generally becomes too much. Auckland's housing pressure cooker is getting closer to that point.
The Reserve Bank is likely to force banks to progressively hold more capital to back rental property mortgages within a few months, which could push up interest rates for landlords. It is also expected to keep agitating quietly behind the scenes for more Government action to reduce the tax advantages for rental property investors. A brave Reserve Bank would be much louder.
Ultimately though, the bigger fixes on the supply side will take much longer. They could include introducing new types of leasehold agreements and long-term tenancies that make long term rentals more attractive for tenants and institutional investors alike. They could include removing many of the restrictions around building heights, parking and view shafts that reduce the density of housing in the 'leafy' suburbs around the centre of Auckland such as Grey Lynn, Ponsonby, Mt Eden, Remuera and Parnell.
All of these will require plenty of political will and bureaucratic heft from both the National Government and the Auckland Council.
Auckland's Generation Rent and taxpayers north of Warkworth and south of the Bombay Hills can only hope the politicians and bureaucrats can find these qualities from deep within. That's if they haven't read this far and given up in disgust first.
----------------------
A version of this article was also published in the Herald on Sunday. It is here with permission.