Finance Minister cautious on Productivity Commission's idea for Urban Development Authority with power to compulsorily buy land; open to congestion charging; against Govt paying rates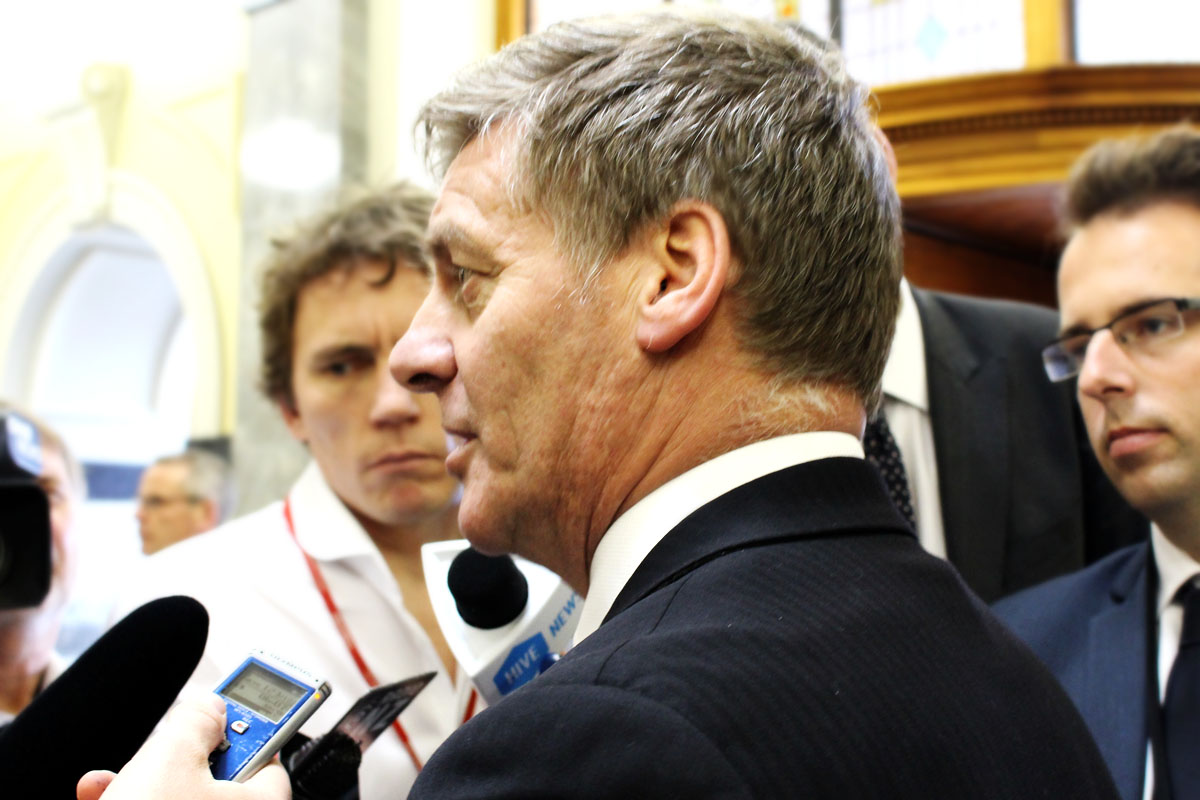 By Bernard Hickey
Finance Minister Bill English has cautiously welcomed a Productivity Commission proposal for the creation of Urban Development Authorities (UDA) to accelerate the release of land for house building, but was sceptical about giving it the power to compulsorily acquire land in Auckland.
See Greg Ninness' article on the full Productivity Commission's draft report on 'Using Land for Housing.'
English told reporters in Parliament shortly after the release of the report that the Government was already doing something similar to a UDA in Glen Innes, where the Tamaki Redevelopment Company was redeveloping state houses over a swathe of the suburb in conjunction with Auckland Council.
"It would be a bit of a stretch to get to compulsorily acquisition, but the idea of better co-ordination of building houses, of getting water and roads in place is an attractive idea," English said, adding he wouldn't rule out compulsory acquisition because the Commission had only issued a draft report that was open to submissions.
He said the Commission's proposal that overseas investors be exempted from Overseas Investment Office approval rules if they were building new houses was interesting.
"It happens that some of the larger New Zealand companies who do development are classified as overseas companies under the Overseas Investment Act. So that's an area we might be interested in looking at," he said, adding it could not be ruled out.
"We are willing to look at all their propositions to get more houses on the ground sooner and faster."
English would also not rule out the suggestion of congestion charges or other pricing mechanisms to control demand for infrastructure. He said the Government was still putting together its new national infrastructure plan.
"Part of that will be further investigation of demand management so we can get better use out of the existing roading and transport network," he said.
"In some circumstances we believe in tolling. There's an ongoing discussion about both how to fund new infrastructure, but also how to manage existing infrastructure better. So we have people like the freightforwarding industry pushing us a bit to say that it is costing them a lot of money to have a lot of congestion. So as we consider the issues with different councils that does in fact come up," he said.
Govt to pay rates on land?
English was not so keen on the Commission's suggestion that the Government pay council rates on land that it owns. The Commission referred to LGNZ research that the Government would have to pay NZ$180 million in rates if it agreed to.
"Local government has always wanted government to pay rates on its own land. We have a capital charge to make sure that government agencies face a cost of holding land so I suppose they are proposing rates because it would make that incentive bigger, but we don't have any plans to start charging rates on government land," English said.
"There would have to be a lot of discussion about what constitutes ratable government land because the government owns, in any city, hundreds if not thousands of hectares of parks, reserves, roads. Some of it is property that's usable for residential purposes, but only a small proportion," he said, adding he was not open to the idea of the Government paying rates.
Land bankers to pay rates on land value?
English was more open to the idea of land bankers in Auckland having to pay rates based on the land's value, rather than the capital value.
Most of the Auckland Council region used land values for ratings purposes before the creation of the 'Super City' in 2010, when the new council moved to capital values as the basis for ratings purposes. This means the holding costs for undeveloped land are lower
"I think there's some really interesting ideas in there about how to capture the uplift in value that owners of land get when zoning changes or when infrastructure is either put through or is likely to be put through their land, so we are interested in looking at those mechanisms," English said when asked about ratings being based on land values rather than capital values.
"Because we do need to find better ways of getting a flexible housing market happening," he said.
Remove rules on apartment balconies and car parks?
English said it was up to councils to decide on whether to remove rules on compulsory balconies and minimum apartment sizes and minimum parking requirements.
"It's all very well having nice looking $800,000 or $900,000 apartments but most people can't afford them. And if you want more people living in the city we have to have more affordable apartments," English said.
"I think there's an economic study that shows minimum parking is a very expensive way to achieve the objectives councils want," he said.
"It's great to have the Productivity Commission report showing how important all these decisions are, ranging from the size of balconies through to coordinating roads and waterpipes that have a big impact on the cost of housing to individual families, and that's got too high. But it also a big impact on economic growth. So it's great to see such a thorough, comprehensive look at it and we look forward to the final report in a few months time."