Auckland Council decides to withdraw 'up-zoned' version of Unitary Plan from Independent Hearing Panel process; Councillors vote 13-8 to pull new 'denser' maps from Unitary Plan process; young renters pitted against old property owners in 6 hour meeting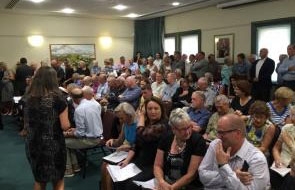 By Bernard Hickey
The Auckland Council has voted 13-8 to withdraw its 'densified' and 'up-zoned' maps it had presented in December as evidence to the Independent Hearings Panel on the Auckland Unitary Plan, throwing the Government's supply-led strategy to address Auckland's housing shortage into disarray.
A fractious six hour meeting included submissions from residents associations in East Auckland opposed to the maps, and from Youth Councillors arguing for the maps, which would have allowed three storey townhouses and apartments in an extra 6% of Auckland. Proponents for the maps said more intensification was needed to address Auckland's housing affordability problems, while opponents said the changes in December were made without consulting affected residents and denied natural justice for affected parties.
No final decisions on the Unitary Plan have been made, but it sets a precedent for the ultimate vote expected in August. The Panel, which was appointed by the Government, is expected to recommend a new Unitary Plan in late July and the Council then has 20 working days to make decision on whether to accept the plan. The Council will then be weeks away from elections in September and October and the vote late on Wednesday night came after a revolt by home owners around Mission Bay, Glendowie and Kohimarama.
Councillors Alf Filipaina, Arthur Anae, Bill Cashmore, Linda Cooper, Penny Webster, Calum Penrose, Deputy Mayor Penny Hulse and Mayor Len Brown and voted to keep the 'denser' maps in front of the IHP.
Councillors Cathy Casey, John Watson, Wayne Walker, Christine Fletcher, Dick Quax, Sharon Stewart, John Walker, Denise Krum, Chris Darby, George Wood, Cameron Brewer, Mike Lee and Ross Clow voted to withdraw the 'denser' maps from the IHP.
A group of experts assembled by the IHP estimated the 'old' Unitary Plan proposed in 2013 after another residents revolt would only sustain an extra 80,000 to 180,000 houses at economically viable levels within the Auckland Counci's Metropolitan Urban Limit. This would be 100,000 to 200,000 houses short of the 280,000 forecast to be needed within the limits by 2040 because of expected population growth of up to one million people by then.
The six hour meeting in the Auckland Town Hall was packed with attendees spilling out into the halls and with little room left for even standing attendees.
The meeting began at 2 pm with comments from Mayor Len Brown and then introductory remarks by Auckland Council's Director of Regulatory Services Penny Pirrit and its General Manager of Plans and Places John Duguid. They said a decision to withdraw the December maps from the evidence, which have the 'out of scope' changes objected to by opponents, would disrupt the IHP process. Pirrit, who was heckled throughout by a group of residents supporting the Auckland 2040 group, said a withdrawal would have legal and practical consequences for the process.
Duguid said Housing New Zealand had proposed even more intense development than the Council had proposed in December and Council withdrawing from the process would leave that proposal unchallenged by the Council in front of the IHP.
Eight groups of speakers were than invited to speak to the Council, with four in favour and four against.
Labour Party Mayoral candidate Phil Goff later came down on the side of those opposed to the 'up-zoned' plan, tweeting: "Poor process and poor communication has undermined greater intensity done well. Breach of natural justice principle has sunk the draft plan."