Paula Bennett announces plan to offer $5,000 to homeless Aucklanders and state house tenants to leave Auckland live in provinces; policy developed in recent days; Govt accused of flailing and making policy on the run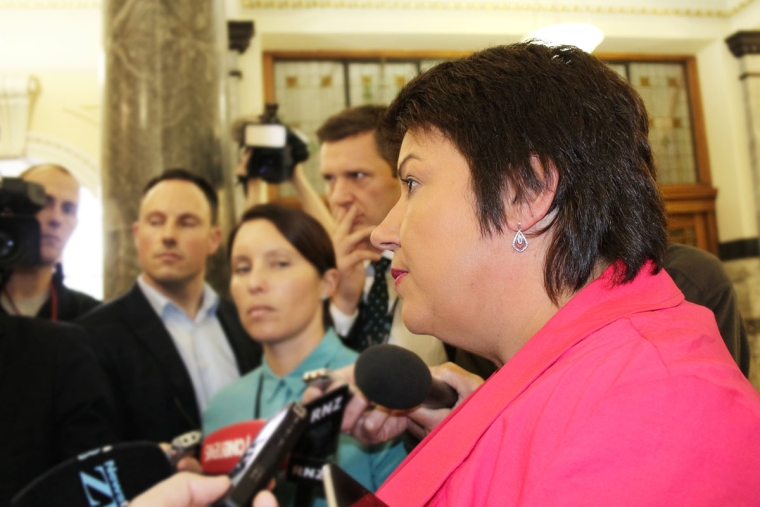 By Bernard Hickey
In another sign Auckland's housing crisis is dominating the political and economic agenda, Social Housing Minister Paula Bennett has announced a plan to offer 150 families who were homeless or in state houses in Auckland up to NZ$5,000 each to move to provincial cities and towns with empty state houses and private rentals.
Bennett told reporters in Parliament the plan would cost around NZ$750,000 and had been developed and refined in recent days by officials in response to reports of people living in cars and garages. Bennett admitted yesterday that homeless families in Auckland faced a "crisis", although she stopped short of saying the Auckland housing market was in crisis in its entirety.
"I would say to those that are homeless that there is a chance that they could get a house in days if they were willing to look outside of Auckland," she said.
Bennett said the grant would be targeted mostly at those already in state houses, but would also be available to those that were homeless, and would be for both empty state houses and private rentals in other cities and towns. The offer was a voluntary one, she said, adding there were spare state houses in Whanganui, Gisborne, Hamilton, Ngaruawahia and Huntly.
She said the Government would also accelerate plans for special needs grants for those people paying to stay in motels because there were insufficient state houses. Currently people staying in motels are incurring debts of tens of thousands of dollars to WINZ. Earlier this month, Bennett announced a one week grant for motel costs from early September, but the plan would be brought forward to July, she said today.
"The relocating out of Auckland, that is one that I have thought of in the last week as well. We've been doing the long term work on those currently in state houses. But I would say to people that are homeless that there is a chance that they could get a house within days if they were willing to look outside Auckland, and certainly we have been doing a bit of analysis both on empty Housing New Zealand houses and private rentals that are available that, alongside the accommodation supplement, makes it cheap," she said.
"The five grand is more for those that are currently in social housing and relocating - but, yes, we might do some sort of financial assistance if that is what's needed and in some cases it could be Huntly or Ngaruawahia, we've got some houses available in Hamilton, then further afield in Whanganui. Gisborne has got some empty houses. I understand some people have got kids in school and need to be in Auckland so I am not talking about them. But for others we are just opening up the choice and it's voluntary, for some they may not necessarily need to be in Auckland and there are opportunities in other parts of the country."
She said Work and Income (WINZ) was also setting up 'flying squads' to work with homeless people in cars and vans to ensure they were receiving support and were on the social housing register.
Finance Minister and Housing NZ Corp Minister Bill English later said he was unaware of the announcement.
"I'm not responsible for every dollar," he said.  "The minister has a fair bit of discretion about how the appropriations work with respect to social housing."
Bennett said Auckland's state houses were 97% full, with the remaining 3% generally empty because of P contamination.
"Also, just looking at private rentals, I was doing a TradeMe search this morning on private rentals then looking at what the accommodation supplement could be and that looks quite affordable as well," she said.
Bennett said she had been looking the policy of relocating state house tenants out of Auckland for months, but had come up with the idea of offering the relocation payment to homeless people in recent days.
"It's not something that's been rushed. It's certainly something that's been concerted work, but there's no doubt about it that in the last few days I think we just, certainly from the media putting the attention on it and you are seeing people that are living in those sort of circumstances, I just want to do whatever we can and I think this is a way for me to get the message out to them that there is help available," she said.
"There is a range of places that are available as far as Housing New Zealand is concerned, for example, in Lower Hutt there's 18 that are ready to let, Palmerston North 15, Porirua 5, Gisborne 4, Rotorua 5."
"For some people (and I by no means think everyone) there will be situations where actually moving to a town where there are really good support services, where it's more affordable and some of them might even be looking to moving back to where their family are. I just want to open those sort of opportunities," she said of homeless people with complex problems. 
Opposition reaction
Green Co-Leader Metiria Turei said the latest plan showed the Government was flailing around.
"Paula Bennett has clearly just woken up to the fact that New Zealanders don't want the Government to stand by and watch while thousands of Kiwi families live in cars, overcrowded garages, and on the streets," Turei said.
"While moving out of Auckland might work for some people without a home, it's not going to be practicably possible for many of them, and we're still going to have thousands of people living in garages, cars and on the streets," she said.
"This is another short-term housing half-measure from the Government, done more for appearance than for effect. The obvious solution to our housing emergency is not to ship people out of Auckland to find a home; it's for the Government to build more state houses in Auckland."
Labour Leader Andrew Little said described the proposal as "scrambled policy made on the hoof" from a Government that was out of touch.
"Having let the housing crisis spiral out of control, the Government's three housing Ministers are now in damage control mode as the consequences of their failures come home to roost," Little said.
"It is just not a credible policy to provide cash incentives for homeless people to ship them out of town. When will this increasingly out of touch Government realise that the obvious thing to do in a housing crisis is to build more houses?," he said.
(Updated with more reaction, details, new picture)