Migration now accounts for two thirds of Auckland's population growth and is the main reason for the region's housing shortage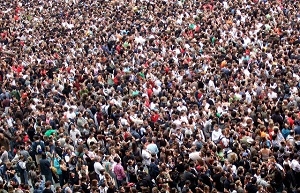 By Greg Ninness
Migration remains by far the main driver of demand for housing in Auckland, accounting for more than two thirds of the region's population growth.
Statistics NZ estimates that Auckland's population increased by 44,300 people in the year to June, with 69.5% of the increase (30,800 people) coming from migration and just 30.5% (13,500 people)  due to the natural increase in population (the excess of births over deaths).
As the graph below shows, that's a dramatic turnaround from the situation just three years ago when migration increased Auckland's population by just 7000 and accounted for just under a third (32%) of its population growth.

The table below shows how much Auckland's population increased over the last five years, with the annual increase more than doubling from 21,700 in the year to June 2012 to 44,300 in the year to June 2016.
That increase was entirely due to an explosion in net migration, which increased nearly five-fold over the same period, rising from a net gain of 6500 in the year to June 2012 to 30,800 in the 12 months to June this year, while the natural increase in Auckland's population steadily declined over the same period, falling from 15,200 in 2012 to 13,500 in in 2016.
Auckland's Growing Housing Shortage
Year to June
*Natural increase in population
*Increase from net migration
*Total Increase in population
Estimated no. of new dwellings needed
*No. of new dwellings consented
Annual housing shortfall
Cumulative housing shortfall
2012
15,200
6500
21,700
7233
4197
3036
3,036
2013
14,700
7000
21,700
7233
5343
1890
4,926
2014
14,200
19,600
33,800
11,266
6873
4393
9,319
2015
13,900
29,100
43,000
14,333
8300
6033
15,352
2016
13,500
30,800
44,300
14,766
9651
5115
20,467
*Source: Statistics NZ
 
 
 
 
 
 
 As the table shows, the biggest surge in migration occurred from 2013/14 onwards as the Government encouraged immigration on a number of fronts to try and spur economic growth.
That included creating what became known as a "pathway to residency" for overseas students studying here, which resulted in a huge influx of overseas students applying for residency at the end of their studies, a scheme that has since run into numerous problems.
And migration numbers have kept rising ever since, with the latest figures from Statistics NZ showing New Zealand's total gain from migration hit a record high in October, suggesting that the growth is yet to peak.
Such rapid population growth has had an obvious effect on Auckland's housing market.
According to the 2013 census, there was an average of three people for every dwelling in Auckland.
To maintain that level of occupancy, 14,766 new homes would have been needed in Auckland in the year to June to accommodate the extra 44,300 people that started calling the region home over the same period.
Consents two-thirds of what's needed
But the migration-driven surge in demand for homes has occurred so rapidly that the building industry hasn't been able to keep up.
In the year to June only 9651 new dwellings were consented in Auckland which was just two thirds (65%) of what was required, leaving an estimated shortfall of 5115 homes for the year.
The real worry of that is there has been a shortfall in the number of homes needed to accommodate Auckland's growing population for several years, and since 2012 the accumulated shortfall has grown to more than 20,000 homes (refer table).
If you track the figures back to 2010 then the accumulated shortfall is more than 30,000 homes.
So although the problem is not new, it has been exacerbated over the last three years by the rapid increase in migration.
The combination of a growing housing shortage relative to population growth, record low mortgage interest rates, and the eagerness of banks to rake in bumper profits by loading their customers up with debt, has created the twin perils of a debt mountain and asset price bubble which have set off alarm bells at the Reserve Bank.
There have also been some unfortunate social outcomes, such as a younger generation which is increasingly priced out of home ownership and desperate living conditions for many at the bottom of the economic heap.
The Auckland Council whipping boy
The Government's response to the unfolding housing crisis in Auckland was two pronged.
Firstly it would stridently avoid admitting there was a crisis, it was merely a "challenge," we were told.
Then when the size of the problem became so big it could no longer be denied, blame was shifted elsewhere, and Auckland Council became the whipping boy for the housing shortage.
However, while the Council's planning and development may have been due for an overhaul, pushing all the blame on to it for the housing shortage seems unfair.
How could any council have foreseen the huge influx of migrants that was about to arrive in the city, and even if it did, capacity restraints within the construction industry meant the supply of new homes wouldn't have kept up anyway.
It is also worth remembering that if the Government had kept migration at around the same level it was in 2013, then more than enough new homes would be being built now to cope with the region's housing needs. 
But blaming the council set the stage for Housing Minister Nick Smith to cast himself in the role as the champion of Auckland's housing needs and it would not have been a surprise to see him and his trusty sidekick, former Auckland Mayor Len Brown, turning up to the opening of a sleepout as they pranced across fields of photo opportunities trying to convince us that Special Housing Areas would rise to meet Auckland's housing "challenges."
To give them credit, the number of new homes consented in Auckland has doubled since 2012, but clearly the extra supply has not been enough and the housing shortage keeps getting bigger.
That's because when the Government opens the immigration taps, the effect is almost immediate.
New migrants start arriving within a few months and they need somewhere to live the minute they step off the plane.
But cranking up the housing industry takes years.
For the construction of new homes to meet the surge in demand caused by the huge increase in net migration that occurred from 2014 onwards, the number of new homes being built would need to have gone from the 5343 that were actually consented in the year to June 2013, to the 11,266 that were required to meet population growth in the year to June 2014 (refer table).
That means construction of new homes in Auckland would need to have more than doubled within the space of a year, and then increased by around almost a third again over the following two years.
It doesn't matter how many Special Housing Areas you create or planning rules you simplify, growth in construction on that scale is simply not possible in such a short timeframe.
Reckless or incompetent?
These problems should all have been foreseen when the Government left the immigration taps open three years ago.
If it didn't, that suggests incompetence.
And if they did see the problems and proceeded anyway, it reeks of recklessness.
So take your pick. Reckless or incompetent?
If I was a betting man, I'd have a dollar each way.
You can receive all of our property articles automatically by subscribing to our free email Property Newsletter. This will deliver all of our property-related articles, including auction results and interest rate updates, directly to your in-box 3-5 times a week. We don't share your details with third parties and you can unsubscribe at any time. To subscribe just click on this link, scroll down to "Property email newsletter"and enter your email address.