Andrew Little defends Labour's negative gearing policy against criticisms rents will rise and house building fall; Says aim is to stabilise market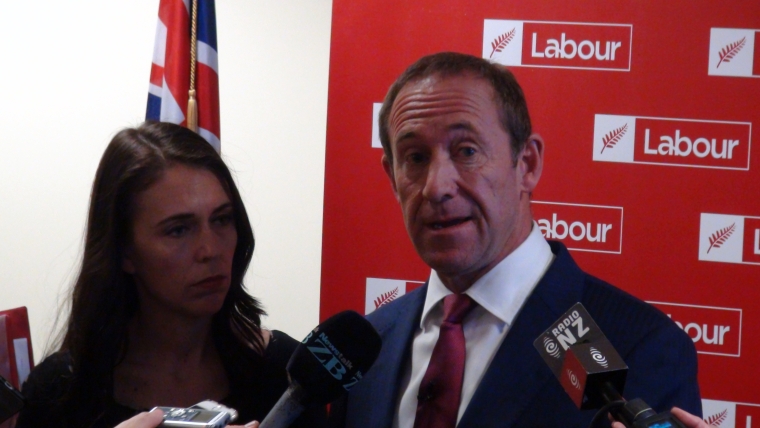 Reaction to Labour's negative gearing policy flowed thick and fast Monday morning, with critics saying it would push up rents, reduce the supply of rental properties and that the announcement marked the return of Labour's 'politics of envy'. Gareth Morgan and the Property Institute were among those taking pot shots.
In response, Labour leader Andrew Little said the move would help more people into home ownership. He added that rents were in fact at present being pushed up by speculators who were raising them to cover ever-increasing house prices.
Speaking on Radio NZ Monday morning, Little almost went as far as to acknowledge Labour's housing policies, all else being equal, would push house prices down. But he stuck to the line that Labour was looking to "stabilise the market."
This was despite his comment that the negative gearing policy along with KiwiBuild would help "correct the market" by making property investment less attractive while adding more affordable homes to the national stock.
The definition of 'property speculator' was also up for debate, with disagreement over how many of the tens of thousands of private landlords using negative gearing were 'mum and dad' investors with one or two rental properties for retirement income. The Property Institute maintained "speculators" were those who would likely flick properties before needing to use negative gearing.
And, there were arguments that negative gearing is not a 'loophole' that needed to be closed; rather it is part-and-parcel of New Zealand's comprehensive income tax system. Read former RBNZ economist Michael Reddell's take here.
'Relieving themselves into the wind'
Gareth Morgan's The Opportunities Party (TOP) said Labour's promise to ban negative gearing was a merely a symbolic move. "Labour and the other old parties are simply relieving themselves into the wind if they think such measures will address the underlying issues that have led to the current housing affordability crisis," Morgan said.
"National's Stephen Joyce is right in his assessment that the Labour policy will reduce the supply of rental properties," he said. "I can't think of a more direct way to smash investment in rental housing. With loan to value ratios of 40% its bloody hard for anyone to negatively gear right now anyway so of course the supply of rentals will dry up."
"TOP will remove the current tax advantages that owning either more and more expensive housing or multiple houses bring. Being a landlord or "speculator" has nothing to do with that problem. People can still own multi-million dollar mansions or multiple bungalows and reap huge tax advantages over those trying to get ahead on salaries and wages," Morgan said.
'Politics of envy'
Meanwhile, Property Institute CEO Ashley Church said the move was "a regression to the politics of envy" by Labour. "It would actually have quite a negative impact on the market, at a time when we need to be building as many houses as possible," Church told Radio NZ.
The move would ride over fundamental accounting rules, Church claimed. "Essentially, what they're saying is, if you make a loss in your property business, then that business shouldn't be claimable against other forms of income, as it is with pretty much every other form of business."
Church took issue with Little's assertion that "property speculators" were using negative gearing. "Because speculators in my view are people that are in the market for a very short space of time, people that buy a property then sell it within days or weeks, whereas property investors are people and landlords who own a property for a long period of time."
Census and LINZ figures showed that those using negative gearing overwhelmingly, "whether we like it or not," were 'mums and dads'. "They're just on normal, average incomes, they're normal Kiwis, they're buying a property as a stipend for their retirement," he said. "People do that for a pretty specific reason. New Zealand's got pretty shallow capital markets so property's been an investment that people can move into."
Property Investors Federation spokesman Andrew King had said the move could add $4,000 per year to the average rent. Church said he believed the figure would be somewhere between that and $10,000, depending on how the policy was applied.
"Here's this issue though. We've got a shortage of at least 60,000 homes in Auckland right now. We need those houses to be built by the private sector," he said. "This policy would make that considerably worse, because not only would we have the existing landscape, which is not particularly conducive to building a new dwelling if you're an investor, but it would also be putting a disincentive in place to be involved in the market at all."
Little defends the policy
Andrew Little had earlier told RNZ that the biggest users of negative gearing were those who owned 4-6 properties. While some were 'mums and dads', "they're not the big users of this. It's the ones who continue with buying new properties."
"We know that over a third of the claim of the losses comes from those who have set themselves up in the business of buying properties repeatedly – both overseas and domestic [buyers]," Little said. "We know that those ['mums and dads'] who are owning one or two, own those long-term. They don't get to use this tax loophole for the life that they own the property for."
"Most of [those 'mums and dads'] are…buying them because it's an asset that holds its value. That's part of their retirement scheme and some of them actually want the income that they get from the rent. They don't want to make a loss on it," Little said.
"The ones that are using the loophole are those who see a tax advantage, in some respects a business advantage, in gearing up to make a loss so they get the tax benefit."
Little refuted claims that the policy would go against 'Accounting 101', as the Property Institute's Church had phrased it. "That's if the business is just confined to property, in which case they're not using the tax loophole. This is a tax loophole that allows you to take the losses on your property portfolio and offset it against other income," he said.
"That's unfair for the first home buyer who's going in there with no tax advantage and competing against speculators who get a tax advantage."
"This [policy] gives an advantage for the first home buyers to get their first home, so we get more home owners. One of our big problems in New Zealand at the moment is that the home ownership rate is going down dramatically, so more people are renting," Little said.
"While you have speculators in the market, with the tax advantages that they've got, hiking the prices of properties, that's putting the pressure on rents. That's what's hiking them," he said.
The policy was not a tax on new homes, Little said. Other policy measures would add more housing stock. "That, again, helps to correct the market. More affordable homes means more first home buyers get those homes, and we'll stabilise the market."
Update: This article has corrected 'Property Council' to 'Property Institute'