National says new 'fit for purpose' urban planning laws separate from RMA would encourage more responsive planning and faster development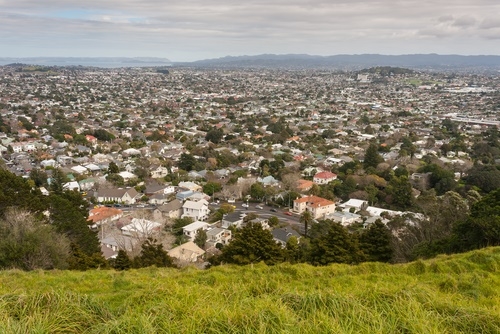 National has pledged to introduce new "fit-for-purpose" urban planning laws separate from the RMA, which they claim will encourage more responsive planning and lead to faster development.
The ACT Party leader David Seymour has accused National of pinching ACT policies, saying this announcement is "a belated concession that the housing market is not all peaches and cream, and that fundamental reform of planning laws is necessary".
This is the statement from Infrastructure spokesperson Steven Joyce and Environment spokesperson Nick Smith:
A re-elected National-led government will introduce new fit-for-purpose urban planning laws separate from the Resource Management Act to encourage more responsive planning, faster development, and better protection for the environment in our growing cities, Infrastructure spokesperson Steven Joyce and Environment spokesperson Nick Smith say.
 "New Zealand is growing strongly and we want to make it easier to build the housing and infrastructure for that growth while still ensuring our urban environments are some of the most liveable in the world," Mr Joyce says.
 "To do that we need to give our cities the ability to adapt and develop faster, while respecting and improving the urban environment - and the current planning system is not allowing that.
 "The RMA's one-size-fits-all approach has restrained the development of our cities, dragged on their economic performance, and restricted the supply of much-needed housing and infrastructure.
 "So National will establish a fit-for-purpose planning system that allows our cities to evolve in a way that improves the quality of the local environment, and makes them great places to live and work."
 Dr Smith says the new planning legislation will have clear and separate objectives for regulating urban and natural environments.
 "Over the past nine years we've simplified the RMA and made it easier to build but the RMA is only one part of the planning system, and we have reached the end of what can be done by making incremental changes to the Act," Dr Smith says.
 "We agree with a number of stakeholders that it is time to develop fit-for-purpose planning legislation dedicated to urban environments that includes the relevant parts of the Local Government Act and the Land Transport Management Act in one piece of legislation.
 "So we will set up separate planning and environmental regulations specifically designed to encourage growth while tackling the environmental challenges found in cities, such as air pollution and storm water surges," Dr Smith says.
 "This new legislation will work in parallel with our plan to put in place urban development authorities to redevelop specific brownfields areas in our cities to allow for more housing – the work for which is already underway.
 "While the focus of this reform will be on urban planning we will keep a close eye on what changes may also be applicable to non-urban and rural areas through the existing RMA. National will start its urban planning reform process by consulting with key stakeholders, local government, iwi, experts, and the public to develop fit-for-purpose legislation that works for cities.
 "The successful Auckland Unitary Plan and the Independent Hearings Panel review process shows we can put sensible rules in place that work for everyone. We want to use the same collaborative formula to create an urban planning system that enables growth, gives businesses the confidence to invest, and adapts to the changing needs of cities," Dr Smith says.
This was the statement ACT put out in response:
National adopting ACT's policy of separate urban planning laws shows why it needs ACT to supply the ideas for a centre-right Government, says ACT Leader David Seymour.

"On the face of it, National have nicked the second half of our policy to scrap the RMA and create pro-development legislation for cities.

"It's a belated concession that the housing market is not all peaches and cream, and that fundamental reform of planning laws is necessary.

"ACT has led this debate, in fact it's one of the key ideas described in my book Own Your Future. I've always said it's ridiculous for us to regulate land use in Henderson using the same legislation as Fiordland.

"One question remains; if National admits the RMA is a drag on our economy and housing supply, why won't they commit to scrapping it?

"This is exactly why National needs a stronger ACT. With more ACT MPs we'll ensure National scraps the RMA entirely, along with the rest of the unnecessary red tape that holds back house-building.

"In the meantime, if Steven Joyce needs any other policies to nick for the campaign, there's a whole book where this one came from. He can order it on ACT's website for just $20."