New Reserve Bank paper puts estimate of Auckland housing shortage far higher than previous RBNZ estimates; says if construction worker shortfall continues it will be 'difficult' to overcome the shortage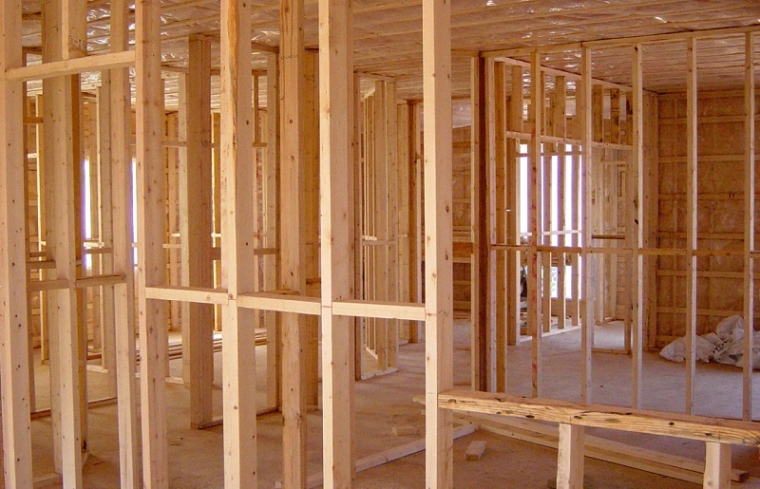 By David Hargreaves
A new Reserve Bank discussion paper is putting Auckland's shortage of houses at far higher numbers than previously estimated by the RBNZ, while it says the region's probably short of about 9,000 construction workers.
The paper notes that if the construction worker shortfall persists "it will be difficult for Auckland to overcome its housing shortage".
"Residential construction and population growth in New Zealand: 1996-2016", was written by the New Zealand Productivity Commission's Andrew Coleman (who is also with Otago University) and the RBNZ's Özer Karagedikli.
This paper aims to understand how population growth has affected building activity in New Zealand regions during the last 20 years. Using "panel data regression techniques", the paper's authors estimate that 0.25 – 0.30 additional houses are built for every additional person in a region. The additional 0.25 – 0.30 building permits per person equate to about 40 m2 of new construction, with a value of just over $60,000 in 2016 terms. 
"The estimates suggest Auckland's construction shortfall between 1996 and 2016 was between 40,000 and 55,000 dwellings, or approximately 10 percent of Auckland's housing stock."
In fact, the preferred model that the two have used puts the shortage at 54,000. And remember that's 2016 - not now. The report stresses that there was no significant shortfall of housing in Auckland up till about 2005 and it has worsened considerably since then.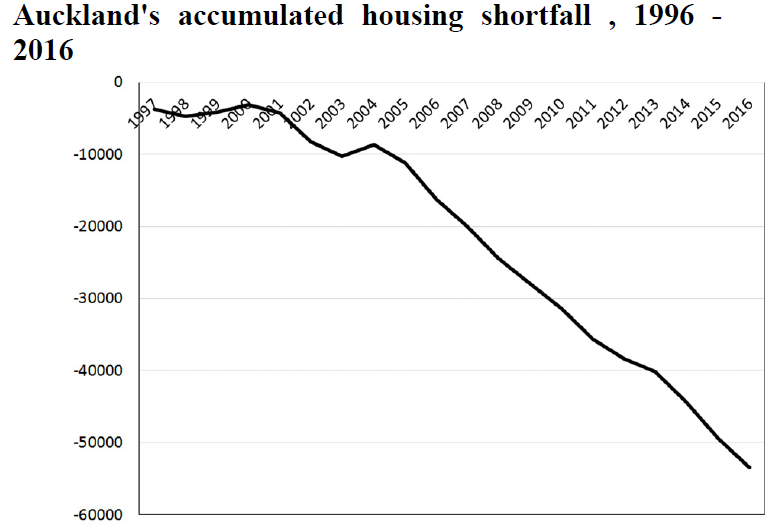 The estimates in this paper compare with a 2016 estimate from then RBNZ Deputy Governor (currently Acting Governor) Grant Spencer, which put the shortfall at between 20,000 and 30,000.
The report authors say the difference is in part through different methodology.
They say the reasons for Auckland's  housing shortfall are unclear, "but may reflect the impact of land-use restrictions imposed after 2005".
"Even if land-use restrictions were solved, Auckland has such a shortage of construction workers relative to the rest of the country that it may need 9000 more construction workers to meet its ongoing demand for new houses."
The paper's authors say that using regional variation in population growth rates they have investigated how population growth affects residential construction across New Zealand regions.
"We find that an additional person in a region is associated with 0.25 new houses or $65,000 (2016 dollars) new construction including new consented alterations. Indeed, population growth is so strongly associated with construction activity that international and interregional migration may be hyper-expansionary, as the short run demand associated with each additional person is greater than their average level of output."
Elsewhere in the report they say: "The additional construction associated with an additional person is more than New Zealand's per capita GDP, which in 2016 was $54,178.
"For the country as a whole, this means that unusually high inward migration will be hyperexpansionary, as the immediate demand for housing by immigrants exceeds their productive potential. For this reason, the short term impact of population increase may be to increase labour demand by more than labour supply, potentially causing labour shortages and placing upward pressure for additional inward migration.
"As such, these estimates appear to support [previous published academic papers] that [say] high levels of inward migration to New Zealand cause rather than alleviate labour shortages."
The discussion paper raises the question that, as well as changes in land use restrictions after 2005, the melt-down of the finance company sector from about 2007 may have had an impact in the collapse of apartment building in central Auckland.  
The paper says there were 11251 building permits for apartments in central Auckland in the three years between July 2002 and June 2005; in contrast, only 786 were issued from July 2008 to June 2012. Between 2002 and 2005 central Auckland apartments comprised 17.6% of all permits issued in New Zealand; from 2009-2012 they were only 1.6%.
"Whether these data are interpreted as evidence that the apartment building boom largely prevented Auckland from having a serious housing shortfall prior to 2005, or evidence that the collapse in Auckland's apartment market is a large component of why Auckland has an acute housing shortfall, is perhaps a matter of choice," the authors say.
"Either way, the data suggests that understanding the collapse of central Auckland's new apartment market may be as important as understanding Auckland's suburban land-use issues."
The paper says that in 2015 the New Zealand Productivity Commission conducted an extensive inquiry into the operation of New Zealand's land markets, arguing that regulation changes introduced in Auckland in 2005 concerning the minimum floor size, the availabilities of balconies, stud height, the overall size of a building, and the sight-lines all sparked the collapse of apartment building in Auckland, partly because they significantly raised the price at which apartments could be profitably sold.
The RBNZ paper authors say, however,  these regulations "may not have been the only factor".
"Much of the finance for these apartments was obtained from finance companies. Beginning in 2006 and 2007, investors in finance companies began to doubt the quality of the assets of the sector, resulting in a collapse of more than 50 companies and large losses to depositors.
"As standard economic theory suggests that a collapse of financial intermediation can lead to significant reductions in investment activity, it is possible that the collapse of these finance companies may be part of the reason for the subsequent collapse in new apartment construction.
"Since this hypothesis has not been comprehensively explored in this context, it warrants further investigation."