MBIE believes the value of residential property investment over the next 5 years will be 2-5 times higher than Treasury projects; Twyford says Treasury's math is 'simply wrong'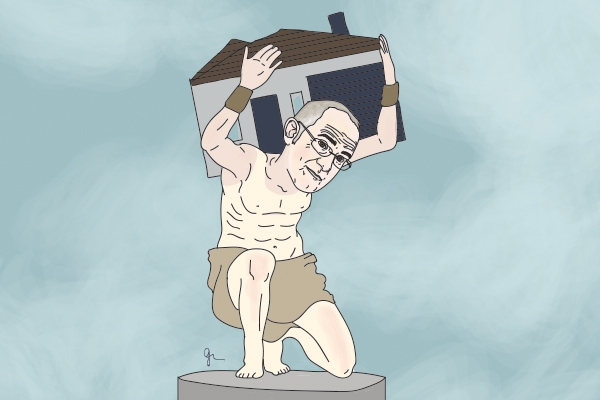 Housing and Urban Development Minister Phil Twyford is slamming Treasury for its estimate that the amount of investment in residential property over the next five years will be half of what was projected five months ago.
Treasury, in its Budget Economic and Fiscal Update (BEFU) released on Thursday, said: "Changes in the timing of capital expenditure on KiwiBuild since the Half Year Update (HYEFU) mean the boost to growth occurs later in the forecast period than previously assumed."
Accordingly, it believes a greater portion of investment will occur after 2022 than previously expected.
Yet talking to interest.co.nz, Twyford said Treasury's math was "simply wrong".
"It doesn't actually reflect the volume of houses that are being built and it doesn't take into account the fact that KiwiBuild's recycling capital over and over."
Pressed on whether he was just trying to spin the numbers in his favour, Twyford pointed to a paper the Ministry of Business Innovation and Employment (MBIE) gave him on Tuesday.
While Treasury believes that $2.5 billion will be spent on residential property investment in New Zealand between 2018 and 2022, MBIE put this figure at between $4.8 billion and $11.6 billion.
With this somewhat on par with Treasury's December projection of $5.4 billion, MBIE said it had recommended Treasury carry its projection from HYEFU through to BEFU.
In the paper, MBIE detailed what it believed to be a misleading set of assumptions used by Treasury.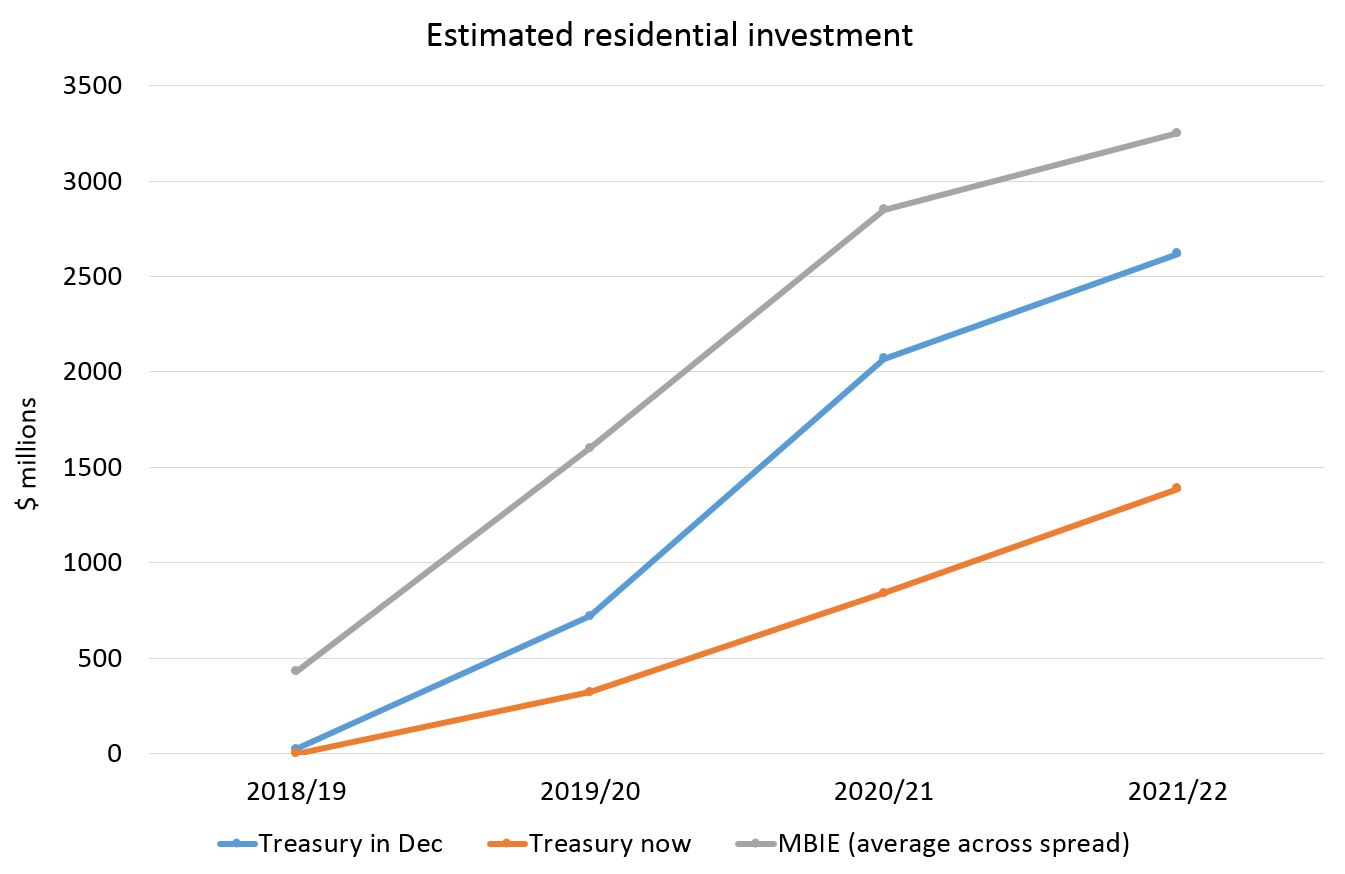 'Incorrect' assumptions
It said Treasury assumed that under the KiwiBuild model the Government would have to kick-start investment by parting with its money before the private sector.
Yet in reality, MBIE said that most KiwiBuild houses to be built in the next four years will be built through the Buying off the Plans scheme, which essentially sees the Government underwrite private development.
The majority of Government spending will therefore follow residential investment, rather than precede it.
Getting into the detail, MBIE explained: "Buying off the plans enables the Crown to induce high levels of residential investment from low levels of initial expenditure.
"If committing to actually purchasing the house, the Crown can expect to pay a 10% deposit up front and then not have to pay the other 90% until the home is completed. In between, the developer actually builds the new homes.
"Thus, a 10% deposit is enough to induce 100% of the residential investment required to construct a home before the other 90% of the purchase price is required.
"Alternatively, the Crown can guarantee to purchase a new home if the developer is unable to sell it. In this case, the Crown pays nothing up front, but its guarantee still induces 100% of the residential investment for the guaranteed homes.
"Even if the Crown needs to incur an expense against the chance that the guarantee will be triggered, when spread across the total portfolio of homes under guarantee, this provision is likely to be a relatively low proportion of total value (eg 10-20%).
"Again, therefore, low expenses induce high residential investment."
MBIE also argued Treasury ignored the impact of houses being on-sold, as well as the investment that KiwiBuild would drive.
It said KiwiBuild would not only accelerate the delivery of KiwiBuild homes, but also of non-KiwiBuild homes.
Original plans remain in place
Twyford acknowledged that trying to model the effect of KiwiBuild on overall residential investment was "almost a hypothetical or academic exercise".
Treasury in BEFU recognised there was a "high degree of uncertainty".
Yet Twyford said, "MBIE is much closer to the industry and to the market. They have a much more intimate understanding of how KiwiBuild is being rolled out. Treasury have made a number of highly questionable assumptions."
He wanted to make the point that even though the figures in Treasury's BEFU were way off those in HYEFU, the Government hadn't changed the "sequencing and the volume" of new houses to be built as a part of KiwiBuild.
The target of building 100,000 affordable houses for first home buyers over 10 years remains. The expectation for this to cost the Government $2 billion over five years, also remains.
Housing NZ eyes $1 bln debt issue
Meanwhile, Housing NZ has hired ANZ and Westpac as it plans a series of meetings with fixed income investors ahead of issuing about $1 billion of debt before June 30 next year.
The Government has increased the limit on Housing NZ's Borrowing Protocol, allowing it to seek financing from outside the Crown, from $1.08 billion to $3.05 billion. Any bond issue will be offered to both NZ and overseas institutional, or professional, investors. Housing NZ has an AA+ credit rating from S&P with a stable outlook.