Suspended lawyer and former BNZ staffer jailed for involvement in mortgage fraud scheme; property developer sentenced to home detention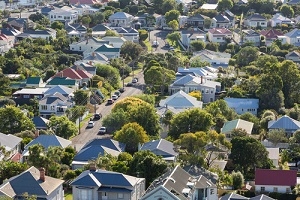 A suspended lawyer and a former BNZ staffer, who denied their involvement in a $54 million mortgage fraud scheme, have been sent to jail for longer than the scheme's instigator, who admitted to his offending in December.
Gang (Richard) Chen has been jailed for six years, and Zongliang (Charly) Jiang four years and nine months.
Following a three-month long trial that ended in June, a High Court judge found them guilty of playing different parts in a scheme to trick banks into thinking they were writing loans for residential property, when the loans were actually used by the company LV Park to develop commercial property in Auckland and Hamilton. The aim was to secure home loans with lower interest rates than business loans.
The mastermind behind the scheme, property developer Kang (Thomas) Huang, was in February jailed for four years and seven months.
His wife, Kang (Jenny) Xu, has today also been sentenced to 12 months' home detention on 22 charges of 'Obtaining by deception'.
During the trial her lawyer argued she played a "subservient" role in the property development business, with her husband concealing the fraudulent aspects of the "finance arrangements" from her for "cultural reasons".
However the Court found she was aware of and actively involved in the criminal offending.
Suspended lawyer, Chen, acted as a solicitor in the sale and purchase agreements and facilitated the payment of bribes to bank employees.
He was convicted on nine charges of 'Obtaining by deception', two of which were representative charges, and one representative charge of 'corruptly giving consideration to an agent' under the Secret Commissions Act.
Jiang facilitated the loans in return for bribes when he worked at BNZ.
He was convicted on 25 charges of 'Obtaining by deception' under the Crimes Act and one representative charge of 'Acceptance of gifts by agent' under the Secret Commissions Act.
A former ANZ employee was also involved in the scheme but left the country in 2015.
SFO director Julie Read says, "The sentences imposed today reflect the very serious nature of offending, which relied on a high level of calculation and collaboration.
"Such fraud undermines lenders' confidence in borrowers in the mortgage market.
"The banks were misled in a number of respects including the financial position of the purported borrowers and the level of associated risk.
"The SFO is committed to investigating and prosecuting this kind of large-scale offending to maintain the integrity of the financial market place."
For more on this case, see interest.co.nz's coverage dating back to February 2017.