ANZ economists expect building industry to 'muddle through' at still-high activity levels, but it's not an easy road ahead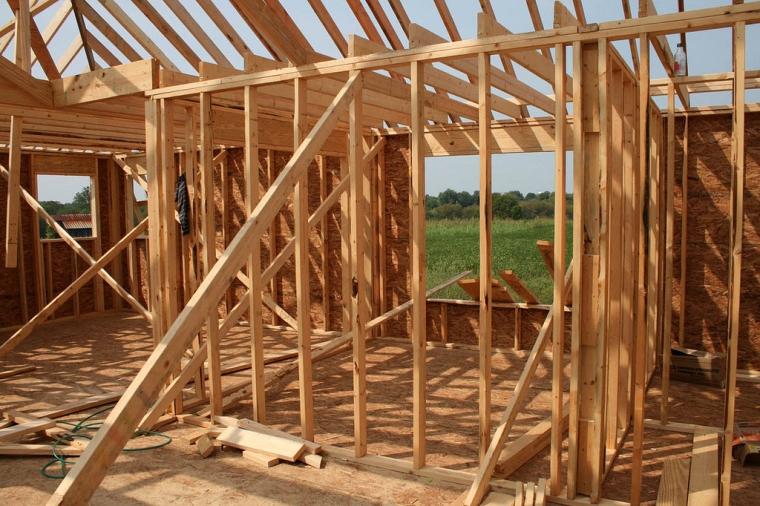 ANZ economists believe it will be difficult to achieve further increases in construction activity despite the strong demand.
In their weekly Market Focus publication the economists say labour shortages are a much-cited problem in the construction industry, but problems run deeper; as well as issues with contracts and boom/bust dynamics, the productivity performance of the industry is poor and needs to be addressed. In light of these challenges their central expectation is that "the industry continues to muddle through at still-high activity levels, but recent events highlight that it is not an easy road ahead".
They say the challenges facing the construction industry are complicated and there are no easy fixes.
In their view, areas that need to be closely examined include:
 Competitiveness in building supplies;
 Risk sharing in contracts;
 Industry training – both its quality and relevance;
 The building code;
 Availability of land; and
 Legal frameworks around financial protections. 
The economists say although there is plenty of construction work out there, profitability is squeezed.
"In May a survey by BDO of more than 100 construction firms and sub-contractors revealed that many players in the industry are operating on unsustainable margins. This is consistent with broader business surveys; in the [ANZ Business Outlook survey] (ANZBO), perceptions of profitability have deteriorated precipitously over the past two years, with 17% of construction firms pessimistic about the outlook (figure 1).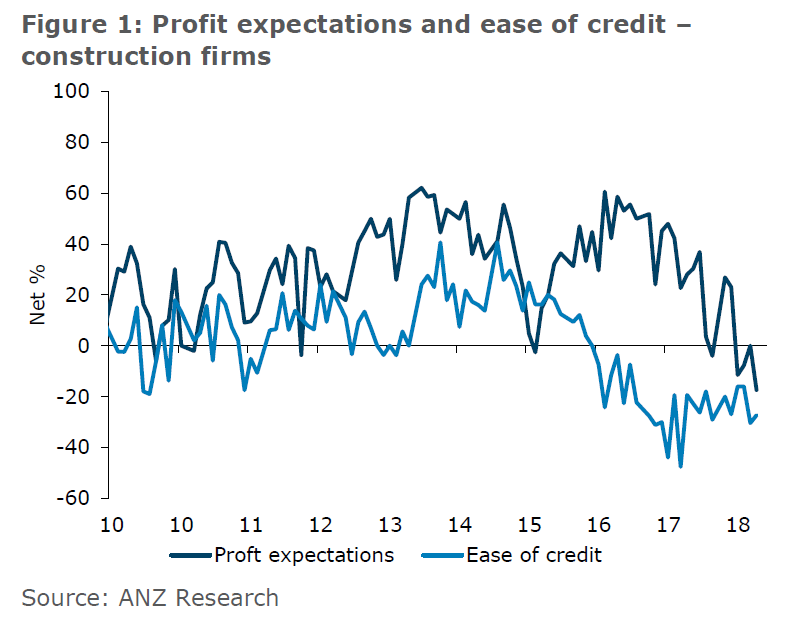 "As figure 1 shows, construction firms are also finding it difficult to get credit, with 27% of firms reporting that they expect it will be more difficult to get credit in the ANZBO.
"This perceived tightening has occurred at a time when firms appear to be increasing their reliance on credit lines. According to the RBNZ, credit to firms in the construction industry increased almost 8% over the year to June.
"While partly reflecting necessary investment to meet the uplift in construction activity that's occurred over the year, we suspect this increase in credit to the industry also partly reflects increased reliance on credit lines on the back of financial constraints and cash flow issues. Indeed, the BDO survey found that many construction firms are operating with inadequate financial reserves, some are not complying with the law to hold retention money in trust, and 27% of respondents report difficulty juggling cash flow."
The economists say a concerning aspect is the rise in risk taking that appears to be occurring.
"There are reports that project tendering is often based on unsustainably thin margins in order to secure work, particularly in the commercial space. This means that there is little buffer should mistakes be made, prices increase or sub-contractors or materials be unavailable, causing delays." 
The economists say that the construction cycle has entered a new phase and firms will need to adjust to that.
"While previous decisions may have been made on the assumption that growth will increase strongly, as it certainly has in recent years, it will no longer be possible to rely on strong growth. MBIE are expecting building of new homes to increase more than 30% from 32,900 consents over the year to June to 43,000 per year in 2023; without changes in the industry, we think this will be difficult to achieve. 
"If anything, there is a risk that activity slows from its current high level; we are hearing reports from firms in the industry that the commercial pipeline is looking less assured, at a time when the general outlook for economic activity is looking a bit softer." 
It is possible that recent woes in the construction industry will prove to have isolated effects, the economists say - but they are watching carefully.
"Where construction goes, the broader economy often follows. Expenditure on construction (which comprises 12% of GDP) is very cyclical and tends to have a strong correlation with aggregate economic activity. Of course, historically this correlation partly reflects movements in interest rates, which impact both construction activity and GDP more broadly. And that is not a factor this cycle, so the usual relationship is unlikely to hold – a classic example of correlation not implying causation. But there are other reasons that these may move together, not least the degree of confidence in the economy more broadly. 
"We continue to see the economy growing at 2½-3% in coming years, with fiscal stimulus and income growth (in part related to the elevated terms of trade) providing impetus and the RBNZ willing to step in if necessary. But there are downside risks to this outlook, and difficulties facing construction firms highlight that it is not all smooth sailing for the industry – or the broader economy – at present, and the activity outlook is looking a little less assured." 
Employment in construction-related jobs currently sits at 250,000 people – a hefty 9% of total employment in New Zealand, the economists say. And MBIE estimates that there is a shortage of 30,000 people in the industry.
"Yet simply hiring more people is only half a solution when it comes to expanding capacity.
"Productivity in the industry has been very poor over this entire business cycle and this means that even though demand is strong, the industry is struggling to keep up and produce efficiently, with proportionately more labour hours required to get the job done (figure 2).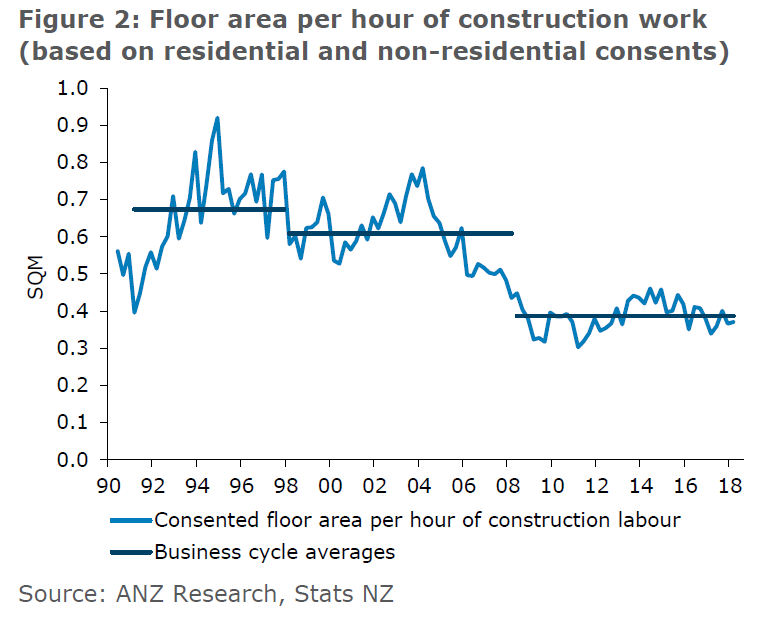 (Note: This graph above has been corrected from an earlier version)
"It's not a question of a lack of productivity growth: productivity has fallen. A lot. Building activity levels are comparable to those seen at the height of the boom in the mid-2000s, but employment in the industry is 25% higher."
In previous periods of strong activity, the industry has typically relied on immigration to increase activity, the economists say. And there is still a significant inflow of migration into construction-related occupations.
"However, sourcing more people is only part of the solution to push capacity higher when the marginal production of each new worker is low." 
The economists say low productivity growth is a problem that has affected the industry for a number of decades; construction-industry productivity is poor compared to that of other industries and other countries.
"The Productivity Commission has written about this at length and there are a number of issues at play: small scale (in part due to lack of large land parcels); not enough innovation (to simplify supply chains and deal with backlogs, plus make tendering processes competitive and efficient); and lack of skills amongst those entering the industry or looking to progress their careers (eg into management). Another factor is likely the widespread move to contracting out more and more of the work, requiring ever more complex coordination between operators on large building sites and yet a chronic lack of experienced and suitably qualified site managers. 
"But addressing productivity issues in construction is not just an industry problem; the Government has an important role to play. It can ensure that when it is the contractor, risk is shared appropriately. But more broadly it has a role in setting regulation, ensuring that sufficient usable land is available (helping to smooth boom-bust dynamics), that the industry is competitive, and that necessary infrastructure is in place.
"Transport infrastructure, for example, is an essential ingredient for supply chains to run efficiently. Likewise, regulation to ensure that the industry is competitive is important; lack of competition in the supply of building materials is reportedly an important contributor to elevated costs."