ANZ economists expect slower but still substantial population growth through migration, but say if there is a more rapid slowdown, economic growth could slow markedly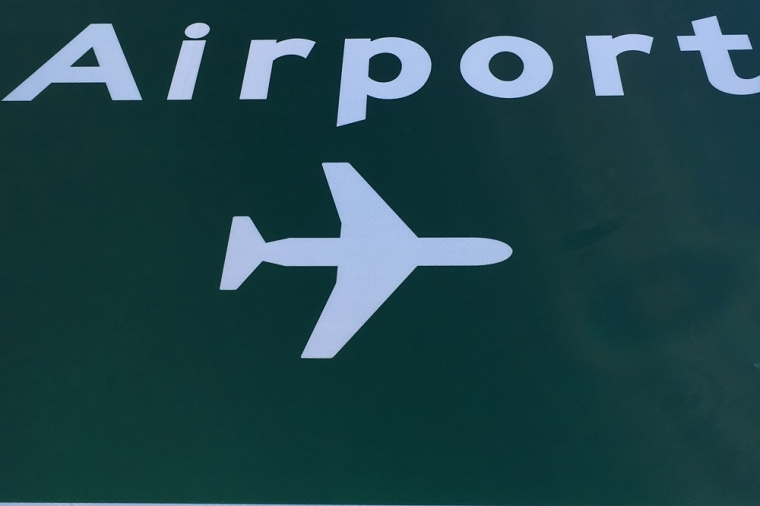 ANZ economists are warning that a bigger than expected slowdown in migration-fuelled population growth in New Zealand could cause economic growth to "slow markedly".
In their Weekly Focus the economists say since mid-2013, net migration inflows have added more than 300,000 people to the New Zealand population – equivalent to over 6% of the current population.
"This has had substantial impacts on both the demand and supply sides of the economy. It's no secret that population growth has been boosting GDP growth these past few years, with migrants adding to labour supply (lifting the economy's potential growth rate) while consuming goods and services (including housing). In the meantime, per capita GDP growth has been nothing to write home about ," they say.
Now, however, the cycle has turned and the net increases are slowing. 
The ANZ economists say that that even with further declines "baked into"  their forecast, they are still expecting migration to add a nearly 100,000 people to the population by the fourth quarter of 2020.
"So while migration's impetus to growth is expected to shrink, it's not expected to be a drag on the economy any time soon.
"But there is always the risk that the downturn is sharper than we expect. And if that risk materialises, economic growth could slow markedly."
The economists say "another important channel" is the housing market.
Based on historical analysis, a 1% increase in the population has been associated with 7-9% higher house prices over three years, the economists say. 
"A number of headwinds are affecting the housing market at present: LVR restrictions, government policy, affordability constraints, and credit availability.
"Nonetheless, it's a fair assumption that a smaller population would mean less housing demand than otherwise, which would impact both house prices and residential investment."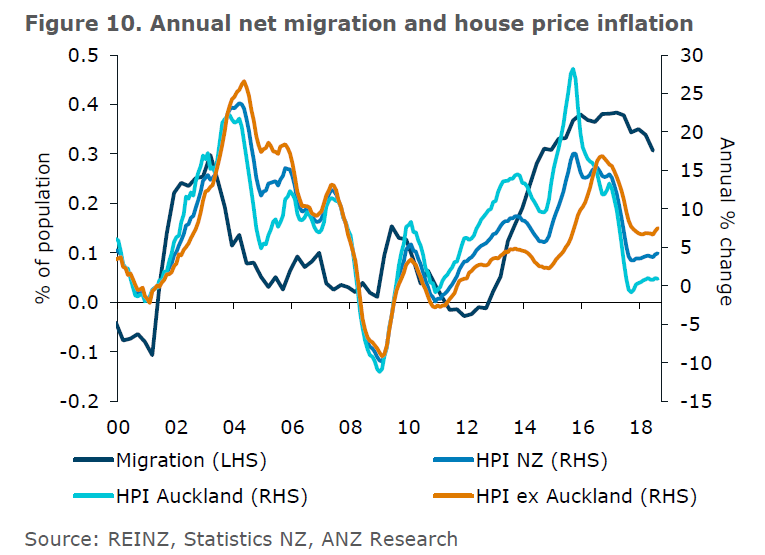 The economists say that given New Zealand now has a large pool of recent permanent residents "who may have a higher propensity to leave" should economic conditions change, the risk that net migration exacerbates the next downturn – whenever that may be – is quite real.
They say is very difficult to forecast.
"In our view, risks are skewed to the downside."
There are a number of factors, they say that could cause migration to evolve differently to their expectations, including:
Domestic or global economic conditions could surprise.
The large pool of recent arrivals could be more inclined to leave again than assumed. Following the largest cycle of arrivals ever, might we see the largest ever cycle in departures? We won't know for some time.
Fewer (or more) arrivals could go on to permanent residency than expected.
Migration policy settings could change. So far, the change of government has led to only relatively minor tweaks to policy, with the Government appearing content to let the cyclical easing continue. However, given the rhetoric leading up to the election, tighter policy settings remain a possibility.
Non-economic forces such as geopolitical tensions could also enter the equation.
The economists then have a close look at the patter of historical deviations from trend to see how the migration cycle could evolve from here.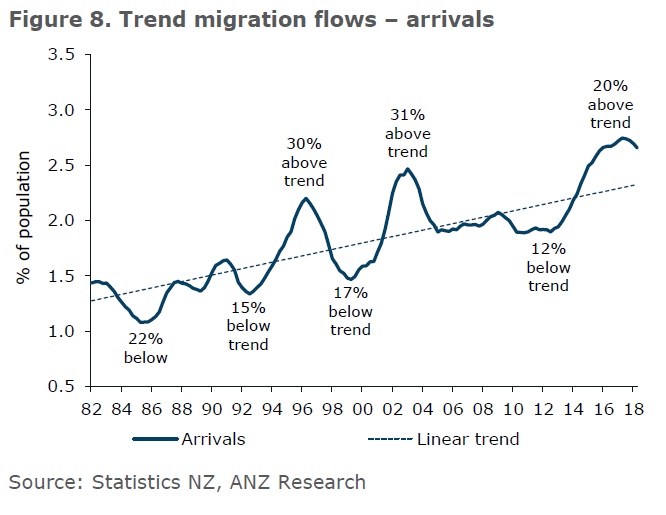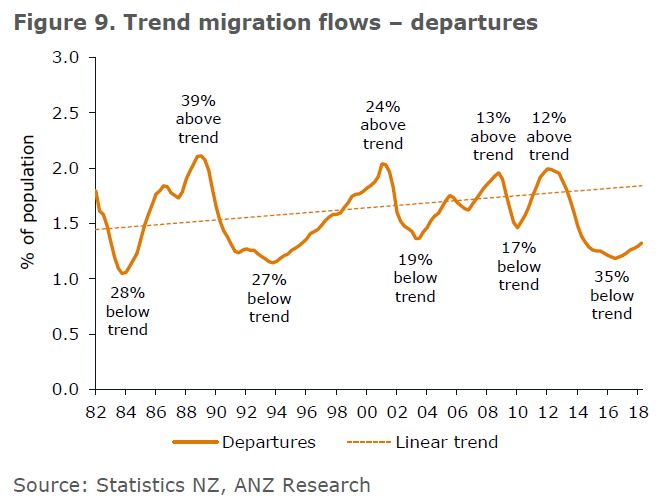 "While the estimated trend is sensitive to the choice of sample period, it is clear that over the past 30 years or so (up until the beginning of the current cycle), net migrant inflows have trended gradually higher."
The economists say that currently both migrant arrivals and departures are well away from their 30-year trends (measured up until the start of the current cycle).
"The current cycle peak in arrivals (as a share of the population) is similar to previous cycles, at 20% above trend in October 2017. But the trough in departures as a share of the population has been particularly low, hitting 35% below trend in September 2016."
In crunching some numbers, the economists say that If arrivals and departures were to return to trend within two years, "there would be almost 20,000 fewer people than our central forecast by Q4 2020".
Alternatively, an "overshoot" of trend in both arrivals and departures of 15% by end-2020 would lower the population by around 62,000 people relative to the economists expectations, This would be equivalent to 1.3% of the current population.
"All else equal, annual GDP growth could be 0.3%pts lower than our central forecast for 2.3% y/y growth at the end of 2020, although the effect is uncertain. And if migration continued easing beyond our forecast horizon, the effect could be even greater," they say.
Continuing the crunching, the economists say any reversal that saw arrivals (departures) 30% below (above) trend would be consistent with net migration "turning significantly negative and dragging on growth", with GDP potentially running at an "anaemic pace" of just 1.7% year-on-year by 2020.
"None of these scenarios would be unprecedented based on historical experience (in terms of magnitude, although the timing of reversals has varied). This highlights just how significant migration risks are for the economic outlook."