Simon Bridges softens his criticism of Adrian Orr after saying he wouldn't reappoint him Reserve Bank governor; David Seymour says the OCR should've been hiked sooner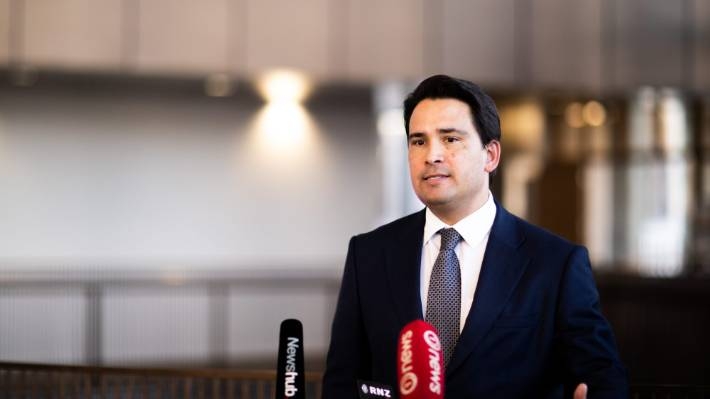 National Party Finance spokesperson Simon Bridges is softening his criticism of Reserve Bank (RBNZ) Governor Adrian Orr, after earlier saying he wouldn't reappoint Orr if he was in government. 
Bridges' change of tone came as National leader Christopher Luxon on Tuesday morning said Bridges' comment didn't reflect the party's position.
"What Simon was raising was, fundamentally there has been mission creep with the RBNZ," Luxon said, echoing the view of the likes of the right-wing think tank, the NZ Initiative, which is partially funded by the country's major retail banks. 
"We don't want it to get politicised because we don't want to undermine the independence and the trust that it has both with the government and the public."
Bridges grabbed headlines on Monday after last week telling The Working Group podcast he wouldn't reappoint Orr. Orr's term as governor ends in March 2023, so it will be up to Finance Minister Grant Robertson to either reappoint or replace him.
ACT leader David Seymour, who also appeared on the podcast, said there was "not a chance" he would keep Orr.
Then Bridges said, "It's a big call to get rid of someone who's been reappointed. In terms of reappointment, I'm with David. I don't see anyone on the centre-right being that quick to want to do that, because this is a guy who's ultimately probably made things worse.
"His policy implementation has led to the housing problems we've got, the big inflation. And he's been focussed on a whole bunch of other things that may or may not be important, but these are not the job of the Reserve Bank, whether it's Māori issues, climate change and the like."
Quizzed by interest.co.nz on his comments on Tuesday, Bridges retreated from his attack on Orr, and focussed on the mission creep angle.
"In the end, there's merit in sticking to your knitting. It's not all Adrian Orr's fault actually, it's also the fault of Grant Robertson - giving the RBNZ too much to do," Bridges said.
He then said he felt for Orr, because he had to hike interest rates to suppress higher inflation (which the RBNZ specifically set out to lift by loosening monetary policy).
"In fairness to Adrian Orr, I have some sympathy for the guy," Bridges said.
"He's got to turn things down because Grant Robertson's turning things up with that spending, leading to inflation; poorer kiwis. So that OCR [Official Cash Rate] keeps having to go up and up and up."
This is the argument Bridges' predecessor, Andrew Bayly, had been making, all the while calling for the Government to provide struggling businesses with more financial support. 
Bridges couldn't identify any problematic actions the RBNZ has taken as it's fulfilled its core jobs.
Asked whether he was happy with the way the RBNZ has conducted monetary policy and its role maintaining financial stability, Bridges said, "On monetary, I think overall - yes. You can [debate] whether it was slow or so on and so forth...
"In the other areas, it's a case-by-case example. But I would say that politicians have a legitimate role to play in actually critiquing and questioning the non-monetary parts of the RBNZ."
When pushed on exactly what he would've done differently if he was in Orr's shoes, Seymour conceded he would've raised the OCR sooner than the RBNZ did on October 6.
"I would've wanted to have a RBNZ governor who took a much more hawkish approach towards monetary policy than we've had," he said.
Seymour said Orr's attitude that people who can't afford houses should be grateful they have jobs, was creating "huge division" in New Zealand.
Robertson, as recently as a couple of weeks ago, expressed confidence in Orr, saying, "I think the Governor's done an excellent job through very, very challenging times."