Why has a chasm opened up between the Reserve Bank of New Zealand's OCR and Reserve Bank of Australia's Cash Rate Target?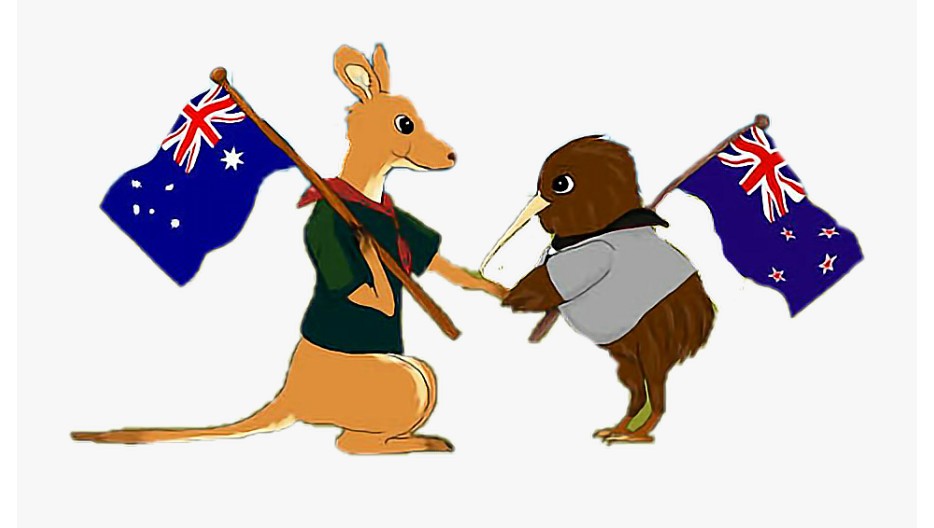 We kiwis always like to compare ourselves to our bigger neighbour to the west. And if you do so in the area of monetary policy at the moment you'll see a stark difference.
With the Reserve Bank of New Zealand (RBNZ) having last week increased its Official Cash Rate (OCR) by 50 basis points to 1.50%, a huge gap has opened up with the Reserve Bank of Australia (RBA). Whilst the RBNZ has now increased the OCR at four consecutive reviews, the RBA's Cash Rate Target remains at just 0.10%, which is where it has been since 2020.
So why has this chasm emerged between the two neighbouring central banks? After all both countries now face similar inflationary challenges.
Kiwibank Chief Economist Jarrod Kerr describes the differing cash rates as interesting.
"The RBA painted themselves into a corner by continually saying they're not going to do anything until 2024. And that was on the back of them manipulating the yield curve," Kerr says. "So while they were doing that ... they couldn't change tack so quickly."
"That's a long way of me saying they're late. And we'll see them tightening from June, which is a big about face, a big turnaround," says Kerr.
"And then on the New Zealand side, with the benefit of hindsight the RBNZ was ahead of the curve, ahead of most central banks around the world. And now they're in a situation where they're still worried about inflation, still worried about meeting their mandate and the threats to their credibility. So I think you've got a central bank which is much more aggressive."
Kerr also points out that NZ has higher inflation than Australia.
"We had higher inflation here prior to the pandemic. So we went in with a higher inflation trajectory than Australia did. But at the end of the day I think the RBA's late and the RBNZ is accelerating," says Kerr.
In December NZ's annual Consumers Price Index came in at 5.9% versus 3.5% in Australia. Economists expect the NZ March quarter figure, out on Thursday, to be above 7% with inflation also expected to rise in Australia. 
Meanwhile NZ's official unemployment was 3.2% in the December quarter versus 4.2% in Australia. Australian unemployment dropped to 4% in the March quarter, with the NZ March quarter data due out on May 4.
RBA goes lower
Whilst both central banks cut their key overnight interest rate to 0.25% in March 2020, the RBA went lower still, going to 0.1% in November 2020 where it remains. And Kerr's comment about the RBA's yield curve manipulation highlights another difference in the Covid responses. One of the steps the RBA took was a target for the yield on the three-year Australian Government bond of around 0.25%, which subsequently reduced to around 0.1%.
Whilst the RBNZ went down the quantitative easing path from March 2020 through its Large-Scale Asset Purchase (LSAP) programme, through which it spent billions on government and local government bonds, the RBA didn't adopt this tool until November 2020.
ANZ Chief Economist Richard Yetsenga notes the rate gap between the two central banks is large, but expects it to close. He also argues that central banks went too far in their responses to Covid-19.
"Yes the rate gap is large, but it substantially reflects the speed of monetary policy action this cycle. Policy, in general in advanced economies, responded too aggressively to the pandemic. Some central banks, like the [US] Fed and RBA, have also adjusted their policy approach such that they would tighten later than might have been usual previously. The net result of this is that modest timing differences are resulting in large rate gaps," Yetsenga says.
"Over time the differential between Australia and NZ will start to narrow once the RBA more clearly recognises how much monetary tightening will be required to return inflation to the target band and ensure it remains there on an ongoing basis," adds Yetsenga.
The RBA must seek to keep consumer price inflation between 2% and 3%, on average, over the medium-term. The RBNZ's target is for annual inflation between 1% and 3% over the medium-term, with a focus on keeping future inflation near the 2% midpoint.
Economists do expect the RBA to start lifting its Cash Rate Target from June. And this, Kerr says, is why the Kiwi dollar has fallen against the Aussie dollar when you might've thought it'd have followed the higher OCR up. At the time of writing the NZ dollar was at A91.44 cents.
"The Kiwi has depreciated against the Aussie because markets are now focused on what the RBA has to do. So we've actually enjoyed a depreciation in our currency relative to Aussie," says Kerr.
"I think it'll be interesting to see how that plays out now that we've got the RBA coming into play in June and the RBNZ ramping up their rate hikes with another 50, I think, a done deal for May to get the cash rate back to neutral."
Kerr believes the RBNZ wants to get the OCR to what it deems a neutral level, where it's viewed as neither stimulating nor constraining economic activity, as soon as possible. He sees this as 2%, from where the OCR climbs several times by 25 basis points up to about 3.25% in this tightening cycle.
As for the RBA; "I wouldn't  be surprised if they are forced to do a few 50 basis points licks themselves. They'll go through 2% for sure," Kerr says.
As the chart below shows decent sized gaps have opened up between the key RBNZ and RBA overnight interest rates before, albeit not for about six years.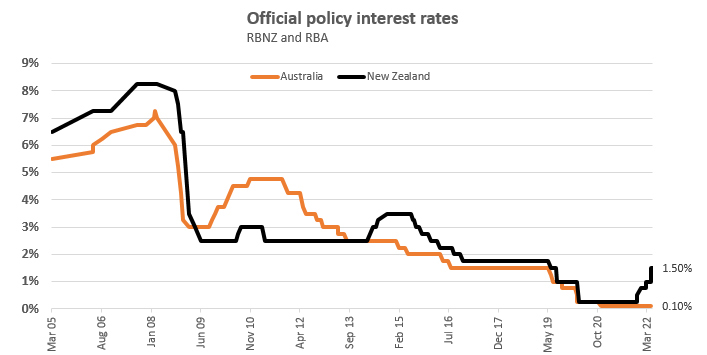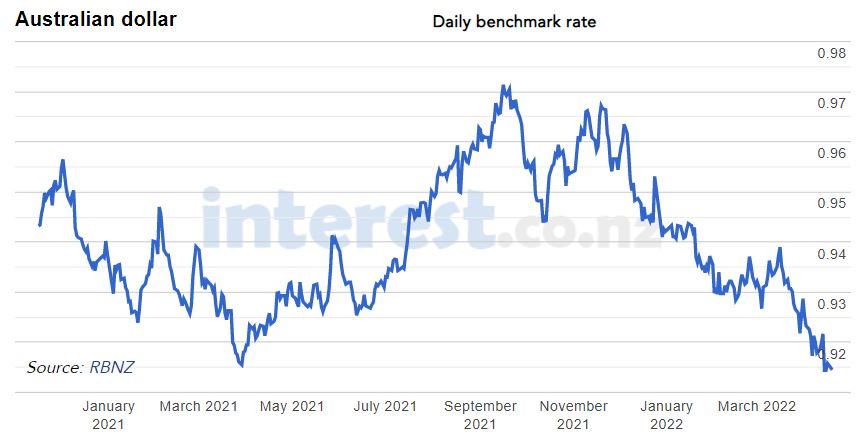 *This article was first published in our email for paying subscribers. See here for more details and how to subscribe.