In its final report on an inquiry into New Zealand long term immigration settings, the Productivity Commission recommends abolishing the category of 'permanent resident'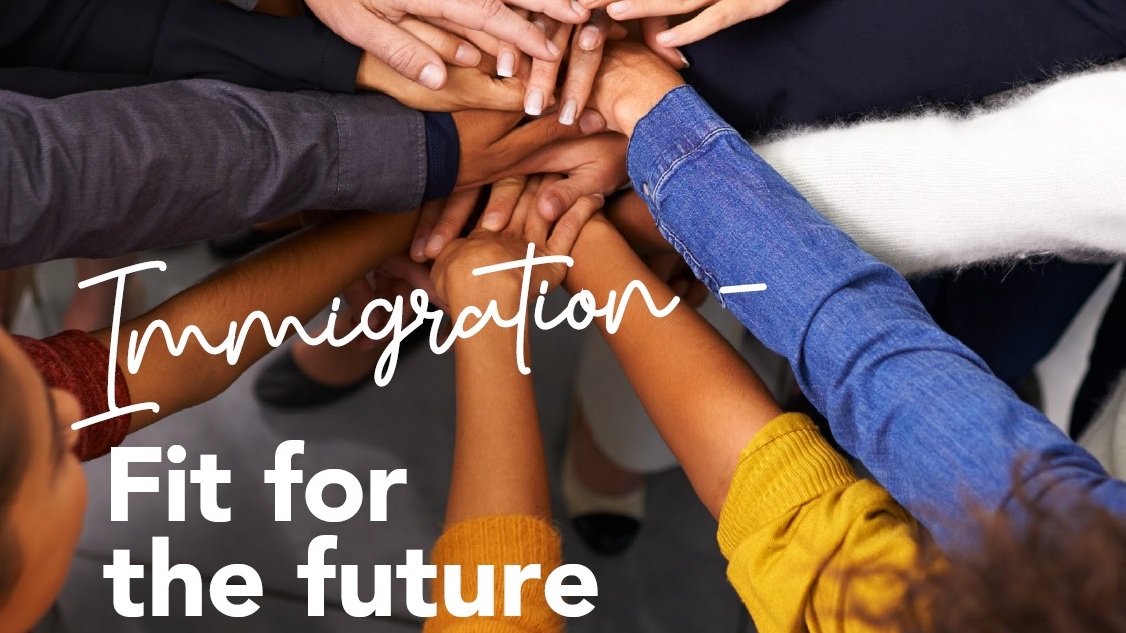 The Productivity Commission's recommending the issuing of a policy statement requiring New Zealand's governments to set a clear strategic direction for immigration policy.
That's the highlighted recommendation in the commission's final report into its inquiry into New Zealand's long-term immigration settings.
Another recommendation is that the Government should discontinue the issuance of new Permanent Resident visas for new Residents and require new Residents to renew their Resident visas every six years.
Altogether the commission has made 24 recommendations. 
Commission chair Ganesh Nana said immigration policy has profound effects on families, communities, businesses and those who aspire to call this country home.
"Yet immigration policy appears to be decided in a black box, shielded from the public scrutiny and robust policy assessments required of most other public policies."
He said improving the country's "languishing productivity" is a long game.
"This is often at odds with how successive governments have run the immigration system: reactive to short-term pressures and sometimes conflicting priorities."
On the recommendation to issue an Immigration Government Policy Statement (GPS), Gana said this would require governments to set a clear strategic direction for immigration policy. Governments would also be required to specify how the demand for temporary and permanent visas would be managed to reflect the country's capacity to settle more people and how it would invest, if necessary, to expand that capacity. Ideally the GPS would look ahead for five to 10 years.
The commission's report says several public management tools are available in the New Zealand state sector that could serve as guides for an immigration GPS. The two that the Commission thinks best to consider are the Government Policy Statement (GPS) in the Land Transport Management Act 2003 and the fiscal responsibility provisions of Part 2 of the Public Finance Act 1989.
"A GPS would have improved the transparency around the Government's recent immigration rebalance announcement, by including how policy changes would affect the expected number and composition of migrants and the planning range for residence visas," Nana said. "It would have explained how its objectives in immigration related to its other objectives for education and training, and investments in infrastructure overall."
The commission has found that the current immigration system:
lacks transparency and clear objectives;
struggles to make trade-offs between employment, productivity, capacity, and other objectives; and
has a short-term focus and takes incremental decisions that fail to take account of cumulative or wider effects, or other government policy objectives.
Here is the detail of the GPS recommendation: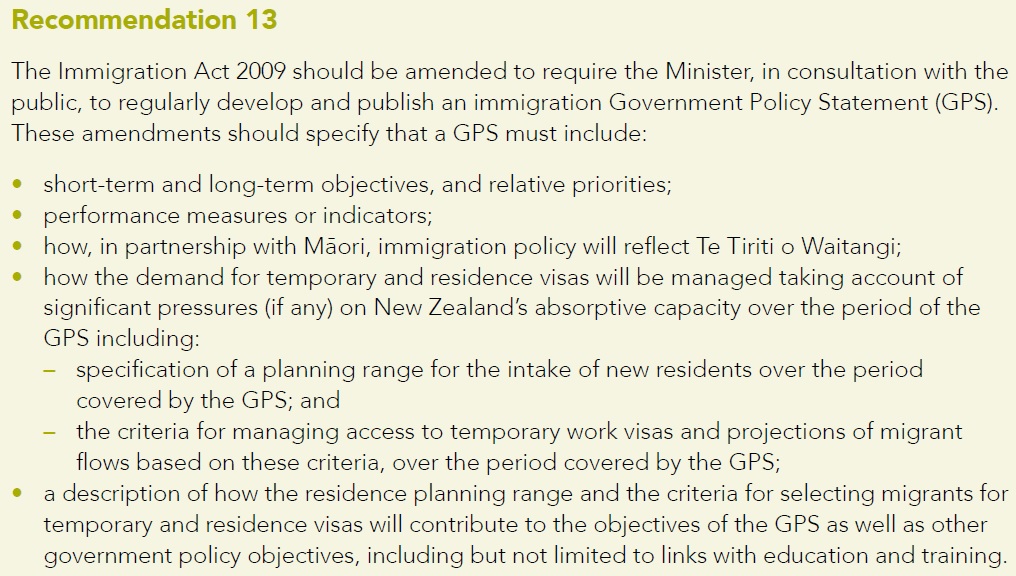 The commission says an immigration GPS could change behaviour.
"What would have changed if an immigration GPS had been in place over the last thirty years?
"Governments would have been tracking a broad range of indicators with an eye on the population growth rate and pressures on absorptive capacity.
"Figure 5.1 shows population growth rates over the last 80 years. Hypothetically, if the government of the day made investment decisions based on a planned annual population growth range of between 1% and 1.5%, and the rate was threatening to exceed that over several time periods, the government of the day and other parties could have adjusted their migration and infrastructure investment decisions.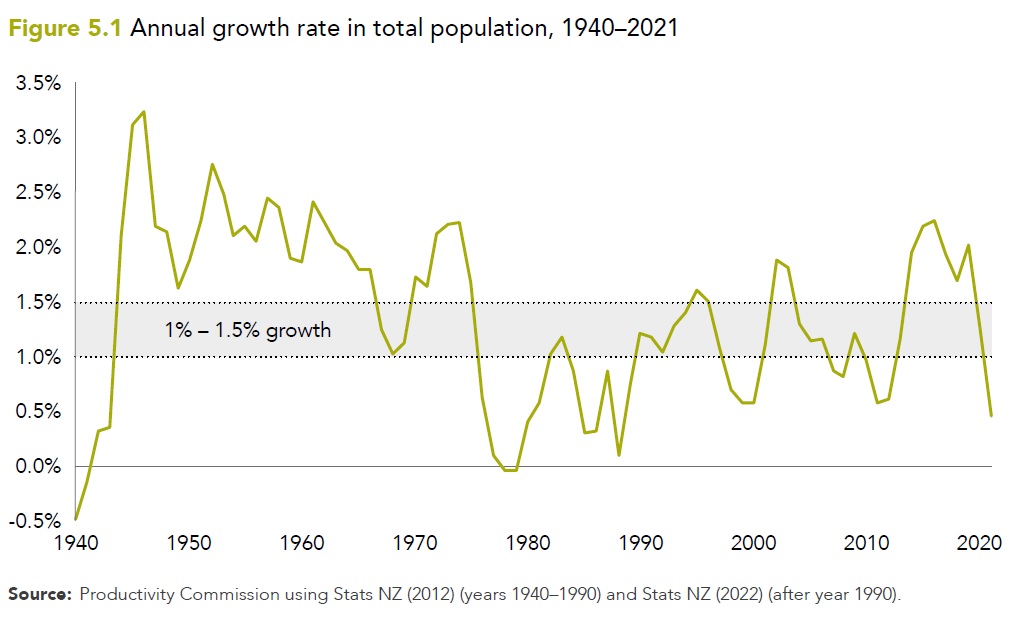 "Of course, any tightening of criteria to lower migrant inflows would need to assess the costs and benefits of doing so (including taking into account short-term effects in the labour market and on macroeconomic demand pressures). 
"It is also clear that applying a simple rule across time without understanding underlying causes would be unwise.
"For example, since the Second World War, New Zealand's population growth has been a story of two halves. In the first half, to around the 1980s, New Zealand's population grew largely from natural increase. In contrast, in the second half the population grew mainly from net migration (Figure 2.1).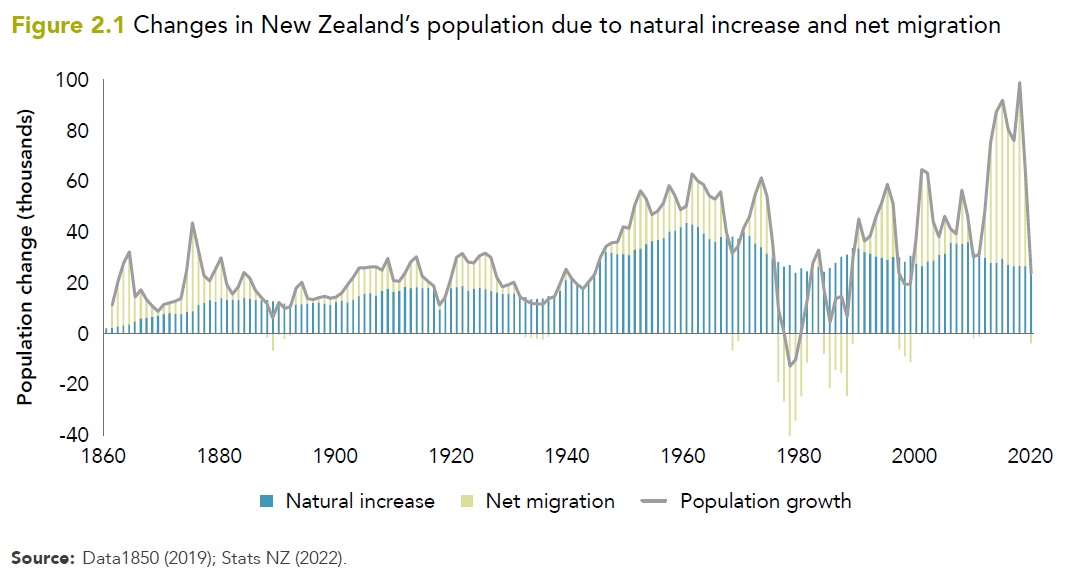 The commission says restricting migration to prevent potential job displacement of low-skilled or low-paid workers may cause greater harm because migration, on average, creates more jobs than it destroys, and has a small net positive impact on wages and employment of local workers and on productivity.
"Even so, for those negatively impacted through job loss, the cost can be very high and felt by the individual, their whānau and community.
"The Government should monitor and evaluate the impacts of the immigration system, and where there is evidence of migration displacing local workers, the Government should empower displaced workers. Empowering displaced workers could include improved access to education and training; tailored active labour market programmes; and Industry Transformation Plans. Such an approach should be a primary focus regardless of the reason for displacement."
On the recommendation that the Government should discontinue the issuance of new Permanent Resident visas for new Residents and require new Residents to renew their Resident visas every six years, the commission says eligibility criteria for this renewal should include residence (eg, a minimum of two years residence in the last six years) and other measures of commitment (eg, investment, running a business, or having the rest of the family living in New Zealand).
The commission says New Zealand has large numbers of Permanent Resident visa holders offshore.
It says the Ministry of Business, Innovation and Employment (MBIE) has estimated that over 110 000 Permanent Resident visa holders had been overseas for at least six months at the end of February 2020 (just before the border closures due to the pandemic) with almost 80% of them being overseas for more than two years.
Moreover, Immigration New Zealand issued an average of around 40 000 residence class visas every year from 2011 to 2019.
"If this trend continues, another one million people will obtain New Zealand residency over the next 25 years – suggesting that the number of Permanent Resident visa holders living overseas is likely to reach 200 000 in a couple of decades.
"This situation increases the risk of future population volatility and makes planning for housing, infrastructure, and public and private services more difficult.
"These problems are compounded by foreignborn migrants being more likely to return to major cities, compared to the New Zealand-born diaspora (Stats NZ, 2021a). Any unforeseen flow of returnees due to overseas inter-state or civil conflicts, natural events or economic downturns could put intense pressures on public infrastructure and services.
"Managing such a population surge could be a significant challenge for policymakers and create wellbeing, productivity, and fiscal costs and risks (NZPC, 2021c). As noted, the current settings allow Permanent Residents, even those on long-term absence, to return to New Zealand at any time and make use of a range of public services, including healthcare and schooling for their children. Requiring new Residents to renew their visa every six years would limit these risks, should a person decide not to stay or renew their visa."
Another topic raised in the report is that several visa categories have been created to fill gaps and meet specific local demand "in an incremental and ad hoc way" without examining the cumulative impacts.
The commission recommends therefore that MBI should develop a rolling programme of independent evaluations for major visa categories, to assess their productivity and other economic and wellbeing outcomes.
"These evaluations should be published and should inform immigration policy and any future immigration Government Policy Statement."
And the commission recommends the Government should actively monitor the labour market for impacts on particular groups or communities over the economic cycle, with a particular focus on times of significant changes in immigration policy and/or migration flows at a regional or national level.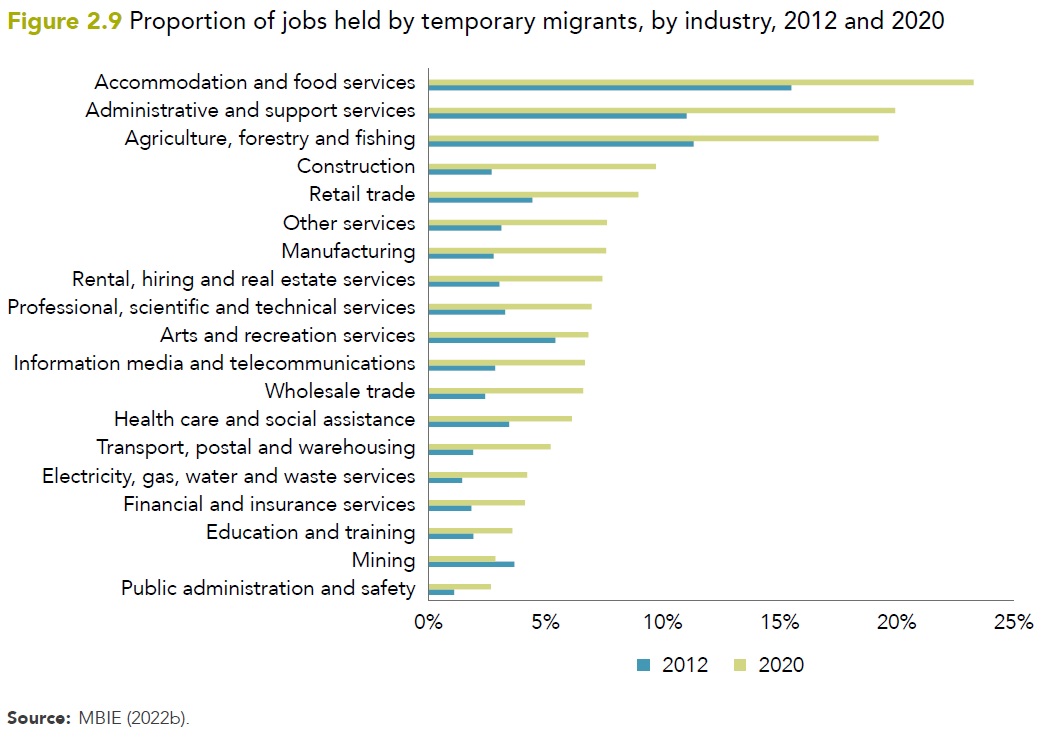 "If indicators of job displacement are found, the Government should undertake further work to understand their cause (for example, by applying the methods undertaken in the Ministry of Business, Innovation and Employment (MBIE) 2018 study).
"At the same time, the Government should address any impacts through improving access to education and training, tailoring active labour market programmes, and through Industry Transformation Plans.
"The Government may need to consider short-term support policies or programmes, or bespoke interventions, to protect those particularly vulnerable. In addition, MBIE should regularly update its analysis of migration, employment and wages to assess the impact of current migration on local wages and employment. MBIE should undertake this analysis at the aggregate level, as well as with a distributional lens."