Price drops in China for logs, decrease less in India. Some export sawn timber products suffering big price drops. Local market remains very stable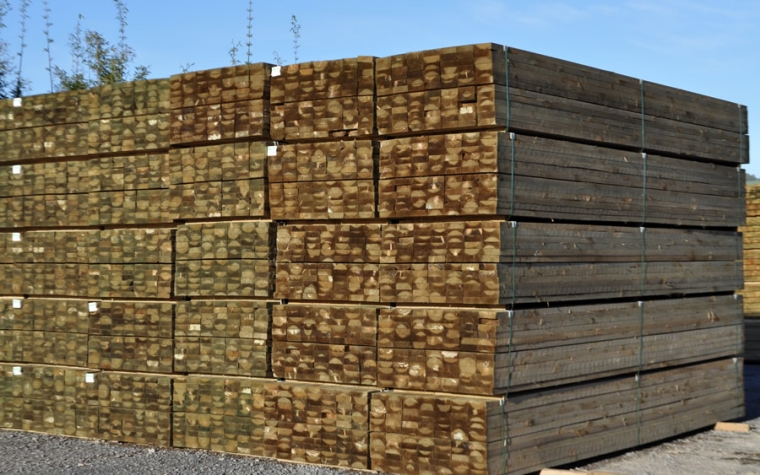 The CFR sale prices for New Zealand logs in China has dropped -US$4 to -US$6 over the last month, with A grade logs now selling at around US$130 per JASm3.
The weakening of the NZD against the USD through May somewhat buffered the drop for the June At Wharf Gate (AWG) prices offered to log suppliers at NZ ports. The average drop in AWG prices was -US$5-6 per JASm3. The Chinese Yuan (CNY) has recently stabilised against the USD providing some relief to the Chinese log buyers. The NZD however has recently strengthened against the USD, and if this continues will have an adverse effect on July AWG prices.
The markets for sawn timber produced by New Zealand mills has not changed from last month. The large Clear1 grade boards are selling well in Europe and parts of the US, but there is too much volume of the smaller Clear2 grade and knotty grades in Asia. Volume is still moving but at much lower prices.
The domestic market for sawn timber remains very stable.      
Due to the drop in the AWG log prices the PF Olsen Log Price Index for June decreased -$2 to $128. The index is currently $1 below the two-year average, $2 above the three-year average, and $10 higher than the five-year average. 
Domestic Log Market
Log Supply and Pricing
Prices for domestic log sales in June are mostly unchanged from May as we move to the end of Quarter 2. Most mills anticipate some relief in log prices in Quarter 3 due to the lower export log prices. Most mills will start to get more discerning over the quality of log they receive as the economic returns between the sawn timber grades is widening. The larger pruned and structural grades are selling well but marketing the rest of the log is a struggle.  
The domestic market for sawn timber has remained stable with settled weather through May. The start of the winter season will see demand drop in some sectors. We are seeing more finger joint, mouldings and other remanufactured products being imported from China and this will place pressure on supply.
Export Log Markets
China
Total softwood log stocks across China have reduced slightly from last month to around 3.8 million m3. Daily uplift from the ports is averaging about 78,000 m3 per day so demand is still reasonably healthy. Construction activity in China has started to slow with the start of the hottest months of June and July.  Most industry commentators expect the China government to introduce some stimulation spend into the construction market, but it will take a few months before the effect is felt in the log market. 
Courtesy: Pacific Forest Products (PFP)
The CFR sale prices for pine logs in China dropped a further -US$4-6 through May and the A grade sale price is now around US$130 per JASm3.
Supply of softwood logs from other countries continues to reduce. Logs from the US have been hit with further tariffs of up to 25% introduced by China's Ministry of Finance on June 1st within the Harmonized Tariff Schedule (HMS). The Southern Yellow Pine (SYP) from the South East of the US had already significantly reduced and is now just a trickle of container volume. There has been more volume from the Pacific North West, but this is now expected to slow considerably.
Many harvesting operations in South America have stopped and this will also reduce softwood supply into China. Current stocks in China are being heavily discounted in an effort to move this stock before the hot sticky season in China. The smaller sized South American softwood logs are more perishable than the New Zealand pine logs.
India
The Indian market for New Zealand pine logs has held up better and not completely followed the China CFR trend. The CFR price for 'A grade' New Zealand pine logs is US$147 to US$150 per JAS m3. The INR has traded consistently between Rs 69.4 to RS 70.0 for 1 USD. Domestic prices for sawn New Zealand  pine are Rs 511/CFT in Kandla and Rs 511/CFT in Tuticorin. Demand is lower in Tuticorin.
Low inventories due to low volume of shipment from New Zealand to India has kept the market price relatively firm. In March, April and May only three break bulk vessels per month were shipped. The arrival of a vessel with Uruguay pine is expected around mid-June, and there is a bit of anxiety around penalty on fumigation on arrival and the quality of the cargo.
South African pine is consistently supplied at 10,000 m3 per month in containers between Kandla, Tuticorin and Calcutta. It is priced at US$135 per tonne for P40 (pruned with a 40 cm small end diameter) and US$135 per tonne for A Grade. Due to problems of fungus and log quality it does not have a significant impact on the New Zealand pine log market.
SYP from the US is holding at US$123 for 12" minimum and US$118 for 10" minimum.
The previous government was re-elected with a resounding majority and that significantly reduced any potential for market volatility. It should augur well for the construction sector as many of the projects and initiatives of the government can continue unabated. The Indian Government is also expected to announce initiatives to lure Foreign Institutional Investors (FIIs) into real estate and the construction sector to boost the economy.
The only macroeconomic negative is that the recent Indian GDP growth figures of 5.8% are much lower than the expected 6.5%. The banking industry corrections with tougher rules around availability of bank funding for business has had an impact. One of the major log exporters of New Zealand pine to India, Aubade New Zealand Ltd, believe that the correction phase is almost completed, and the coming year should see better business prospects. The Indian Reserve Bank is reducing the key policy rate to spur domestic growth and private investment and the results will be visible in the second half of this year. They predict public sector banks will adopt a more conservative less helpful approach whereas private banks will step-up to lend to businesses.
Exchange rates
The New Zealand Dollar (NZD) weakened against the United States Dollar (USD) through May and this partially buffered New Zealand forest owners from the falling CFR log prices in China. The NZD has recently strengthened against the USD. As stated last month and worth reiterating, how the NZD and the CNY fare against the USD over the next couple of months will have a significant impact on AWG prices at New Zealand ports.
NZD:USD
CNY:USD
Ocean Freight
Ocean freight rates from New Zealand to China have increased +US$2-3 for vessels on shorter term charter. Congestion at New Zealand ports is adding costs of up to +US$2-3 per JASm3 at times. There is often 6-8 log vessels waiting at Tauranga Port for a berth. Freight rates to India have been relatively stable with rates holding at US$34-36 per JAS m3.
Source: Investing.com
The bunker prices have also peaked and show a downward trend, with a slight recent increase.
Singapore Bunker Price (IFO380) (red line) versus Brent Oil Price (grey line)

Source: Ship & Bunker
The Baltic Dry Index (BDI) is a composite of three sub-indices, each covering a different carrier size: Capesize (40%), Panamax (30%), and Supramax (30%). It displays an index of the daily USD hire rates across 20 ocean shipping routes.  Whilst most of the NZ log trade is shipped in handy size vessels, this segment is strongly influenced by the BDI.  
The graph of the BDI over the last year below shows the recent increase in the BDI. (The handysize is about 35% of the global shipping fleet). As mentioned in Wood Matters last month this increase in the BDI is an indication raw materials are growing in demand around the world, but not in the handysize vessels that are predominantly used to cart logs. 
Source: TradingEconomics.com
PF Olsen Log Price Index - June 2019
Due to the drop in the AWG log prices the PF Olsen Log Price Index for June decreased $2 to $128. The index is currently $1 below the two-year average, $2 above the three-year average, and $10 higher than the five-year average.
Basis of Index: This Index is based on prices in the table below weighted in proportions that represent a broad average of log grades produced from a typical pruned forest with an approximate mix of 40% domestic and 60% export supply.
Indicative Average Current Log Prices – June 2019
Log Grade
$/tonne at mill
 
$/JAS m3 at wharf
 

Jun-19

May-19

Apr-19

Mar-19

Feb-19

Jun-19

May-19

Apr-19

Mar-10

Feb-19

 
 
 
 
 
 
 
 
 
 
 

Pruned (P40)

175-190

175-192

175-192

175-195

175-195

178-183

178-183

178-183

185-190

185-192

Structural (S30)

132

132

130

130

130

 
 
 
 
 

Structural (S20)

115

115

115

115

115

 
 
 
 
 

Export A

 
 
 
 
 
140

144

145

151

156

Export K

 
 
 
 
 
132

136

137

143

148

Export KI

 
 
 
 
 
123

128

129

136

141

Export KIS

 
 
 
 
 
116

122

122

129

134

Pulp

51

51

50

50

50

 
 
 
 
 
Note: Actual prices will vary according to regional supply/demand balances, varying cost structures and grade variation. These prices should be used as a guide only..
A longer series of these prices is available here.
---
This article is reproduced from PF Olsen's Wood Matters, with permission.