Guy Trafford looks at the Indian dairy industry. Fonterra has their eye there too. Even though many aspects are unexpected, he concludes a venture there is unlikely to be Fonterra's Eldorado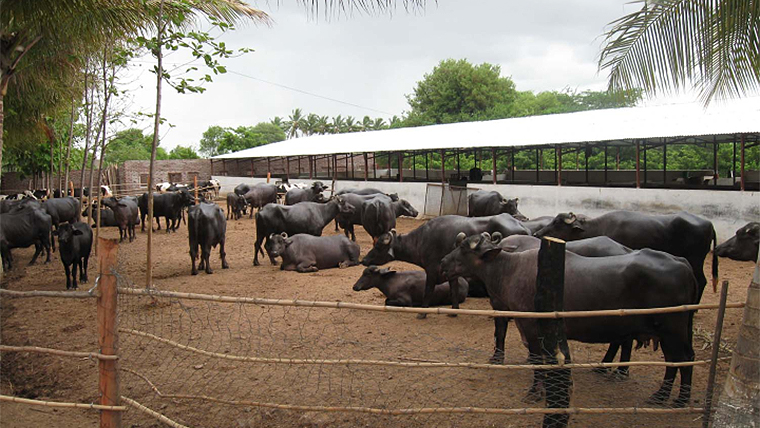 When it comes to dairy farming one of the biggest enigmas is India.
The biggest producer of milk globally grossing slightly over 22% of total world production (twice that of the USA), India has around 3.6 million dairy farmers milking around 300 million cows. Most farms have only one to two cows with the odd larger farm pushing up the average.
However, India's largest dairy farm has 3,000 cows and would be familiar to anyone who has been to a housed system.
As with the rest of the world, farm numbers are decreasing and farm /herd sizes are starting to increase. Production in India is increasing faster than any large scale milk producer.
The national plan was to increase production by 4.2% per annum; however in the last couple of years it has been nearer 6% and in the last six years has never dropped below a 4.5% increase.
While the 2017/18 year 176 million tonnes were produced (see fig 1) the aim is to reach 240 million tonnes. One of the differences with western counterparts is that of the 176 million tonnes, 50 million is 'siphoned off' for the farm's own use.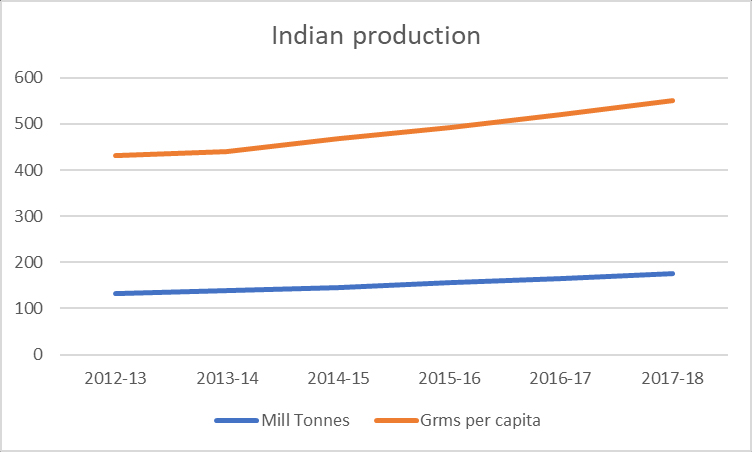 Figure 1. Indian milk production and available milk to the population.
Most dairy farmers belong to village co-ops or district groups and the efficiency of getting returns back to the farmer would make Kiwi farmers weep with envy. 80-86% of what consumers spend on milk ends up back in the farmers pocket. (In reality the farmer is mostly the woman in the household with the men doing off-farm work).
Cost of production, even with the smaller scale, is still competitive with New Zealand and Australian farms and certainly below that of the EU. Returns back to the farmer equate to about NZ$586 per cow (2014-15) or an estimated NZ$760 in 2017-18.
Another surprising difference is that about 33% of all dairy cows are buffalo and provide about 55% of total milk. India's largest farm is in Pune and has a 3,000 head Holstein herd but is a rarity.
Farmer returns (ignoring scale) are increasing about 9% per year and prices are remaining positive due to the strong protectionist policy of the Indian Federal government. This puts India at only 96th in terms of volumes of importation of milk, even New Zealand imports more sitting at 61st and Fiji is ahead of India at 89th.
Of those countries exporting into India, New Zealand ranks a distant 3rd behind France and Turkey. So even though with a population of 1.4 billion New Zealand dairy farmers shouldn't pin too much hope on the Indian market to lift returns here.
However, Fonterra is pursuing ambitions of growing sales into India with its Dreamery brand, a joint venture between Fonterra's Future Group and India's Future Foods. Products are based around buffalo milk, curd and flavoured milk shakes. But for the reasons given above plus tariffs etc. market commentators predict it to be "a tough nut to crack". Hopefully India won't become another hole-to-pour-money-into for little return. India does export small amounts itself, mainly products like skim milk powder and other products which have had value extracted.
 With all the discussion around the negative aspects of livestock farming in New Zealand, I assumed India would have a thriving crop trade that would overshadow livestock. In fact, the reverse is true with milk producers experiencing the most positive returns and increases, and are followed by livestock producers which are also lifting at the expense of crop farmers.
Crop growers have experienced a crash in prices in the last 4-5 years and are barely if at all covering the costs of production. This demise appears to be over all crops such as potatoes, vegetables and pulses not just arable crops. The poor state of farming is so bad that farmer and farm worker suicide rates are depressingly high and have been sitting at over 1.3 million per year for several years.
Water watch dog
Back here in New Zealand, the Government has just announced a new 'watchdog' to oversee the quality of public drinking water and wastewater and storm water systems. Councils already are starting to squirm at the potential costs involved in getting the systems up to an acceptable standard and questioning who should pay - the inference being it should be Central Government.
The farming sector, dairy in particular, will have the right to feel a bit smug given they have had to absorb huge costs and impositions getting farm effluent systems up to 'acceptable' standards. Farmers have been told they have to absorb the cost of their externalities, and I agree, but the same standard also needs to be applied to the urban sectors.
Farmers have a way to go but at least the journey is well under way and they know who is footing the bill and it's not Central Government.