Demand out of China for logs is rising, and prices are expected to follow. But trade war impacts may affect this. India demand variable but good. Local sawmills face lower local demand especially for industrial grades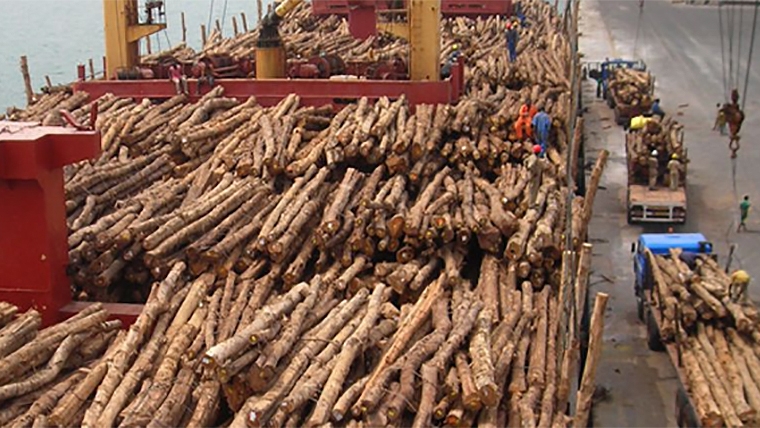 The CFR sale prices in China for New Zealand logs has increased to around 113 USD per JAS m3 for A grade. Log supply into China has reduced considerably while log demand is still relatively healthy as they progress through their hotter months of the year.
As demand in China increases and the log inventory reduces we expect CFR prices to increase further.
The trade war and now potentially a currency war between China and the US could have an impact on log buyer confidence, and the resultant movements in the relative exchange rates will likely have a significant effect on September AWG prices.
There will likely be an increase in sawn timber inventory in NZ as some sawmills have signed-up to a supply of logs at lower prices yet don't have the sawntimber sales to match. The domestic market is currently two paced with reasonable demand for structural sawntimber yet weak demand for industrial grade sawntimber.
Due to the increase in the AWG prices the PF Olsen Log Price Index for August increased $2 to $114. The index is currently $14 below the two-year average, $13 below the three-year average, and $6 lower than the five-year average. 
Domestic Log Market
Log Supply and Pricing
The domestic log price movements from last month have stabilised and continued through August as Q3 log supply and price is locked in.
Sawn timber markets
New dwelling consents in New Zealand are still trending upwards at near record levels yet some sawmills report weaker demand. Opinion seems divided whether the demand for sawn timber is relatively quiet because it is currently winter or because market uncertainty is delaying the start of projects. There is agreement there is not sufficient infrastructure or capacity to build these consented homes though. Individual  builders and small building companies report they are very busy with a solid schedule of forward work. Lower interest rates may further stimulate investment in housing, but interest rates have been relatively low for a while now.  
Export markets for sawn timber get more difficult as you move down the grade mix. As reported all year the markets for clearwood sawntimber from New Zealand pine remains strong in Europe. The Asian markets are still vastly oversupplied with lumber.  
New dwellings consented: Stats NZ
Export Log Markets
China
The CFR sale price for A grade logs in China has recently increased and now sits around 113 USD per JASm3  and expected to increase next month. However, the more recent depreciation in the CNY against the USD is of concern as this has reduced the buying power of the Chinese log buyers. There was a similar sudden depreciation of the CNY this time last year which caused a drop in CFR and resulting AWG prices for one month. The market recovered quite quickly then due to steady demand and the stabilisation of the CNY against the USD.       
There was a wide range of August AWG prices offered by log exporters with higher prices in some locations as exporters manoeuvred to maintain their position in the supply chain or made up shortfalls of volumes for pre-ordered vessels. We have also fixed modest increases in AWG with some exporters over the next three months to provide some owners with certainty.
Total softwood inventory in China is around 4.5million m3 so has only risen about 600K over the last  month. Daily consumption is currently 65-70k m3 per day which is the same as this time last year. While the daily usage has dropped from the 73-74k m3 per day used at the start of July, this was expected as the temperature increases in China. The demand is still reasonably healthy for this time of year in China.
Courtesy: Pacific Forest Products (PFP)
Estimates of the reduction in log supply to China from New Zealand range around the 20% mark. An average of around 57 vessels were shipped from NZ over Mar-July and this is forecast to reduce to around 40 vessels in August. This reduction in harvest activity is likely to increase over the next month as harvesting is completed in the smaller woodlots and the owners of the next block don't want to commence harvesting in the current market. The supply from North and South America has also virtually stopped. The South American supply chain of pine logs to China is unlikely to be reinstated until the sellers can be confident the market price has stabilised above 125 USD per JASm3 for A grade logs.  Log supply from Australia has also reduced an estimated 25%.
This reduction in supply will assist with stock control in China and once demand increases as China moves into their cooler Autumn months we expect to see CFR prices steadily increasing.
Charted below is the seasonal impact on daily offtake and the annual spike in logs stocks reflected by calculating how many day's supply sit in stock. The spike this year is nothing unusual.   
Courtesy: Pacific Forest Products (PFP)
India
Like most log traders in the world the Indian market is nervously observing the trade war between the US and China and its impact on log price and supply.
The output from sawmills in Kandla processing New Zealand pine logs has hit low prices of Rs 440/cft to Rs450/cft levels (from Rs500+ levels about six weeks ago). This has on one hand created a lot of market activity and nervousness as log inventories of New Zealand logs in Kandla devalue (these were bought at CFR 144-150 USD levels), yet also created aggressive demand due to price viability with respect to other competing species at Rs 440/cft levels. This demand boost  is particularly visible in the packaging materials market.
At the current CFR price level, the Indian log market for New Zealand is more likely to adsorb five vessels per month from what has been the normal struggling four vessels per month. The largest price fall impact is in South African Patola pine which is now unviable at the last contracted price of 124 USD per metric tonne (P30 Grade/A30 Grade) compared to current New Zealand pine selling at 124 USD per m3 for A Grade longs.
The Southern Yellow Pine from the US is now selling at 105 USD per metric tonne for 10 " (25cm) and above small end diameters (SED).
The second ever vessel of logs to India from Uruguay arriving mid-August was initially priced at 125 USD and then revised to 121 USD and ultimately expected to be priced at 110 USD or lower levels. The vessel has yet to have firm contracts and LCs and the 42,000 m3 volume of logs has not initiated any sales. It appears that the Singapore Trader and the Uruguayan supplier are both in Kandla trying to salvage the situation. It is predicted that at 110 USD levels the business would be unviable from Uruguay and may get discontinued. On a long-term basis, the pine logs from Uruguay should sell with a minimum negative differential of 10 USD below New Zealand pine logs. The log buyers of volume from the initial Uruguayan vessel in Kandla have formed an informal group to demand compensation from the suppliers due to poor quality, recovery loss and grading issues.
The South India log market has run out of New Zealand pine logs and awaits a vessel arrival later this month in Tuticorin. The buyers are quite upset at this late arrival with an offer price of 137 USD for A grade whilst sawmillers in Kandla are currently paying 124-132 USD levels and selling their sawn timber to markets serviced by Tuticorin buyers.
Exchange rates
The New Zealand Dollar (NZD) has recently weakened against the USD and this will assist with AWG prices received by export log sellers.  The CNY has also weakened considerably against the USD and this has reduced the buying power of the Chinese log buyers. How the US reacts and the resultant movements in the relative exchange rates will have a significant effect on September AWG prices. 
NZD:USD
CNY:USD
Ocean Freight
Owners are progressively moving to clean fuel tanks and refuel with compliant low sulphur fuel in anticipation of reduced sulphur fuel regulations from Jan 1st 2020. This is increasing operating costs but interestingly freight rates have not moved up significantly. Current freight rates to China are fixed in the mid-20s USD per JASm3 on average which is low for winter months where log weight factors are at a maximum. We expect the clean fuel regulations to have significant impact on ocean freight rates in 2020 but are currently  unsure of the quantum of this impact.
Source: Investing.com
The chart below shows the recent increases in bunker price.
Singapore Bunker Price (IFO380) (red line) versus Brent Oil Price (grey line)
Source: Ship & Bunker
The Baltic Dry Index (BDI) is a composite of three sub-indices, each covering a different carrier size: Capesize (40%), Panamax (30%), and Supramax (30%). It displays an index of the daily USD hire rates across 20 ocean shipping routes.  Whilst most of the NZ log trade is shipped in handy size vessels, this segment is strongly influenced by the BDI.  
Source: TradingEconomics.com
PF Olsen Log Price Index - August 2019
Due to the increase in the AWG prices the PF Olsen Log Price Index for August increased $2 to $114. The index is currently $14 below the two-year average, $13 below the three-year average, and $6 lower than the five-year average. 
Basis of Index: This Index is based on prices in the table below weighted in proportions that represent a broad average of log grades produced from a typical pruned forest with an approximate mix of 40% domestic and 60% export supply.
Indicative Average Current Log Prices – August 2019
Log Grade
$/tonne at mill
$/JAS m3 at wharf
 

Aug-19

Jul-19

Jun-19

May-19

Apr-19

Mar-19

Aug-19

Jul-19

Jun-19

May-19

Apr-19

Mar-10

 
 
 
 
 
 
 
 
 
 
 
 
 

Pruned (P40)

170-190

170-190

175-190

175-192

175-192

175-195

140-155

178-183

178-183

178-183

178-183

185-190

Structural (S30)

125

125

132

132

130

130

 
 
 
 
 
 

Structural (S20)

110

110

115

115

115

115

 
 
 
 
 
 

Export A

 
 
 
 
 
 

107

103

140

144

145

151

Export K

 
 
 
 
 
 

101

96

132

136

137

143

Export KI

 
 
 
 
 
 

92

87

123

128

129

136

Export KIS

 
 
 
 
 
 

85

81

116

122

122

129

Pulp

51

51

51

51

50

50

 
 
 
 
 
 
Note: Actual prices will vary according to regional supply/demand balances, varying cost structures and grade variation. These prices should be used as a guide only..
A longer series of these prices is available here.
---
This article is reproduced from PF Olsen's Wood Matters, with permission.