Log export price increases build as China's stocks fall and demand there rises. Demand in India is meek but stocks there are low. Sawn timber prices languish both locally and for export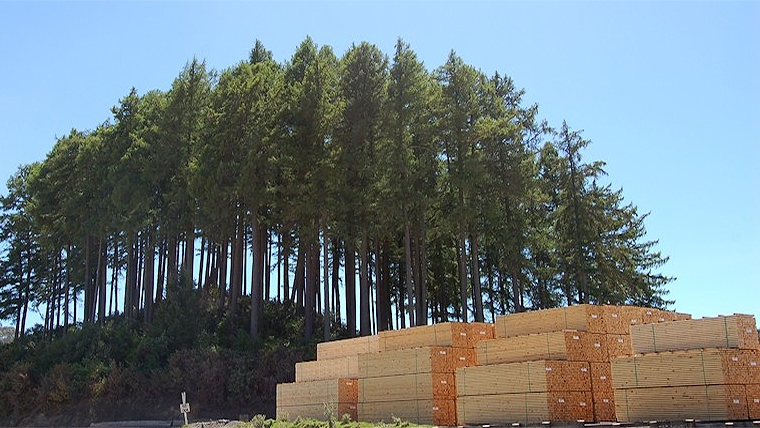 [Please note, there was no September 2019 report.]
At Wharf Gate (AWG) prices for export logs delivered to ports around New Zealand in October increased by an average of 8 NZD per JASm3. From the nadir that was July AWG prices, the average AWG prices have now increased by approximately 20 NZD per JASm3. Log stocks are relatively low in China and we expect AWG prices to continue their steady increase until the end of the year, due to increased CFR log prices in China.
Prices for logs sold domestically have moved in opposing directions as some regional markets differ in response times to the export log price drop then recovery. The domestic sawn timber market is stable but unspectacular. Demand has increased in China for sawn timber, but prices have been slower to recover.
Due to the increase in the AWG prices the PF Olsen Log Price Index for October increased $3 to $119. The index is currently $9 below the two-year average, $8 below the three-year average, and $1 lower than the five-year average. 
Domestic Log Market
Log Supply and Pricing
Prices for structural domestic logs have decreased in Northland and Southland while holding flat to increasing in the central North Island. There is still a shortage of quality pruned logs in some regions.   
Sawn timber markets
The domestic sawn timber market is very flat with demand below expectation. Sawmill owners wait to see if there will be a lift in consumption come summer.
While consumption is increasing in the China market the prices are not and New Zealand mills only sell their arising products into this market.
In its annual National Construction Pipeline Report the Ministry of Business Innovation and Employment forecast construction in New Zealand to keep growing and peak at $43 billion in 2021. This is sooner than forecast a year ago and includes about $26b of residential building, $9b of non-residential construction and about $8b of infrastructure work at the peak.
The 2019 report shows an earlier and higher peak than was forecast in the 2018 report which said total construction was expected to grow steadily to a forecast high of $41.4b in 2023.   The Canterbury region is one area though where building activity is on a decline, with total construction reducing 9 per cent to $6.6b in 2018 and would continue to reduce over the next six years.
While this forecast bodes well for the forest industry this peak is unlikely to be achieved without a significant increase in labour. The building industry training organisation BCITO estimates that 80,000 workers are needed in the construction sector over the next five years and half of those need to be trade-qualified.
Export Log Markets
China
Total softwood log stocks across China have been decreasing by about 150k m3 per week for the last six weeks. Many log storage facilities in China are only partially full. This low inventory should be further depleted when demand increases as the weather cools in China and productivity increases in the construction industry. The photo below is of a log storage facility in Lan Shan which will also experience increased demand for logs from plywood mills in nearby Linyi.  Approximately 400 mills had been given very short notice in late August to stop production by the local government as part of ongoing efforts to reduce air pollution.  Due to pressure from industry and Central Government these mills have been restarted. We have seen this in many other areas where the Government has built industrial parks which are more efficient with better environmental standards then moved log processing to these areas. 
Log Storage facility in Lan Shan.
While log supply from North and South America has virtually dried up the volume from Europe continues to increase. These logs are sold at lower prices than radiata logs from New Zealand. Last month these European logs were selling for around 100 EUR per m3 plus or minus 5 EUR depending upon quality. At the same time radiata logs were selling for 115-120 USD per m3. Allowing for exchange rates this means the European logs were a minimum 5 USD per m3 cheaper. The logs we saw were nice form and didn't show insect damage. It is difficult to predict the effect of this supply on NZ. The price differential is even higher now in mid-October as prices for pine log have increased while the price of the European logs hasn't increased. 
PF Olsen CEO Te Kapunga Dewes inspecting spruce log from Germany at a log yard in Qingdao, China.
New Zealand log exporters and forest owners have benefited from a very stable and steady log market in China over the last four years. While the demand for logs is still strong in China, the market supply and demand balance is becoming more dynamic due to several factors.
International Trade war between China and the US,
Fluctuating currencies affecting buying power,
China's Geopolitics,
Fluctuating supply from other parts of the world due to changing relative cost of supply (mainly transportation): Europe, Russia, North and South America.
India
The Indian softwood log market is currently short of logs, although this is more a function of low supply rather than high demand. There is still a struggle for liquidity among log buyers as the Reserve Bank of India and regulatory authorities attempt to tidy-up decades of problems in a relatively short period of time. This banking system reform continues its tightening over the corporate sector.
We do sense a partial recovery in prices as log supply from New Zealand has dropped and the China log market continues to improve. What is disheartening is that despite the low price for pine logs from New Zealand, offtake has not increased and demand remains subdued with cautious buyers. This is largely because the construction industry demand is down about 40% and packaging industry demand is down about 10%.
While one of the New Zealand log exporters to India made a good move to announce October loaded vessels at A grade long  CFR 129 USD per JASm3, other exporters continue to 'feel under the pump' and are still selling at CFR 124 USD per JASm3 for Sep/Oct loaded vessels.
The radiata sawn timber ex-mill price in Kandla has recovered to Rs 451 from a low of Rs 421 a few weeks back, with some market players forecasting upwards of Rs 500 after the Diwali holidays. You can see graphed below the price trend for New Zealand pine logs and its sawn timber.
The price for Southern Yellow Pine (SYP) from the US has fallen from 120 to 100 USD per metric tonne for 10" plus cargo. South African Patola shipments have slowed to a trickle and it is now being sold like SYP on loaded MT basis. The price dropped to around 105 USD for K grade in September but is now increasing.
The beetle infected Spruce from Europe has flooded the market. Stock lots (leftover) sale price for kiln dried sawn timber has fallen to 135 USD per m3 with traded lots of 500–1,000 m3. The European pine sawn timber has created a new market of marginal importers in small markets like Mumbai, Chennai etc as the saw millers in Europe are directly marketing a few containers to these customers. Their logic is that they can't afford middlemen at the low prices and can take the hassle of dealing with small parties.
Exchange rates
Both the New Zealand Dollar (NZD) and the Chinese Yuan (CNY) have been relatively stable against the United States Dollar (USD) between the end of August and the end of September. Therefore, the currency rates had little impact between September and October AWG prices. 
NZD:USD
CNY:USD
 Ocean Freight
Ocean freight rates to China have climbed in the last six weeks from the mid 20's per JASm3 to the high 20's per JAS m3.  This increase in costs has been more than offset by the rise in the CFR sale prices.
Source: Investing.com
The chart below shows the recent increases in bunker price.
Singapore Bunker Price (IFO380) (red line) versus Brent Oil Price (grey line)
Source: Ship & Bunker
The Baltic Dry Index (BDI) is a composite of three sub-indices, each covering a different carrier size: Capesize (40%), Panamax (30%), and Supramax (30%). It displays an index of the daily USD hire rates across 20 ocean shipping routes.  Whilst most of the NZ log trade is shipped in handy size vessels, this segment is strongly influenced by the BDI.  
Source: TradingEconomics.com
PF Olsen Log Price Index - October 2019
Due to the increase in the AWG prices the PF Olsen Log Price Index for October increased $3 to $119. The index is currently $9 below the two-year average, $8 below the three-year average, and $1 lower than the five-year average. 
Basis of Index: This Index is based on prices in the table below weighted in proportions that represent a broad average of log grades produced from a typical pruned forest with an approximate mix of 40% domestic and 60% export supply.
Indicative Average Current Log Prices – October 2019
Log Grade
$/tonne at mill
$/JAS m3 at wharf
 
Oct-19

Aug-19

Jul-19

Jun-19

May-19

Apr-19

Oct-19

Aug-19

Jul-19

Jun-19

May-19

Apr-19

 
 
 
 
 
 
 
 
 
 
 
 
 

Pruned (P40)

170-190

170-190

170-190

175-190

175-192

175-192

160-175

140-155

178-183

178-183

178-183

178-183

Structural (S30)

120-130

125

125

132

132

130

 
 
 
 
 
 

Structural (S20)

110

110

110

115

115

115

 
 
 
 
 
 

Export A

 
 
 
 
 
 
124

107

103

140

144

145

Export K

 
 
 
 
 
 
116

101

96

132

136

137

Export KI

 
 
 
 
 
 
108

92

87

123

128

129

Export KIS

 
 
 
 
 
 
105

85

81

116

122

122

Pulp

51

51

51

51

51

50

 
 
 
 
 
 
Note: Actual prices will vary according to regional supply/demand balances, varying cost structures and grade variation. These prices should be used as a guide only. There was no September 2019 report.
A longer series of these prices is available here.
---
This article is reproduced from PF Olsen's Wood Matters, with permission.