Guy Trafford is encouraged by reports China is getting back to work, and our export volumes are moving faster again as a result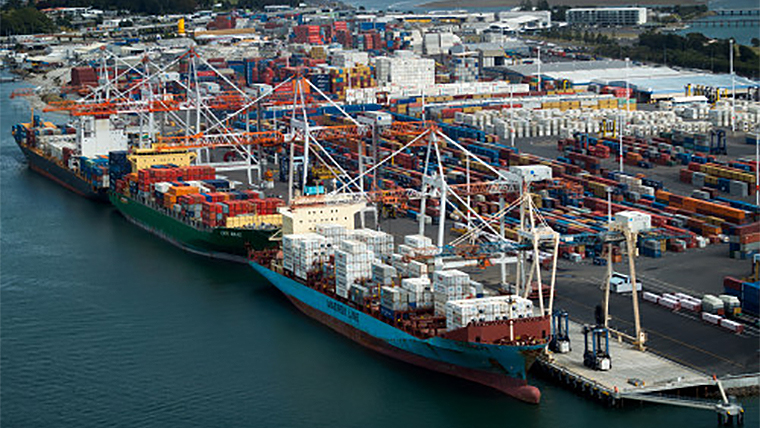 Waking up to the news the World Health Organisation (WHO) has declared covid-19 a pandemic, while inevitable and so not unexpected, still sent a cold chill down the spine.
Combined with the declaration of widespread drought, it did nothing to quell the feeling we are all going to hell-in-a-hand basket. The reality is nothing has changed; however, it does bring home  the unusual times we are living in.
Concern must extend to the India sub-continent and Africa with large populations ripe for the spread of covid-19 and without some of the advantages the developed world has and which are still struggling to contain the outbreak.
Back to home, it must be only a matter of time now before the RBNZ announce a lowering of the OCR to try and maintain some economic support. The Bank of England have shown the way with the UK now well on the way to a major outbreak.
On the positive side of things the news coming out of China continues to show improvement in the food sectors with Alibaba's food and parcel delivery arm up and running. Cainiao, of which Alibaba owns more than 60%, is again at full strength after a few weeks during which the epidemic disrupted transport and held up shipments. Meal delivery unit Ele.me and grocery chain Freshippo are also back at full strength and operating at "full capabilities" at present, an Alibaba spokeswoman said. With King Salmon reporting on Tuesday that they were back to exporting product into China and today reports that several of the Chinese airlines which had been grounded are starting to operate carrying freight, however it comes at a fairly steep price.
Stats NZ have published some provisional data which shows how exports into China are certainly lifting based upon $ values.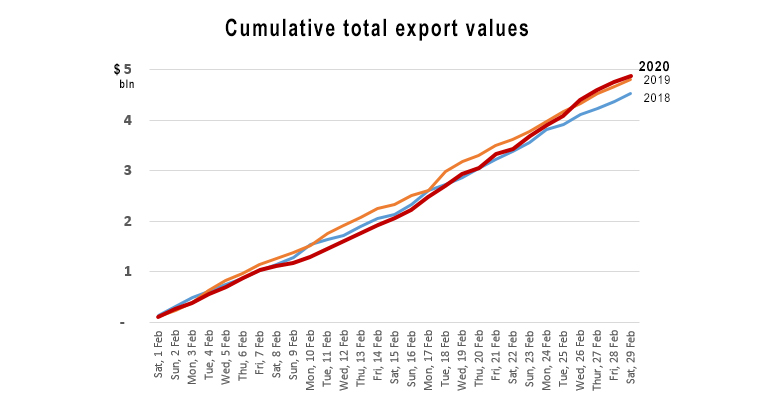 While the cumulative values for February 2020 are down $142 million on 2019 as the graph shows momentum is starting to kick in over the last 5 days of February. Given the increase on 2019 over 2018 it is likely that the potential loss over February exports to China are considerably more than $142 million but at least the line is now going in the right direction and should help 'mop up' some of the next round of damage that will come out of Europe and the USA.
With the silly season for politics about to descend upon us (providing it can break through the Covid-19  ceiling) Simon Bridges has come out proposing that National will have a major review of all regulations and eliminate two existing regulations for every one new regulation. In addition, he said that National would eliminate 100 regulations in the first six months. Presumably that means potentially 50 new ones. For most this is a laudable ambition although someone has already mentioned that National had nine years recently where they could have done just this.
We also have a parliamentary committee called the Regulations Review Committee which is meant to make sure all new regulations "have been made fairly and are used consistently". This committee is made up of three from National and three from Labour so there should, at least in theory, be a degree of oversight already.
While the farming and food processing area is subjected to a raft of regulations and there is certainly a large degree of overlap and therefore cost. An example of which I can recount is; to get a dairy item to market the milk is required to have regular testing at the harvesting stage (and audited), it is then pasteurised and tested (and audited) and then the end product is also tested (and audited). All of these processes cost with no regard to the size of the business involved.
The public can be reasonably assured that product sold is safe to consume, however the cost of compliance is a major disincentive for new businesses setting up and even for existing businesses to invest in new products. One of the areas that grates on many people involved in dealing with MPI, who oversees all of these processes, is the cost and then the lack of accountability that accompanies this. While there is some variation with different processes the charge out rate is around $185 per hour, this charging philosophy continues right through to replying to emails or processing compulsory 3 monthly reports which may just say "there is nothing to report". This rate is obviously based upon what the private sector charges for consultancy work and the like.
The difference however between the private sector and the government agencies is that the private sector value their customers and seek to add value to the business in an aim to get repeat business. The government agencies with their monopoly have no such concern and to protect themselves for being exposed to limits upon their knowledge and ability have a policy of not responding to questions around technical advice and assistance. The standard response is to go to a specialist consultant for advice, and for this reply you are liable to receive a bill. Most can accept that a government department may not have the answers to all questions but then their lack of knowledge and practical help should be reflected in their charge out rate.
So to go back to Simon Bridges and his statement that he is going to reduce the number of regulations I would suggest that instead he should be offering to look at the services provided and the cost of that service, or the lack of. We saw after the Pike River disaster the consequences of letting industries "self-regulate". It is an invitation for avoidance and leads to unsafe practices.