Increases in China log prices cancelled out by higher shipping costs. Export demand for sawn timber remains firm. Domestic demand good but expected to slow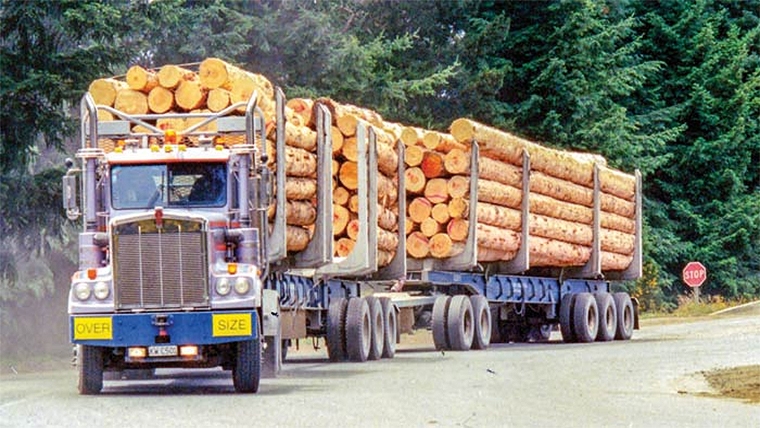 Domestic demand for logs and sawn timber remains strong while the longer-term forecasts are uncertain. New Zealand sawmillers are "cautiously optimistic" about the future.
As expected, there were small increases in CFR log prices over the last month in China, but these increases were negated by increased shipping costs and the NZD strengthening against the USD. The overall impact was virtually unchanged AWG pricing for August. 
The PF Olsen Log Price Index in August remains at $114. The index is currently $9 below the two-year average, $11 below the three-year average, and $9 below the five-year average. 
Domestic Log Market
Log Supply and Pricing
Log prices have generally remained stable around the country as we are in the middle of Quarter 3.  
Sawn timber markets
The current domestic demand is buoyant with good demand for a range of sawn timber grades. However, most economists predict a slowing in the housing market in New Zealand as the labour market weakens but this may not eventuate until nearer the end of the year. The New Zealand government's wage subsidy scheme and stimulation packages, coupled with deferrals on home loan payments, means we are yet to see the full impact of COVID-19 on sawn timber demand.  But as these programs are wound back the underlying economic situation will be revealed, and this is when we expect to see a reduction in demand for homes and new builds.  Further details of this can be seen in the latest ANZ Research Agri Focus Report in which then predict GDP to fall by 7-9% this year.
Exports of sawntimber are positive in the US and Europe. US sawntimber prices continue to increase as US sawmills struggle to keep-up with demand, while demand from Europe for New Zealand clearwood timber remains strong.  Asian markets are still difficult for sawn timber sales due to supply from around the world. New Zealand suppliers have managed to maintain price but have said they would like to be able to visit their markets to ascertain the situation and meet with their customers. Of all the Asian sawn timber markets, Thailand seems to be the most sluggish as they had a higher level of stock pre COVID-19 combined with having a high component of packaging. Once the economies around the world start to function normally this market should rebound strongly.
Export Log Market
China
The CFR sale prices for logs has increased slightly as expected. The A grade price in early August was 112 USD per JASm3 and the forecast for late August/early September is 115 USD per JASm3.
Log inventory in China has been stable over the last month and sits around 4.2 million m3 although log stocks are expected to increase in the Lan Shan area where port discharge rates have recently increased. Daily port off-take has increased by an average of 5k (8%) per day over the last month and is now 70km3 per day. The current daily usage is the same level as in August 2018 and 2019. This indicates construction and other activity in China has stabilised to normal levels. The significant difference from previous years is the supply coming in from other sources.    
There is more log volume arriving in China from more countries. During July, the supply of softwood logs from New Zealand and Russia has been less than from the other countries combined.  This is the first time this has happened since New Zealand started exporting significant log volumes to China. While New Zealand's log supply has remained strong the Russian supply has reduced over the years as their ban on log exports has taken effect.    
Log exports to China from North and South America increased 35% over the first six months of 2020. Exports of Southern Yellow Pine (SYP) logs increased by 25% during the first six months of the year. This increase is mainly explained by the suspension of the retaliatory Chinese government tariffs on US forest products. The Australian supply increased to 590k m3 in June, which was 27% or 110k m3 higher than any previous month.
Source: ABS&Industry Edge
Softwood log exports from Germany have increased dramatically over the past five years, from 2.1 million m3 in 2014 to 7.4 million m3 in 2019. As late as 2017, there were practically no shipments of German logs outside of Europe. China has quickly become the largest market for German logs, accounting for almost 50% of all exported logs so far in 2020.
As the temperatures cool in China construction activity should increase and there will likely be increased demand for timber products during the rebuild and recovery after the floods. There seems to be some stability in the market and anticipated steady CFR price increases will benefit forest owners and everyone involved in the supply chain in New Zealand who have been suffering during the price fluctuations.
India
India continues to face Covid-19 issues and is currently a much smaller market for logs than previously. There was a temporary shortage of logs when much of the supply was diverted to China. This meant log suppliers from New Zealand did see better returns than log supply to China for a short time until supply and demand balanced again. There are five shipments of logs scheduled for Kandla in August, three from Uruguay and two from New Zealand. The price for the Uruguay logs is usually about 10 USD per m3 below the price for New Zealand pine. Due to the log shortage at Kandla, lumber prices are firm at INR 521 per CFT. Some Gandhidham sawmills have started working at 60% capacity. Labourers are being brought back from East to West by airplanes, as trains and buses are not operating.
Since European spruce grade 6 kiln dried lumber is also quoted high at 225 to 240 USD levels, kiln dried lumber price will increase, so the demand for the locally milled green lumber can be sustained. As Southern Yellow Pine (SYP) kiln dried timber prices shot up in US, SYP logs are now in short supply from US to India. Shippers are asking higher prices and Indian buyers are sitting on the sidelines. 
Log demand in Tuticorin is satisfied with container volume from New Zealand and South Africa.
Exchange rates
The strengthening NZD against the USD has offset the increases in log CFR sale prices in USD. The NZD was worth 0.6450 USD on the first of July and 0.6629 USD on the first of August. How the NZD fares against the USD for the remainder of August will affect September pricing. 
NZD:USD
CNY:USD
Ocean Freight
While ocean freight rates have been volatile in the Covid-19 affected world, the ocean freight for logs from New Zealand continued to rise in the last month.
The Baltic Dry Index (BDI) is a composite of three sub-indices, each covering a different carrier size: Capesize (40%), Panamax (30%), and Supramax (30%). It displays an index of the daily USD hire rates across 20 ocean shipping routes.  Whilst most of the NZ log trade is shipped in handy size vessels, this segment is strongly influenced by the BDI.
Source: TradingEconomics.com
Singapore Bunker Price (IFO380) (red line) versus Brent Oil Price (grey line)
Source: Ship & Bunker
PF Olsen Log Price Index – August 2020
The PF Olsen Log Price Index in August remains at $114. The index is currently $9 below the two-year average, $11 below the three-year average, and $9 below the five-year average. 
Basis of Index: This Index is based on prices in the table below weighted in proportions that represent a broad average of log grades produced from a typical pruned forest with an approximate mix of 40% domestic and 60% export supply.
Indicative Average Current Log Prices – August 2020
Log Grade

$/tonne at mill

$/JAS m3 at wharf

 

Aug-20

Jul-20

Jun-20

May-20

Mar-20

Feb-20

Aug-20

Jul-20

Jun-20

May-20

Mar-20

Feb-20

 
 
 
 
 
 
 
 
 
 
 
 
 

Pruned (P40)

170-200

170-200

170-200

160-180

170-190

170-190

162

162

170

180-190

140-145

140-145

Structural (S30)

110-120

110-120

110-120

110-120

115-125

115-125

 
 
 
 
 
 

Structural (S20)

105

105

105

105

108

110

 
 
 
 
 
 

Export A

 
 
 
 
 
 

119

119

125

154

103

103

Export K

 
 
 
 
 
 

111

110

117

146

95

95

Export KI

 
 
 
 
 
 

102

104

111

138

83

83

Export KIS

 
 
 
 
 
 

95

99

105

130

80

80

Pulp

46

46

46

46

46

48

 
 
 
 
 
 
Note: Actual prices will vary according to regional supply/demand balances, varying cost structures and grade variation. These prices should be used as a guide only. There was no April 2020 report.
A longer series of these prices is available here.
---
This article is reproduced from PF Olsen's Wood Matters, with permission.