The surprise rise in dairy prices emphasises just how abnormal trading has become for all agricultural products, as local distortions produce supply and price reactions in distant markets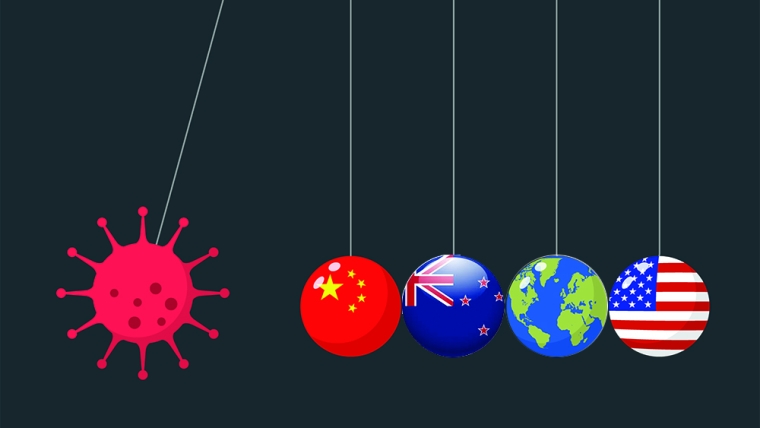 The results of the latest Global Dairy Trade among other things have just confirmed how difficult it is to forecast anything at the moment. Even in the best of time future projections are difficult and more likely to be wrong rather than right.
However, at the moment with COVID-19, the most political unrest internationally I can recall since the Cold War ended, throw in some of the influences of climate change and what might be required to mitigate against it, as well as changing demographics and consumer preferences, and you end up with an environment that tests the best.
In the GDT results US-based RaboResearch Dairy Analyst Thomas Bailey highlighted several aspects of the auction that are worth repeating. The first was that sale volumes are up 10% on the last sale and almost at what would traditionally be considered "peak offer". So, the rise is certainly not due to any constraints on supply.
The lift in the GDT was led by the rise in the price of SMP going up by +8.4%. The 2 year average on the GDT for the difference between WMP and SMP has been around US$600. With the result of the latest auction, on top of a general closing up, the margin WMP has over SMP is now down to just US$90. This appears to be largely driven by the lack of the Chinese domestic milk industry to have a market for the milk fat by-product, so demand needs to be met from imports, notably New Zealand. The New Zealand price is now around 23% above that of the EU and USA produced product.
This demand for protein is also coming from other government food purchasing programs around the globe as well helping to push the demand along.
Cheese lifting by +7.2% has also come as a surprise. It is driven largely by the food service sector and this area that has been putting a damper on the recent previous GDT auctions, so a rise of this magnitude was unexpected. However, butter continues its trend downwards with a -1.4% drop.
China has done nothing to reassure trading partners about being in a benign relationship with the revelation of 800 kiwis being on a data base presumably for some future potential influence. It makes the New Zealand Government's decision not to rule out Huawei from being involved in the 5G development questionable.
The Government has no doubt been trying to walk the fine line that keeps trade and diplomatic doors open but if the 'collection on names revelation' proves to be as sinister after closer investigation as it looks at first flush then this may complicate trade deals in the future. Given that the 'list' contained over 2.4 million names from around the world, hopefully New Zealand can keep in the background and let other nations less reliant on China for trade (I presume such countries exist) go in to fight this round.
However, when it comes to the 5G involvement it will be more difficult to remain in the shadows. Global Security analyst Dr Paul Buchanan made the following comments back in July relating to the 5G issue "There are serious suspicions that they're just not honest brokers, that they use their inclusion in world trade regimes to advantage themselves at the expense of others, and they simply don't play by the same rules as everybody else… So, I think that New Zealand, because of its vulnerabilities, needs to reconsider its trade relationship with China because that will not go back to what it was before February."
Unfortunately, New Zealand would have a great deal of difficulty finding any apt replacement as our major trading partner and so how it handles the 5G especially in the context of the 'names collection' will be problematic.
It was revealed recently that African Swine Fever in pigs is still has an influence on the world meat trade. A wild boar was identified with the disease in Poland near the German border. As a result, many countries, including China, have ceased importing pork from the EU. To date there is no evidence that the disease has got into the European domestic herd which normally operate under very tight quarantine conditions. However, the trade restrictions may mean that there will be greater demand for other meat supplies to go into China, such as mutton and lamb, which New Zealand may get some additional demand for.
However, if the EU gets a glut of pork it will no doubt reduce the retail price there and this may limit demand for sheep meat in that market as consumers purchase the cheaper pork.
To date the high levels of pork going into China has meant volumes being sold in the EU are low as COVID-19's influence has put a damper on production. But the retained pork will no doubt replace some form of protein.
COVID-19 influence on processing livestock through Victoria's meat works is also being highlighted as yet another potential complication on the lamb supply trade. Currently works have to operate with around 33% staffing to meet COVID-19 compliance levels meaning a backlog of lambs are building up. Presumably the restrictions will ease in a month or so and then coincide coming onto the international market at the same time as when New Zealand's new seasons lambs are coming on.
There probably never has been a 'normal' trading environment with so many factors influencing it. But the current environment seems about as far away from normal as I can ever recall seeing.