Flood affected dairy farmers are not only facing years of reconstruction, but the region-wide loss of winter feed reserves. These are the farmers producing more milk with fewer cows and the world's lowest emissions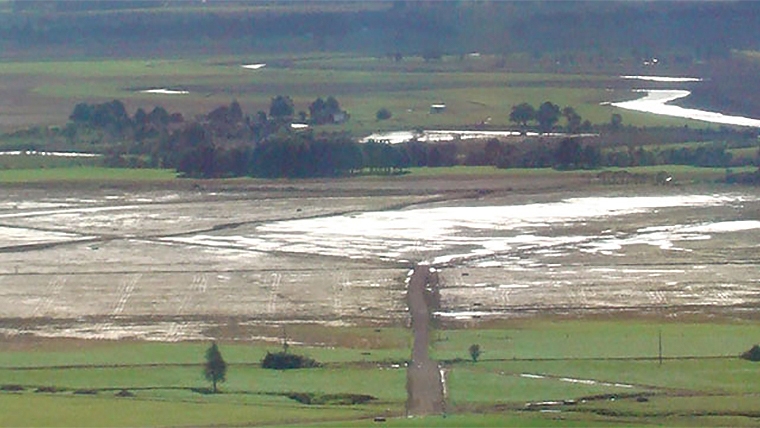 About the only positive thing that could be said about the Canterbury floods is that at least the vast majority of dairy farmers have dried their cows off for the season. This allowed farmers to get cows to safer ground without the added complication of having to milk as well.
With the season over, dairy farmers were looking forward to a profitable next season and a break over the drying off period. For many this is now a distant dream with generations of development work now washed away and a winter of hard work ahead.
I have always felt that when it comes to mental stress it is hard to get past droughts as the leading cause of worry. But at least with droughts once the rains do come then nature tends to do the hard work for you. Floods are a whole different scenario.
Stressful to the extreme while happening, although normally for a limited period. Then when the water subsides there's a whole lot of graft and decision making on how best to rectify the situation and get properties into a productive state and able to support animals again.
While the focus has been on dairy farms, the flooding also affected livestock and arable as well with the Lees Valley (against the ranges North of Oxford) still isolated as are farms up the Rakaia Gorge.
Perhaps the biggest compounded aspect of the floods is the amount of feed destroyed for animals to get them through the winter and beyond. As a result of the dry summer and autumn feed in the form of baleage and hay was in short supply before the droughts and what was being traded was selling for a premium. Most farmers produce their own saved feed to avoid being reliant on traded feed but there are most years still a reasonable surplus being traded among livestock owners to top up supplies.
This year prior to the floods there was next to none.
As plenty of photos and TV scenes have shown, large amounts of crops (kales etc) and stored bales have been washed away and crops flattened and buried under silt. No doubt the farming community will rally around to try and make the best of a bad situation by making feed available from other areas, provide grazing and help each other restore what damage to farms they can. But for the Canterbury province it is going to take more than a season to put the impacts of this behind it.
With the government declaring a (medium) adverse event, $500,000 has been freed up for Rural Support groups to assist. While the amount has been called "paltry" it is probably too soon to try and assess what and where the real needs are and so more government assistance will be required.
After Bola the government of the day was generous in what it provided in cash support to many of those affected by the floods. However, after the event was over and repairs done the general tenure of the day was that financial support of the scale the Gisborne region received at the time would unlikely to be repeated. As a result, New Zealand farmers have become (if they were not already) more resilient to natural events and not reliant on Government handouts. (New Zealand Farmers receive the least financial support of any OECD country).
The Christchurch earthquakes perhaps tested the government attitude to offering financial support although what came from government was more in the form of supporting failed insurance companies (AMI) and funding to support councils and provide funding for "cornerstone projects".
So, what can those affected this time around?
Government likely will provide assistance for roading and destroyed public infrastructure, put more funding into the Rural Support networks to help with stress and mental health, perhaps assist in helping to get labour to get fences and buildings cleaned up, not that there is a lot of available labour. But beyond this I wouldn't be holding my breath. It is no longer the New Zealand way, good, bad or otherwise.
What casualties emerge from this be it urban or rural will take time to reveal. The rest of the country must be getting a bit tired of Canterbury continually hogging the limelight. But I can assure them we could do without it (except perhaps regarding rugby).
Dairy update
The GDT took place again this week and very little movement occurred with WMP, SMP and Cheddar all down by -0.5%. Butter is a little concerning dropping -5.4% which has it now at levels similar to January 2021.
With the season all but over it is looking likely that total milk production will be up around 2.5%, setting a new national record. This is particularly heartening given that cow numbers are decreasing and generally inputs are lower.
Perhaps this is a signal that dairy farmers are responding to calls to feed less cows more and everyone is winning.
Given that this week includes "World  Milk Day" (setup by the FAO who recognise the value of milk in diet) Dr Tim Mackle CEO of DairyNZ was quick to point out that dairy products in New Zealand have lower emissions footprints than our competitors and financially contributes around "with flow-on effects have meant the total economic contribution from dairy was around $42 billion this season".  
So, while recognising there is still considerable movement to be had in areas it is difficult to see how New Zealand's standard of living could be maintained without it.