Export log prices rise as international markets react to 'significantly reduced log supply from New Zealand.' Local demand down sharply as poor weather brings worst decking season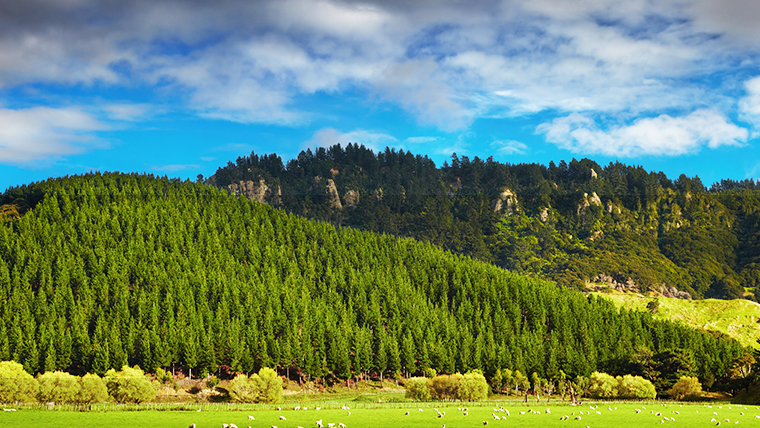 At Wharf Gate (AWG) prices for export logs increased $7-$8 per JASm3 in both January and February. Log demand in China has not increased as much as expected after the Lunar New Year, but there will be significantly reduced log supply from New Zealand due to several severe weather events across the top half of the North Island. This will likely increase price pressure for logs in China. The domestic demand for logs is weakening as building projects are cancelled or delayed.
The PF Olsen Log Price Index increased $4 in both January and February to $127. The index is now $4 above the two-year and $3 above the five-year average.
Domestic Log Market
There was very little change in log prices around the country for Quarter 1. Pruned logs remained unchanged while in some regions structural logs reduced by about $1 per tonne.
While there have been plenty of building consents, these are not translating into projects starting. This is due to a combination of poor weather, high interest rates and business uncertainty.
There is an oversupply of structural sawn timber and many mills are actively reducing production. There is price pressure as sellers look to maintain or increase their market share. 
Many sawmill managers say this is the worst decking season they can remember. Clearwood is used to manufacture premium decking. Exports prices for clear sawntimber into Europe specifically are still strong.
Sale prices for sawn timber into Asian countries continue to fall. Some grades have fallen as much as 40% over the last six months.  
Export Log Market
China 
China softwood log inventory is just over 4m m3 and port offtake is still stubbornly sitting at about 60k per day. There are very recent indications port offtake may be increasing but nothing sustained yet.
The CFR price for A grade radiata logs in China is in the range 135-140 USD per JASm3 .  South American logs are again heading to China with January and February loaded vessels selling for 110-120 USD per JASm3, but March offers are in the high 120's.  European spruce is offered at 160 EUR (168 USD) per JASm3.
The China Caixin manufacturing PMI edged up slightly from 49.0 to 49.2. The Purchasing Managers Index published by the National Bureau of Statistics in China rose 3.1 points to be at 50.1 for January. For both indices, a reading above 50 indicates an expansion of the manufacturing sector.  
Warehouse prices in China had dropped 5% in the first half of February, but this slight decline has halted as the market becomes aware of reduced supply from New Zealand.
There will be a significant reduction in log supply from New Zealand. The worst affected areas on the east coast of the North Island contains Gisborne and Napier ports. These two ports account for about 25% of New Zealand's log exports. These ports have effectively been closed for two weeks. Log production in this area is very unlikely to be above 50% for the short term. Some operations are also slow in Tauranga due to wet weather and have stopped in Northland due to damage of the public roading infrastructure.            
India
Prices for green sawn timber in Gandhidham have risen by about 8% since the start of the year. South American green pine are 541 INR per CFT while Australian radiata green pine sells for 601 INR per CFT. The price for European kiln dried sawntimber has increased about 15-20% and is now 700-750 INR per CFT.
About seven or eight vessels are expected to arrive at Kandla from South America and Australia during March. Demand is not increasing despite weather turning warmer, as exports are slow and real estate markets are down.
Kandla customers also understand one unsold Handymax vessel enroute from South America was diverted to China. After seven months of oversupply, Kandla might see shortages in Quarter Two as China log buyers chase Uruguayan supply.
Tuticorin receives logs in containers from South Africa and the USA. The local green sawn timber price is 700 to 750 INR per CFT. The bulk vessel possibility from South America is still a mirage for Tuticorin buyers, who are unable to compete with Kandla. Gandhidham lumber is flooding traditional Tuticorin markets like Chennai, Bengaluru, Hyderabad, along with cheap European kiln dried lumber.
Exchange rates
The NZD strengthened one cent against the USD in January but has dropped two cents against the USD in February. The CNY has stabilised against the USD in the last couple of weeks. Conversely the CNY has weakened against the USD since the end of January.

NZD:USD

CNY:USD
Ocean freight
Shipping costs have stabilised with 30 USD per JASm3 the average shipping rate from the North Island of New Zealand to China. The Bulk Dry Index has dropped to its lowest point since the middle of 2020.
The Baltic Dry Index (BDI) is a composite of three sub-indices, each covering a different carrier size: Capsize (40%), Panamax (30%), and Supramax (30%). It displays an index of the daily USD hire rates across 20 ocean shipping routes. Whilst most of the NZ log trade is shipped in Handysize vessels, this segment is strongly influenced by the BDI.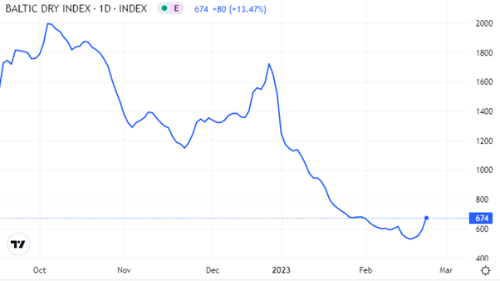 Source: TradingEconomics.com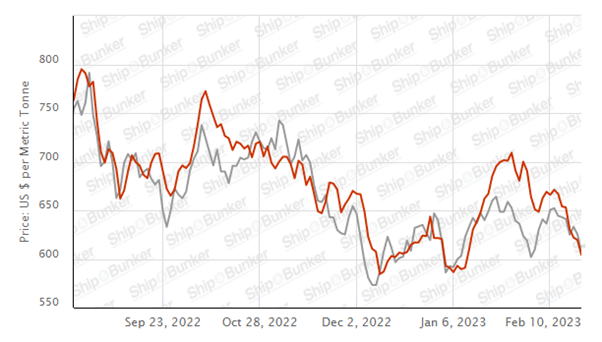 Singapore Bunker Price (VLSO) (red line) versus Brent Oil Price (grey line)
Source: Ship & Bunker
PF Olsen Log Price Index - February 2023
The PF Olsen Log Price Index increased $4 in both January and February to $127. The index is now $4 above the two-year and $3 above the five-year average.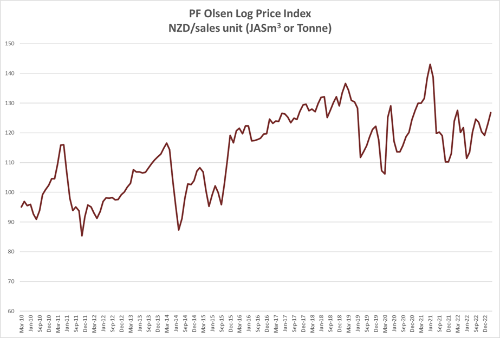 Please note these are AWG prices at North Island ports and that South Island prices are commonly lower due to higher port and shipping costs.
Basis of Index: This Index is based on prices in the table below weighted in proportions that represent a broad average of log grades produced from a typical pruned forest with an approximate mix of 40% domestic and 60% export supply.
Indicative Average Current Log Prices – February 2023
Log Grade

$/tonne at mill

$/JAS m3 at wharf

 

Feb-23

Dec-22

Nov-22

Oct-22

Sep-22

Aug-22

Feb-23

Dec-22

Nov-22

Oct-22

Sep-22

Aug-22

 
 
 
 
 
 
 
 
 
 
 
 
 

Pruned (P40)

175-200

175-200

175-200

175-200

175-200

175-200

190-205

175-190

190-200

190-200

190-200

150-170

Structural (S30)

120-150

120-150

120-150

120-150

120-150

120-150

 
 
 
 
 
 

Structural (S20)

98-105

98-105

98-105

98-105

98-105

98-105

 
 
 
 
 
 

Export A

 
 
 
 
 
 

140

125

126

133

135

128

Export K

 
 
 
 
 
 

131

115

117

124

126

119

Export KI

 
 
 
 
 
 

121

106

109

116

118

110

Export KIS

 
 
 
 
 
 

113

100

101

110

112

101

Pulp

46

46

46

46

46

46

 
 
 
 
 
 
Note: Actual prices will vary according to regional supply/demand balances, varying cost structures and grade variation. These prices should be used as a guide only.
A longer series of these prices is available here.
---
This article is reproduced from PF Olsen's Wood Matters, with permission.