NZ wine's premium international position under threat as falling profitability and rising indebtedness continues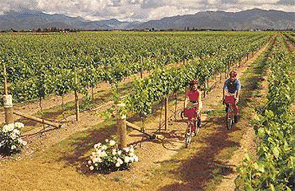 As New Zealand wineries continue battling steadily declining profitability and rising indebtedness, an expected bumper 2011 grape harvest could undermine the industry's premium international positioning, Deloitte is warning.
Accounting firm Deloitte and New Zealand Winegrowers released Vintage 2010, the fifth annual financial benchmarking survey for the New Zealand wine industry, today. Deloitte partner Paul Munro said an increase in bulk wine sales at reduced margins was resulting in falling profits across the board. The report notes that it's fair to say the industry in New Zealand is experiencing "a major financial crisis."
New Zealand Winegrowers CEO Philip Gregan said turbulence stemming from big 2008 and 2009 harvests, combined with the global financial crisis, continued to "afflict" all sectors of the industry. Munro said although a reduced 2010 vintage had gone some way towards alleviating over supply problems, predictions the 2011 harvest may top 300,000 tonnes threatened to add to the industry's woes.
The 2010 vintage was 266,000 tonnes, both 2008 and 2009 came in at 285,000 tonnes. The wine industry topped NZ$1 billion worth of exports for the first time in the year to July 2009, with exports reaching NZ$1.01 billion. Gregan said at the time NZ$1 billion annual wine exports was the equivalent of five bottles per second.
"Future supply must be matched to global demand, otherwise a cheapening of our wines in key international markets could occur," Mr Munro warned.
"This may result in a rapid undermining of the industry's premium positioning, which has taken many years to build."
He said currently the ability to price New Zealand wine at premium levels had a crucial flow-on effect for grape growers and domestic companies servicing the industry.
"Any reversal would have a similarly negative impact," said Munro.
"Large scale wineries (with revenue over NZ$20 million) continue to be the most profitable with an average profit before tax of 7.8%, while the smallest wineries (revenue under NZ$1 million) are suffering the most with an average loss of 31.9%. For the smaller wineries, this translates to a loss of around NZ$50 per case."
Insolvencies climb, land values fall
Munro told interest.co.nz in July that all small and medium sized wine producers were probably now struggling to manage their debt. This is against a backdrop of a climbing insolvency rate in the wine sector squeezing banks between calls for more support for the indebted industry and falling land values and winery revenues.
In its latest bi-annual Financial Stability Report, the Reserve Bank said after a decade of rapid expansion in production, prices paid to contract grape growers had fallen sharply leading to a rise in non-performing loans.
"However, credit risks to the banking system are relatively contained as the viticulture sector accounts for only 0.5% of total bank lending," the central bank said.
According to New Zealand Winegrowers, the number of wineries grew to 585 by 2008 from 334 in 1999 with 29,310 hectares of production area, up from just 9,000 hectares in 1999.
Meanwhile, Munro said although falling winery revenues in the past few years had been matched by significant cost reductions, these appear to have bottomed out in 2010.
"Combined with static production costs, profitability has inevitably taken a hit," said Munro.
"In general, there are a number of wineries from all the size categories measured in the survey which have generated reasonable returns, suggesting that there are viable business models for different sizes and circumstances across the industry. An ongoing problem with high debt levels, however, needs to be addressed in the year ahead, with all categories within the industry experiencing increasing indebtedness."
This was "particularly concerning" given the downward trend in land values and the fact that banks are "increasingly anxious" about land as security for outstanding debts.
"Banks and shareholders need to work together to examine the options and agree a plan to allow all stakeholders to move forward in a co-ordinated way," Munro added.
Concerns about sourcing fresh capital and potential interest rate rises
The Vintage 2010 report notes that with significant indebtedness, falling land values and wineries potentially breaching banking covenants, banks can be expected to want wineries to raise additional capital to ease their exposure.
"However, sourcing additional capital will be far from easy."
A potential increase in interest rates is also a major concern for the sector given high debt levels already mean interest expense is a major cost to many wineries. The Official Cash Rate is currently 3% but most economists expect the Reserve Bank to lift it sometime next year.
"With interest rates being forecast to rise in the future this has the potential to create even more financial pain in an industry that is already hurting," the report says.
Meanwhile, Deloitte also points out that New Zealand Winegrowers recently made a submission to a Government discussion paper calling for excise tax to be levied at the point of sale rather than at the time it is released from the winery or licensed storage area, creating cash flow advantages for wineries.
"Other proponents are keen to see it become a percentage of the sale price rather than the current fixed rate, no matter what the sale price. It seems there is merit in creating a fairer system given we are in an environment of extreme price pressure and as prices per bottle drop, excise tax becomes a far greater proportion of the selling price."
Vintage 2010 tracks the results of 35 survey respondents, covering about 30% of the industry's export sales revenue over the previous financial year.
(Update adds further detail).