First National says farm listings up 20% but buyers still scarce meaning offers should be 'taken seriously'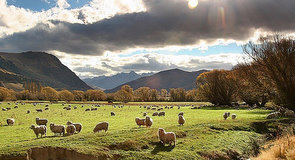 Real Estate agent First National says the BNZ is currently the most "farmer friendly" bank.
First National polled its offices asking which banks were friendliest to farmers and currently doing most of the lending in their areas.
"BNZ topped the poll, followed closely by the National Bank, with Westpac in third place."
Meanwhile, First National says its latest quarterly rural property survey shows sales this spring were similar to last spring but farm listings were up 20%. The market did, however, fluctuate "wildly" from region to region with areas like Northland recording fewer sales than last spring, and others such as the Bay of Plenty recording more.
First National's general manager John Stewart says banks are "proactive" in lending again. And although many buyers continue to hang back hoping prices will drop further, there were enough "serious buyers willing to meet serious vendors."
"Now that the heat has gone out of the market and prices are more closely aligned to returns, serious buyers and sellers are back to doing business," says Stewart.
Therefore: "The current lift in listings is more a reflection of owners wishing to move on to other and often larger properties than perhaps might have been the case over the past couple of years where duress was regularly the prime driver."
"Those surveyed commented that the lift in buyer enquiry in recent times reflects the stabilising of costs and incomes, again allowing people to plan ahead," says Stewart.
Banks move to 'more encouraging' position from 'almost complete lack of support'
First National says increased enquiry was "certainly" being driven by recent bank moves to "quietly move from their almost complete lack of support" for individual rural purchasers to a "more encouraging" position.
"This is resulting in New Zealand farmers being able to consider purchasing their next property, arresting for the moment at least, the 2009 to early 2010 trend that saw many properties sold to rural partnerships and off shore buyers," says Stewart.
First National's comments come a day after the Real Estate Institute of New Zealand's November Rural Market Report showed 71 farms changed hands during November, up from just 46 in October and 69 in November 2009.
Institute spokesman Bryan Thomson said although spring had brought some new growth to the rural property market and there was plenty of investigation going on, both sellers and buyers were still coming to terms with the "changes in price levels" and taking time to make decisions.
In its bi-annual Financial Stability Report released last month, the Reserve Bank said farm prices might need to continue falling to see "substantial" buying interest re-emerge and also warned that further falls could see dairy farmers, who took on debt to expand during the boom times, slip into negative equity.
The central bank said farm prices had fallen by about 15% from their mid-2008 peak by the end of 2009. Prices appeared to have fallen even further throughout this year, but given the extremely low volume of farm sales, the current level of farm prices was "highly uncertain."
The Real Estate Institute of New Zealand said yesterday November farm sales included nine dairy farms, up from four in October and just one in September. However, the November figure is still down on the 10 dairy farms sold in November last year, 15 in November 2008 and 55 on November 2007.
'Significant number of farmers likely to go to the wall'
Meanwhile, First National says its agents are reporting a significant number of farmers, whose banks helped them through last spring, are likely to go to the wall in coming months as anticipated production fails to materialise leaving them struggling to cover additional debt incurred.
"In Central Otago, the ongoing strength of the New Zealand dollar and weakness of traditional offshore property investment has hit the rural market hard. Many listings have been taken off the market but are still for sale if buyers present themselves to agents. Unsold blocks of bare land are being developed by owners into the likes of cherry orchards to add value in the meantime. The best regional performers in sales were the Bay of Plenty followed by Taranaki," says Stewart.
Despite the Psa kiwifruit disease scare, grazing blocks, horticulture and lifestyle properties had kept the Bay of Plenty market turning over. Taranaki had twice as many listings as the same time last year and sold a similar number of rural properties.
Stewart says buyers are still scarce so any offer needs to be taken seriously by vendors unless they have the luxury of being able to wait.