Govt to leave agriculture out of Emissions Trading Scheme until at least 2015, Climate Change Minister Groser says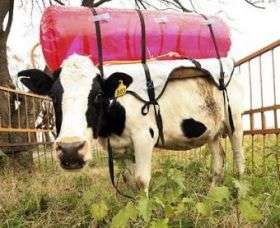 Further delays by the government in expanding New Zealand's Emissions Trading Scheme are being put down to the fragile economic environment and a lack of progress by other governments on implementing schemes of their own.
Minister for Climate Change Issues Tim Groser and Prime Minister John Key announced the government would delay a number of moves to make New Zealand's ETS more comprehensive. That meant transition measures which had been set to expire at the end of this year would continue until the government saw fit to change them.
"We now think those measures need to run for longer, given the fragile international economic environment and the minimal progress made by other countries to develop similar climate change tools," Key told media at his post-Cabinet press conference on Monday afternoon.
The decisions would have no impact on the government's forecast 2014/15 surplus track, "because the NZ$80 million expected annual cost will be met out of the [NZ$800 million] Budget 2013 allowance," Key said.
"In practice, this means ordinary New Zealanders will not notice any difference in the way the ETS affects them, or how it operates, at least until after the next review of the scheme in 2015. For exporters and employers, this also means greater certainty about their obligations until that time," he said.
The changes meant the ETS was "more flexible" and reflected the nature of New Zealand's "export-focussed economy and our country's growth aspirations."
The amendments also reflected where New Zealand's ETS sat with the rest of the world.
"Outside of the EU, no other country has a comprehensive a scheme as New Zealand's. There's no question that we are doing our fair share and it's important that we continue to do so without disadvantaging the country's exporters and the jobs that they create," Key said.
"Too onerous an ETS would simply drive many of those businesses offshore to countries where very few, or no climate change initiatives are in place, which would do no favours to the environment or to New Zealand," he said.
Key said the government's focus was to reduce the carbon intensity of New Zealand's economy over the long-term, which meant bringing in changes which helped and encouraged exporters and households to change their behaviour over time and invest in new technologies that made it easier for them to reduce emissions.
Delays
Agricultural emissions would be exempt from New Zealand's Emissions Trading Scheme until 2015 at least, Groser said.
In the lead up to Election 2011, then-Minister for Climate Change Nick Smith announced National's policy was it would review whether to include agriculture under the scheme in 2014. This was in contrast to Labour's policy to introduce agriculture under the ETS from 2013.
Agricultural emissions would only be included if practical technologies were available to enable farmers to reduce their emissions and more progress was made by New Zealand's trading partners on measures to reduce emissions, Smith said then. National's policy followed a number of recommendations from an ETS review panel released in September last year.
Meanwhile, releasing its ETS policy in November, Smith said National would phase in full ETS obligations for the transport, electricity and industrial sectors between 2013 and 2015, based on the panel's recommendations. These sectors had been set to move from a 'one-for-two' obligation to full obligations from the start of 2013.
However, that stance changed again on Monday, with Groser saying the 'one-for-two' obligation would remain in place "until after this year."
See the release from Groser below:
The Government has announced amendments to New Zealand's Emissions Trading Scheme (ETS) that will maintain incentives for emission reductions, without loading large extra costs onto households, employers and exporters.

"Today's decisions are a reflection of the balanced and responsible approach this Government has taken to reducing greenhouse gas emissions.  They offer Kiwi exporters, employers and households certainty in a challenging and changing world economy," Climate Change Issues Minister Tim Groser says.

The key changes are:

·         Keeping the 'one-for-two' obligation in place until after this year. This means participants in the scheme will continue to surrender units for half the carbon they emit;

·         Maintaining the $25 'fixed-price option' until at least 2015, which caps the price firms will face if carbon prices begin to rise internationally;

·         Introducing off-setting for pre-1990 forest land owners, and allocating the full second tranche of compensation where off-setting is not taken; and

·         Leaving agricultural emissions out of the ETS until at least 2015.

"We have considered in-depth the recommendations of the ETS Review Panel, listened to what those affected by the ETS are saying, and reviewed what our trading partners are doing.  We also considered feedback through community consultation, including written submissions, a series of regional meetings, and hui.

"The National-led Government remains committed to doing its part to reduce greenhouse gas emissions, but it is worth noting that we are the only country outside Europe with a comprehensive ETS.  In these times of uncertainty, the Government has opted not to pile further costs on to households and the productive sector.

"The Government remains an active and engaged participant in the on-going discussions focused on global agreements, and the changes announced today offer us useful flexibility to adapt in the future, while still demonstrating our commitment to doing our fair share," says Mr Groser.

Additional information on the ETS amendments will be available later this week atwww.climatechange.govt.nz.

A bill effecting these changes will be introduced later this year.