Dairy prices up another 14.8%, on top of +10.4% 2 weeks ago. WMP prices very strong. Even bigger gain in NZ$ terms. Volumes lower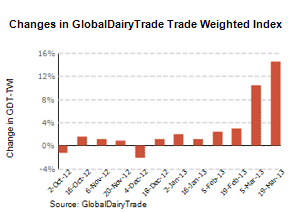 The latest globaldairytrade auction has resulted in sharply higher prices.
However, volumes sold are at seasonal lows.
The auction results saw wholemilk powder prices up 21.2% from the previous auction two weeks ago.
Overall prices are up 25% in US$ terms and up over 30% in NZ$ terms.
This is the seventh consecutive gain and prices are up in US$ terms by 77% over their mid-May 2012 lows.
15,994 tonnes of product was sold, seasonally down from 21,922 at the previous auction, and well below the highest acution event volumes sold in the last year of 59,307 tonnes in early October 2012.
Meanwhile, Westpac has projected out the impact of the drought on NZ milk production over the balance of the season. While the falls from here will be steep, the heart of the season is behind us. The rapid fall-off from here is expected to result in total 2012-2013 output bcoming in only 1% below the previous record year. (See chart below.)
Summary of Results
| | |
| --- | --- |
| Number of Qualified Bidders | 785 |
| Number of Participating Bidders | 185 |
| Number of Winning Bidders | 82 |
| Number of Bidding Rounds | 17 |
| Duration of Trading Event (hours:mins) | 3:23 |
| Minimum Supply (Total MT) | 14,920 |
| Maximum Supply (Total MT) | 16,320 |
| Quantity Sold (Winning MT) | 15,994 |
| Average Winning Price (USD/MT, FAS) | $4,683 |
| Change in GDT-TWI™ Price Index from Previous Event | 14.8% |