Stunning rise in skim milk powder prices, up +36% in NZ$ terms in two weeks; currency rose sharply overnight TWI = 79.3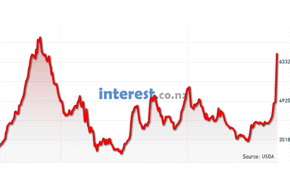 Skim milk powder prices have moved sharply higher in the latest USDA market survey.
They rose an average of 36% in US dollar terms from their previous report on March 28.
Actual price rises in this market survey ranged from +26% to +45% for skim milk powder sold by Oceania suppliers which includes Fonterra.
In NZ$ terms the average rise was just as impressive - up by an average of 35%.
Over the same period, the New Zealand currency has risen just 2.6%.
The average skim milk powder price is now US$5,563 per tonne and $6,640 per tonne. These are rises of US$1,475 and NZ$1,756 over that two week period.
From the beginning of the year, skim milk prices have risen US$2,163 and NZ$2,563 per tonne, rises of +63% in either currency.
The rise in wholemilk powder prices has been strong too. They are up +11% in the past two weeks.
Butter prices rose +6% and Cheese prices were the laggard at +2%, but these tow categories typically lag the changes in powder prices.
Dairy product exports represented 25% of New Zealand's total exports in the year to February 2013.