Bruce Wills notes that our farming practices are lauded by communities half a world away, but only seen as a 'milch cow' by local councils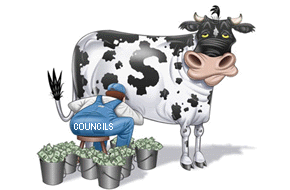 By Bruce Wills*

Federated Farmers Vice-President, Dr William Rolleston, not only attended the Green Party's mini-conference on climate change but returned with all of his limbs intact.
For all of the misreporting about agriculture and the Emissions Trading Scheme, we are in it as much as you are reading this.
From fuel to power and 'number eight' wire, farmers pay the ETS like everybody else.
The only difference is the treatment of farm biological emissions and even here there seems to be movement.
Last year, we saw that golden UK Daily Mail headline "Buy New Zealand lamb to save the planet." You can add to that the UK's Observer on Sunday, UK celebrity chef Jay Rayner and his article, "Why worrying about food miles is missing the point".
In it, Rayner not only recants 'food miles' but swaps sides and it deserves a full reprint in the Sunday Star Times here.
"Three years later," he writes, "and I am reading an academic paper with a very snappy title: Food Miles – Comparative Energy/Emissions Performance of New Zealand's Agriculture Industry  ... I was so baffled by the report I wanted to know whether I had read it correctly. I emailed Tim Benton, professor of population ecology at Leeds University who is also the "UK Champion for Global Food Security", charged with co-ordinating work on the subject between research councils and government departments. He truly understands both the global food challenges that we face and what sustainable intensification means. He had been an invaluable source of academic papers and scholarly advice for my investigation into the challenges of food security from the very start. I wanted to know whether the report was simply a function of the New Zealand agriculture sector attempting to protect its commercial interests by ferociously massaging some numbers.  He threw in some caveats but, he said: "The overall picture is probably true".
That our farms are pretty good is even known by Dr Jan Wright, the Parliamentary Commissioner for the Environment.  Speaking last year, Dr Wright said, "…I am actually less concerned about agriculture than I am than these heavy industrial emitters and that's because the agricultural gases are different. It is difficult and there are challenges there ... I say agriculture should come in but I don't have the same problem being generous to it ..."
While New Zealand's biological emissions continue to increase so is the efficiency of our agricultural production.
The amount of methane produced in a litre of milk is falling because of better farming practices, or, as Jay Rayner told readers up in the UK, "the researchers found that the actual weight of nitrogen fertiliser used was roughly similar in both countries (80kg per hectare in NZ to 78kg in the UK). However, in New Zealand they were getting a yield of 50 tonnes per hectare, as against 14 tonnes in Britain. Where lamb was concerned yield was higher in the UK than New Zealand, but so was nitrogen fertiliser use by a factor of more than 13. New Zealand simply has a better landscape and climate for rearing lamb and apples".
I imagine Dr Rolleston told the Green Party that while we have our challenges, science and agriculture must be given a chance to solve them - a point made recently by the Agricultural Greenhouse Gas Research Centre's Dr Andy Reisinger on RadioNZ; "we don't have methane free cows at this stage, and that's largely why New Zealand has invested, on a per capita basis, more than any other developed country in research to develop solutions that allow us to reduce agricultural emissions without constraining agricultural production".
Yet while UK chef Jay Rayner tells UK consumers, "New Zealand simply has a better landscape and climate" for food production, that message isn't getting through to some councils. 
While Auckland developers enviously eye up farm land for its expansion it is not alone from putting pressure on farmers and farming.
Nelson City Council wants the 14 farm owners left within city limits to accept rates increases of almost $50,000.
That province is not alone.
Waitaki District Council has proposed rates increases of up to 25 percent for farmers when those in town face a more palatable 3.5 percent
Remind me, what is the prevailing rate of inflation? 
Then we have Environment Southland's dairy differential rate which smells like 'an environmental tax'.
The council's 2013-14 plan started out wanting farmers to pay some $1.2 million but that was reduced to 'just' under a million dollars. Bearing in mind rates, fees and charges too, Federated Farmers policy advisor David Cooper put it to the council like this, ''If you are trying to put dairying in Southland on the back foot and alienate farmers, then you are on the right track''. 
Right now Federated Farmers is deep into submitting on every council plan affecting farmers.
While the ETS attracts headlines rates can be like death by a thousand cuts by viewing farming as some 'milch cow'.
If we want to double primary industry exports by 2025 that is doable but only if we can get policy working with us, not against us.
-------------------------------------------------------------
Bruce Wills is the President of Federated Farmers. You can contact him here »