Strong June quarter lending growth from TSB in rural, commercial and home loans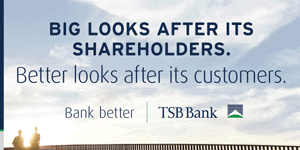 By Gareth Vaughan
TSB Bank has recorded strong residential mortgage growth in the June quarter and double digit growth in farming and commercial lending as its diversification push gathers momentum. And TSB's managing director doesn't see Reserve Bank restrictions on low equity home loans changing much for his bank.
TSB's latest General Disclosure Statement shows residential mortgage lending up $56 million, or 2.2%, to $2.55 billion in the three months to June 30. In percentage terms the 2.2% growth was topped only by HSBC's startling 12% June quarter increase, and is the equal of ASB, which was the fastest growing of the big banks.
However, TSB's lending to the rural and commercial sectors was even stronger, albeit off a lower base. The bank's commercial lending rose $19.8 million, or 10%, to just under $209.2 million. And its farming lending grew $19.8 million, or 14%, to $157.65 million.
This is an abridged version of this article. The full version was published in our email for paid subscribers. See here for more details and to subscribe.