The Weekly Dairy Report: Some nervousness with October dryness and dairy auction prices ease again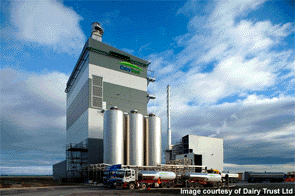 Dry conditions return to the far north and Gisborne after windy weather and low October rainfall, but as yet long term predictions do not indicate a repeat of last year's  drought.
Soil moisture levels have been recorded behind last year  in Hamilton suggesting farmers keep a very close eye on feed produced as early decisions often return the best outcomes.
The Central Plains water scheme extended its deadline for a week to raise sufficient capital for a February start to earthworks, and it is also reported there could be 50 more milking herds in Southland by next year.
Proposed irrigation schemes are being looked at in many areas as farmers plan for the future of providing more food for the global market.
Synlait's directors recommended shareholders accept the takeover offer by China's Shanghai Pengxin for a controlling interest in the Canterbury milk processor and dairy farmer.
And Fonterra are also in expansion mode with a 6% purchase of Australian company Bega Cheese, and plans to process butter and cream products in China.
They also had another contamination scare with some dirty tankers discarding raw milk, but this issue died quickly and with the Fonterra led milk contamination inquiry report also revealing weaknesses in systems for managing such a crisis, it hoped lessons have been well learnt.
What is a concern for new entrants and those with above average debts in this sector is that industry standard dairy farm costs have risen to nearly $5/kg/ms and it was only 5 years ago some of the payouts were behind this figure.
Environmental protection costs have risen considerably over the last few years and council regulators have taken a tough stance on breakdowns.
Latest globaltrade auction figures fell again by 1.8% on a rising volumes offered, as some commentators suggest the first signs that global supply is on the rise.
As yet these  last two falls are within the range of prices that will have no affect on this years payout but prospective new entrants should keep a very close eye on global trends as they plan their future financial pathways.
-------------------------------------------------------------------------------------------------------------------------------------------
Farms For Sale: the most up-to-date and comprehensive listing of working farms in New Zealand, here »
-------------------------------------------------------------------------------------------------------------------------------------------
Here are some links for updated prices for
- lamb
- beef
- deer
- wool