Dairy land prices are not following commodity prices higher; rising dairy debt not from bidding up the price of land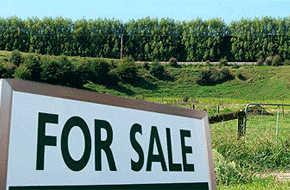 All eyes are on house prices, which have been growing at about 7+% year on year, 10% in Auckland.
But the Reserve Bank is also keeping an eye on rural credit growth, and the dairy sector in particular.
There are anecdotal stories of high prices being paid for irrigated Canterbury dairy land, but are they becoming the norm?
Milk powder prices are up 50% year on year, but rural credit is is only up 4% over the same period.
DairyNZ's report released in May 2013 for the 2011/12 dairy season showed that 'term liabilities' (ie debt) of owner operators rose to 43.3% of assets from 40.0%. (Sharemilkers reduced their debt to 33.7% from 44.3% the year before.)
Rising product prices have not resulted in rising land prices, however.
Over the past three years, dairy land prices have been generally stable.
REINZ data shows that in the North Island dairy regions, while median prices vary, they are not on an upward trend.
"Good properties are selling well, but with the combination of prudent purchasers and careful bankers, a hint of buyer resistance is emerging in the face of higher price expectations from vendors. Whilst current farm prices are improving, it is of interest to note the levels are significantly below the peak of farm prices recorded mid October 2008," said REINZ rural spokesman Brian Peacocke.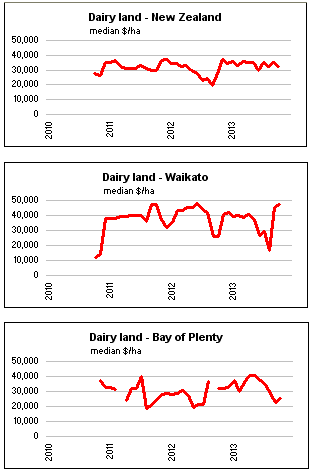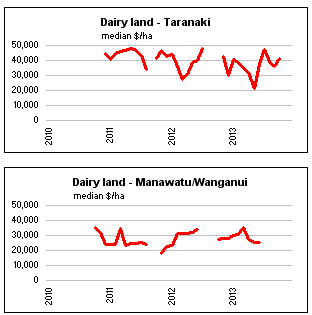 In the main South Island dairy regions, the story is the same.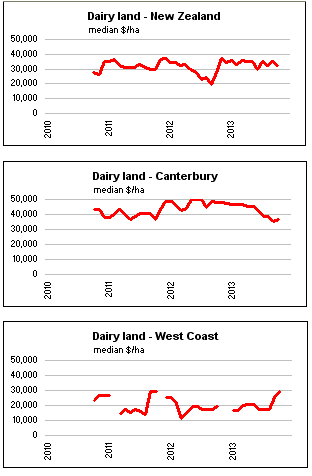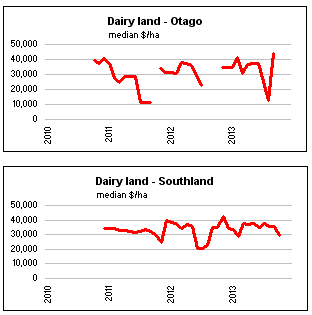 We are interested to hear reader's views on why prices for dairy land have not been rising.