Post peak milk season faces ideal pasture conditions nationwide; milk flows high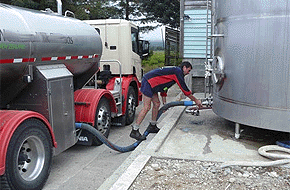 In its latest market update, Fonterra has signaled raised its forecast of the milk production it will receive this season.
It now expects to get 1.556 bln kgs of milk solids, up 15 mln kgs in the season to May 2014.
This is 6.4% more than last year, and higher than its previous estimate of a 5% gain.
December rains, and the growing realisation that this will be an ideal grass-growing season nationally is behind the upgrade.
"With the exception of Australia, the key southern hemisphere exporting countries of Argentina, New Zealand and Uruguay continue to see strong year-on-year growth with weather conditions resulting in good pasture and feed growth," Fonterra said.
There is also a "continued recovery in milk production in the top four exporting countries in the northern hemisphere", although these are now in their off-season months when output slows or even ceases.
Although the local November output levels slowed somewhat, they are going into the post-peak part of the season with very good pastures and prospects.
"More rain has come into mid-December driving pasture growth leading into the summer period," Fonterra said in its Update.
This is best seen in NIWA's SPI drought index and soil moisture anomoly charts.