Willy Leferink has some common sense advice for dairy farmers: run your business better than the legal standards and you won't be a target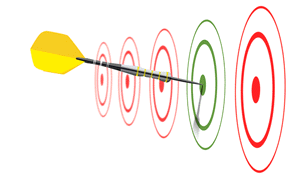 By Willy Leferink*

Some politicians and lobby groups hell-bent on making farming a feature of the 2014 general election will be taking names and counting numbers.
Yet if you search online with the words "big targets," you'll find the banks are in the gun in the United Kingdom while across the ditch, it is tax cheats. 
In the universe, which is the European Union, its Climate Commissioner has challenged other carbon emitters to follow its lead.
Those big target emitters are the United States, who contribute 15.6% of global emissions and this surprised me, China, which is now up to 23.6%.
Then again, a fair chunk of humanity and the global economy resides there and in the other big target emitters; Russia, India, Brazil and Indonesia. 
Speaking of Russia, I guess Vladimir Putin has made himself a big target for his 'hostile takeover' of the Crimea. While the west rattled less its sabres and more its teacups, you've got to wonder if Putin is reassembling old Russia in some kind of geopolitical Lego.
So what's the lesson here for farmers? 
If you have population numbers and economics on your side, people may huff and puff but they need you way more than you need them.
If you add in old fashioned military muscle then you can get away with pretty much anything.
Here it is unlike the Meat Loaf song because one out of three isn't good. 
Kiwi farmers have neither population numbers on our side or muscle in its literal sense.
At least Federated Farmers delivers the policy brains and is bloody good value for money, but at the end of the day, we are small in numbers but big in what we contribute.
It's impressive that the on-farm working population who generate half of all of our exports equal about the same as those living in Hamilton.
At least Feds vocally makes that point locally, nationally and even these days, internationally.
We are going to be a target this election year whether we like it or not.
It could be some or all of water quality, animal welfare, health and safety or employment practices.  If we accept that we can do things to minimise how much we feature.
This is also a message to the small number of grumpy old-schoolers who generally aren't a Feds member.
They do the bare minimum if that and are probably known as roosters locally. They wax on about their rights except they never mention what their obligations are, take water.  If we treat that as a right then our obligation is to ensure it leaves our farm in the best possible shape. 
So look at your farm with fresh eyes.
No, seriously look at your farm.
If manners 'maketh the man' then a clean farm maketh the farmer.
In a few months' we are going to start calving and unless you have been living under a rock, you will need procedures around euthanising sick or injured calves.
Out goes blunt force and in comes a captive bolt pistol or a rifle. Calving is not a surprise so 'emergency' will not wash.
Make sure you and your staff are all properly trained because we do not want to give Worksafe NZ or politicians any cause for concern here.
Do not forget that slinks awaiting collection must not be piled high right adjacent to SH1 either.
They should be covered and out of direct public line of sight unless you want Campbell Live on your doorstep.
While it's not raining where it is most needed, here, in Mid-Canterbury, you could almost have filmed Noah.
As winter is coming it is not a good look to have stock covered in mud forlornly standing by the road in a paddock resembling a WW1 battlefield. This is thinking about cause and effect which brings me to stream fencing and making sure your effluent issues are sorted.
If that's not enough, you can add employment practices and record keeping too.
Meanwhile, Worksafe NZ is on the prowl so it is in our hands to ensure our farms, farm systems and admin are all in order. 
Of course, none of this will cut through to that minority who thumb their nose at common sense.
That's where peer pressure comes into play.
Would you ignore a neighbour you suspected of being a burglar, so why would you ignore someone letting our side down?
You can call on us at Feds, DairyNZ or your milk company for back up because within farming, our strength comes from being on the same side.
----------------------------------------------------------------------
Willy Leferink is Federated Farmers Dairy Chairperson. This article first appeared in the Ashburton Guardian and is used here with permission.