"We are an inclusive open industry where merit and work ethic speaks loudly and is rewarded" - Willy Leferink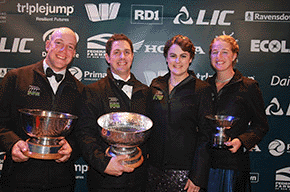 By Willy Leferink*

The only shame about last Friday's 2014 New Zealand Dairy Awards, at Auckland's SkyCity, was the absence of the dairying's most ardent critics.
Instead it was the perfect showcase for the capability and dynamism of New Zealand's leading export industry. 
"I can forgive the print media as the Canon Awards were on the same night and the media at our industry's event got to see dairying in its dynamic reality.  Special thanks must go to the brilliant MC Mike McRoberts but especially the New Zealand Dairy Industry Awards Trust," says Willy Leferink, Federated Farmers Dairy chairperson.
"I honestly thought there would have been more than one Member of Parliament present but as MP's go, the Minister for Primary Industries is a very big fish indeed.
"After the awards I saw one political party leader in a debate label-dairy low value.  There is no way you could hold those views if he'd attended these awards.  That's the problem we have.  There are some who won't risk shaking their beliefs by opening their eyes.
"As a farming leader and as farmers, we get a few raspberries chucked at us but that makes you look in the mirror. 
"Being close to this competition, which Federated Farmers started 25 years ago, I know the 2014 winners are really first among equals.
"Take Taranaki's super talented Charlie and Jody McCaig.  They have gone from being Taranaki Farm manager winners in 2011 to become 2014 New Zealand Sharemilker/Equity Farmer of the Year. 
"They also took out a heap of merit awards along the way and their health & safety focus is industry leading.  They are genuine talent with the skills, talent and aptitude to take the industry forward.  As members Federated Farmers is very proud of them.
"How about Ruth Hone who became the first ever woman to lift Dairy Trainee of the Year.  She is smart, capable and adaptable and those words sum up the dairy industry in 2014.  In fact, of the 11 dairy trainee finalists, five were women.
"Then you've got 27 year old Nick Bertram who was named 2014 Farm Manager of the Year.  He came into dairy with a background in accounting thanks to his teacher dad, but no farming experience.  His win highlighted others who'd joined dairying from fields as diverse as professional rugby, hospitality, engineering and the police. 
"We are an inclusive open industry where merit and work ethic speaks loudly and is rewarded. We'll be showing everyone just what those rewards are in the 2014 Rabobank/Federated Farmers Farm Remuneration Report shortly.
"While these awards do have winners it is really the industry that wins. There are no bruised egos or heckling but a genuine celebration and desire to lift the entire industry ever higher," Mr Leferink concluded.
----------------------------------------------------------------------
Willy Leferink is Federated Farmers Dairy Chairperson.