ANZ economists pick up to 30c reduction to Fonterra's 2013-14 payout forecast, 'conservative' opening 2014-15 forecast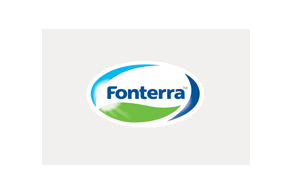 Up to 30 cents could be shed from Fonterra's $8.65 per kilogramme of milk solids forecast 2013-14 season payout when the dairy co-operative provides an update tomorrow morning, ANZ economists say.
They also suggest Fonterra's opening forecast payout for the 2014-15 season, which is also expected on Wednesday morning, will be conservative.
Fonterra's current season forecast was last changed in February. Then Fonterra increased its forecast Farmgate Milk Price by 35 cents to a record level of $8.65 per kilogramme of milk solids.
It was the third increase in Fonterra's current financial year, which runs to July 31, after the dairy co-operative initially picked a price of just $7.50 last July.
The increase, along with a previously announced estimated dividend of 10 cents per share, amounts to a forecast cash payout of $8.75, which Fonterra says represents $13.8 billion for farmers.
Last season's final Fonterra cash payout was $6.16 per kilogramme of milk solids.
However, Fonterra's fortnightly dairy auctions so far this year have seen dairy prices drop 22% in US dollar terms and 25% in NZ dollar terms, leading to expectations of a significant drop in payouts for 2014-15.
"We expect 20c to 30c per kg MS of downside to this year's current milk price of $8.65/kg MS," the ANZ economists say. "The dividend after retentions is expected to be 10c per share, taking the full payout to around $8.50/kg MS for a 100% shared farmer. This will still be a record, but will take some of the cream off the top. On a per-farm basis this equates to annual profit of $3,500/ha, which is nearly three times the average since 2007/08," the ANZ economists say.
 They expect the opening forecast for 2014/15 to be "somewhere in the $6.50 to late 6's range."
"Milk powder prices are still falling and the NZD-USD is high. We expect Fonterra will revise up their forecasts as the season progresses, towards the low-to-mid $7/kg MS range. This expectation is based largely on the upward-sloping price curve for milk powders evident since downward pressure started to emerge on prices. This reflects that our expectation of better prices ahead is widely shared," the ANZ economists said.
A number of factors support this argument, they add, pointing to Chinese import demand being expected to increase once their seasonal milk production peak has passed and they work through accumulated inventory from the first quarter. The ANZ economists also anticipate a slowly depreciating NZ dollar against the greenback over the second half of the season.
"On a historical basis a milk price above $7/kg MS is still very good, and ensures decent profitability around the $2,000/ha mark for the average dairy farmer."
In terms of 2014-15 Fonterra dividends, the ANZ economists expect a better outlook than 2013/14 due to a recent realignment in reference and non-reference product prices, an assumption there will be no more quality/product recall issues, plus improving prospects for Fonterra's Australian business.

"However, one thing to watch closely will be volume growth for 'value-add' products into Asia and other emerging markets, which seemed a little disappointing in the half-year results, especially when margins weren't adjusted for high input costs."
Westpac senior economist Anne Boniface has a $7.10 forecast for 2014-15, and ASB economists a $7 one.
In its Financial Stability Report earlier this month the Reserve Bank said nearly 70% of the $32 billion worth of dairy farm debt is on floating mortgage rates, meaning rising interest rates are likely to increase financial stress for some dairy farmers if incomes fall. The Reserve Bank suggested milk payouts for the 2014-15 dairy season will be "materially lower" than in the current season.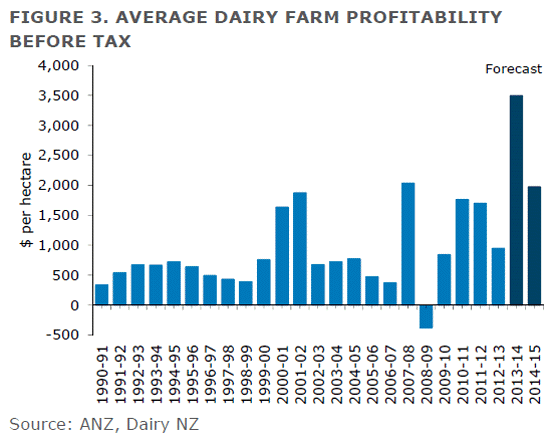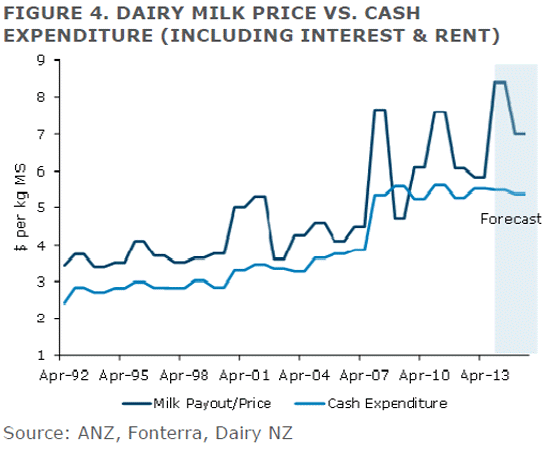 (Update adds charts).