Rabobank sets the bears among the cows, puts the blame on China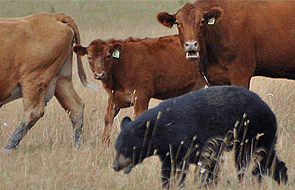 Rural lender Rabobank is predicting a protracted bear market for the dairy industry.
Although international dairy prices were well below levels that would be sustainable in the medium term, there was likely to be a prolonged period of low prices before the global market surplus of dairy products was soaked up, Rabobank said in its latest Dairy Quarterly report.
Rabobank's director of Dairy Research for New Zealand and Asia, Hayley Moynihan, said milk production had continued to expand strongly in global export regions while China had pulled back from buying on the international market while it concentrated on digesting stock it accumulated earlier this year, and other importers had been unable to take up the slack.
"While a bottom appears to have been reached for New Zealand and Australian export prices, market rebalancing will be a slow process and recovery looks some way off," Moynihan said.
Achieving the 2014/15 milk price forecasts would be a challenge without an earlier than expected commodity price recovery or a fall in the exchange rate with the US dollar, or both, the report said.
With the bears running rampant in the paddocks the opening 2015/16 milk prices could be below their historical five year average, the bank warned.
However Moynihan said she expected prices to trend up to a more sustainable trading range during 2015.
"The next year promises to be challenging for New Zealand's dairy producers, however the longer term outlook remains positive, with prices expected to return to more profitable levels for farmers into the 2015/16 season," she said.
Fonterra last week cut its milk price payout forecast for the 2014/15 season to $5.30/kg of milksolids from $6.00/kg.
Economists estimate the drop of more than NZ$3/kg from the 2013-14 $8.40/kg payout will reduce revenues to the dairy sector and the wider economy by around $5.5 billion, or more than 2% of GDP.