Rick Powdrell points out that New Zealand farming is not a one-trick pony and that it is now the time for sheep and beef farmers to shine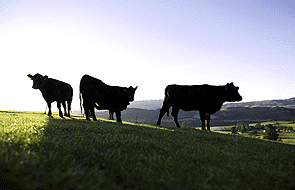 By Rick Powdrell*

I read Professor Jacqueline Rowarth say some dairy farm incomes will take them below the 'poverty line' this year.
As for the minimum wage? Being self-employed there's no such thing.
Somehow, I don't think the television media will be rushing out to dairy farms in sympathy.
As a drystock farmer myself I've been there and have got the t-shirt.
Look at how television news covered the best beef prices in six years.
You would think they would frame it as a bad news/good news story; as dairy prices tumble New Zealand's drystock farmers are providing much-needed economic cheer.
Instead, they took that cult of 'me-ism' to a new level, warning consumers, "as the barbecue season begins, beef may be off the menu for many Kiwis as a global shortage drives its price to record levels."
Thank you television news, drystock farmers are the Grinch who stole the t-bone steak. Sweet Louise, reporting like this is frustrating.  I think Paul Henry was the only one in television land to get that its good news for 'NZ Inc.'
We know from Beef+Lamb that for the first time since 2006/07, the fall in beef cattle numbers has stopped and finally moved back into positive territory at 3.76 million animals. 
There's just no context for the general public because, right now, we're at the trough for local beef supply.  It's only spring, our industry is mostly grass-fed and they overlook that last summer was dry in the North Island, which saw cattle sent off for early processing.
As Beef+Lamb's Rob Davidson recently told Australia's ABC, "normally around June we'd import about 1,000 tonnes of Australian beef, but the difference this year, in July and August, we imported 1,000 tonnes again each month."
So yes, we are buying in Aussie beef right now but that's free trade. Guess what though; the price of our premium grass-fed beef heading to the United States and North Asia may be up as high as 65 percent on 2013 prices.
That means the export returns to New Zealand will be up, it means guys like me will be able to invest back into our farms, which is good news for the trades, for the farm merchants and the likes of Ravensdown.
Some will be taking the opportunity to catch up on deferred maintenance, payback debt or look at new kit.  All of this is good economic news for our rural communities and even the cities as it partially offsets what's happening with dairy.
You know what else is important?
It breaks the illusion that farming is a one trick pony because we've got a great sheep and beef industry and one that hasn't suffered as much from drought as our colleagues in the United States and Australia.
It could take three more years for the US herd to recover so this is our chance to make hay.
Of course "drought" shouldn't be in our vernacular given we don't have a water shortage issue, just a water storage one.  You see it's not just the dairy boys keen on irrigation and water storage.
Better news for sheep and beef farmers gives our guys the chance to look above the parapet at things like red meat reform and to make our farms more resilient to dry spells. I say this as NIWA reckons we still have a borderline El Nino on the cards.
I also need to remind wool growers that the Wool Levy door slams shut on 10 October.  If you remain undecided, or simply want to know what I am talking about, then go to votewool.co.nz.  If you haven't voted go to "how to vote" and vote.  Given you've only got days to vote, online is now your best bet. 
I guess there'll be three types of wool grower I am trying to speak to.  There's the firm believer who'll hopefully vote yes (or already have) and other farmers that'll vote 'no way Jose.'
There's also a third group of sheep farmers who aren't apathetic but rather ambivalent. Their focus is on meat with wool being to them an animal health by-product.
If wool is peripheral to your business and you don't waste much time thinking much about it, "what have you got to lose" by voting yes to a proposed 2.75 cents per kilogram on the average 5.4 kilogram (including slipe) greasy weight wool equivalent, per-head per-annum. Especially if the Wool Levy passes muster now, you'll get another vote in five year's time on its continuance.
We can do more to boost wool returns but this takes time and commitment.  A group of farmers have invested huge amounts of effort into the Wool Levy vote because for the past three-years, farmers have voted yes to take it to this stage.  Shouldn't they be given the benefit of the doubt in a yes vote? 
And as Kiwis face the prospect of tucking into an Aussie steak over the summer BBQ, maybe just maybe, it will help them appreciate just how good our sheep and beef farmers really are and why we need every chance to prosper. 
-----------------------------------------------------------
To subscribe to our weekly Rural email, enter your email address here.
-------------------------------------------------------------------------------------------------------------------------------------------
Farms For Sale: the most up-to-date and comprehensive listing of working farms in New Zealand, here »
-------------------------------------------------------------------------------------------------------------------------------------------
Here are some links for updated prices for
- lamb
- beef
- deer
- wool
----------------------------------------------------------
Rick Powdrell is Federated Farmers new Meat & Fibre chairperson