Export log price rebound gathers steam with China use up strongly and New Zealand's share dominating in that market; big new commitment to domestic market announced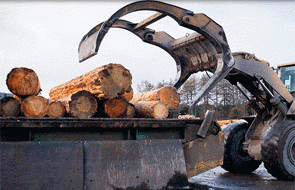 The big news story is Red Stag's announcement to build a new $60m sawmill on its Waipa site in Rotorua.
The mill is planned to run two shifts and take in 1.2m tonnes of logs per year.
The re-election of a National-led government has been favourably received by financial markets and the housing market.
Major falls in the international milk price, however, has led to Fonterra forecasting a slim $5.30/kg payout, leading to major falls in the value of the NZ$.
This fall gained momentum from strong economic figures coming out of the USA and the Governor of the Reserve Bank of New Zealand strongly stating that the Kiwi dollar was overvalued.
So whilst the much lower milk payouts will weigh heavily on dairy farmers and the economy generally, the lower Kiwi dollar will boost exporter revenues more generally and be a welcome relief to forest products exporters in particular.
It's worth noting that the BNZ is forecasting the NZ$:US$ cross rate to be 0.73 at the end of next year.
Export Log Market
Last month we reported a tentative drop in log inventories in China based on early September figures. This trend continued strongly during September, and by the end of the first three weeks of September (these are the most recent figures received), stocks had dropped to 3.8 mln m3 .
This represents a drop in stocks of 21,000 m3 per day for this period.
During the period delivery (new shipment arrivals) of North American logs was only 38% of off-take (sales to Chinese processors); New Zealand deliveries were 81% of off-take.
This reflects continued robust demand for logs in China with total off-take at around 60,000 m3 per day, and much lower deliveries (at around 39,000 m3 per day).
Domestic Log Market
Red Stag Timber Ltd recently announced a significant investment in additional log processing at its Waipa site just out of Rotorua. A new world-scale, state-of-the-art mill is planned to process around 1.2m tonnes of logs per annum on two shifts and cost around $60m.
The new mill will have the latest scanning, optimisation and sawing equipment and is expected to be up and running mid 2016.
The investment will lift the company's annual output from 450,000 m3 currently to 700,000 m3 in five years' time.
This investment reinforces Red Stag's commitment to be a leader in best-practice and efficient wood processing in New Zealand.
Strong building activity centred on Auckland and Christchurch underpins strong domestic demand for wood products. This demand will be bolstered further by the recent Government deal with the Auckland Council to fast-track new land for building, including low-cost houses through Special Housing Areas.
On top of the favourable exchange rate, the domestic pruned log price is also benefiting from an increased order profile for export clear lumber to the US.
This is due to improvements in US housing and renovation activity with sales of newly built houses at the highest level since May 2008.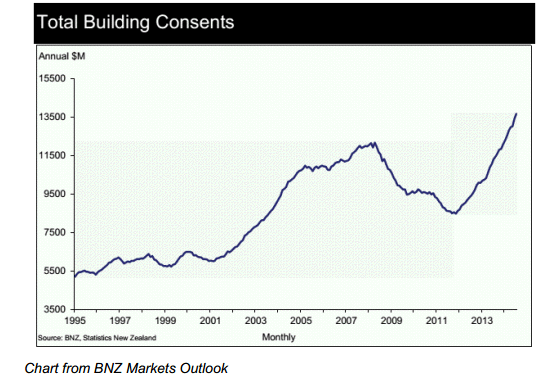 PF Olsen Log Price Index
The PF Olsen log price index increased again this month. It rose 5 points from 98 in September to 103 in October. It is now 14 points below the March 2014 peak of 117.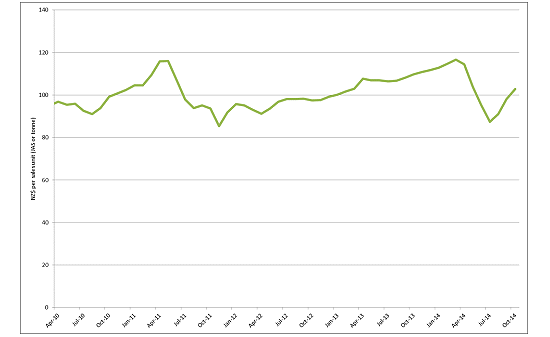 Basis of Index: This Index is based on prices in the table below weighted in proportions that represent a broad average of log grades produced from a typical pruned forest with an approximate mix of 40% domestic and 60% export supply.
Indicative Average Current Log Prices
| | | |
| --- | --- | --- |
| Log Grade | $/tonne at mill | $/JAS m3 at wharf |
| Pruned (P40) | 147 | 145 |
| Structural (S30) | 112 |   |
| Structural (S20) | 98 |   |
| Export A |   | 106 |
| Export K |   | 99 |
| Export KI |   | 90 |
| Pulp | 48 |   |
Note: Actual prices will vary according to regional supply/demand balances, varying cost structures and grade variation. These prices should be used as a guide only and specific advice sought for individual forests.
---------------------------------------------------------------
This article is reproduced from PF Olsen's Wood Matters, with permission.