John Brosnan says that now is the time to schedule some down-time for yourself now that the added stresses of calving and mating are finished for the year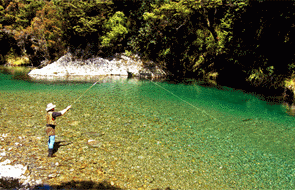 On farm everyone is probably feeling like a bit of a breather. Calvings over. Matings over. The season is fully underway.
The breaks roster is back on its regular cycle for staff, but what about you – the boss?
Not long ago all the new changes for the Health & Safety in Employment Act came into force and so now on farm we really do need practical and robust health and safety policies, team meetings and trainings and all the other ducks lined up that keep staff safe and WorkSafe NZ happy.
But there is still an element missing – one that is often overlooked because it would be impossible to regulate yet has effects within the workplace consistently. Your own personal wellbeing.
Many employers contact me frustrated with employees who are not doing the job well because they don't seem to understand that you cannot do a good days work after a nights drinking or just a very late night and not enough rest.
Through calving and mating dairy farm staff get very tired and push themselves hard. And now the employers are helping schedule time for those staff to catch up on some time off and recharge their batteries. 
But what about you, the boss?
Often due to good relief staff being well booked in advance or not available in some areas, the boss will cover the staff's time off by doing the extra themselves.  After all that is what owners do isn't it?
Of course it is. But the reality is I see many of those owners also hanging out for a break – but knowing their break is "later" and later is often much later.
But make no mistake – tiredness causes accidents.
It is undoubtedly a risk factor. So it needs a plan to manage it.
So what are some ideas that can be used?
Can you have some week days off and get those good relief staff that are booked every weekend to cover you during some week days?
Can you change something in your schedule so that you can at least get off farm and enjoy a few hours recreation, fishing or whatever your unwind hobby is?
This time of year often sees some rural staff shifting around again for a variety of reasons and some fixed term employees have just finished roles – could any of these people be suitable for you to employ casually on farm for a few weeks, just to provide cover so you as well as the team can have some time off to recharge.
These are just some ideas that could help.
The key thing is your health is important; as well as having good safety systems on farm make sure you lead in health and safety by example on your farm and look after your own wellbeing.
----------------------------------------------------------
John Brosnan is a business development adviser at CooperAitken Ltd, accountants in Morrinsville and Matamata. You can contact him here