A growing number of analysts think dairy prices will start to trend higher after low prices burn off some export competitors and China stocks sink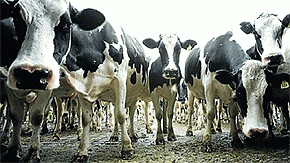 Some analysts are coming to the view that dairy commodity prices might start rising later in the year.
ANZ, Danone, and Rabobank have all recently opined that a turn in prospects may be due.
Their views come even though the early 2015 boost proved temporary and has been followed by another sharp downturn.
ANZ said that, for the second quarter "any sharp recovery in dairy prices looks unlikely", citing "cautious sentiment" among buyers who seem to be well stocked.
"Many buyers appear to have disappeared from the market," ANZ said.
"With adequate [supply] cover, they can afford to take a wait and see approach," they said.
The removal of European Union milk production quotas this month would spur a rise in the region's output and cast further questions over any upturn.
"Upward momentum"
But ANZ also noted current prices are above the low levels we saw in late 2014 in the GlobalDairyTrade auctions. These slightly higher levels are despite Fonterra adding some modest volumes to the auction offer levels.
In fact they go on to say "by the second half of 2015, more upward momentum for whole milk powder prices is likely to take hold as global inventories fall."
They think values for whole milk powder are "forecast to trade higher in the second half of 2015".
They see lower farmgate milk prices in other exporting countries "start to bite ... slowing supply and helping rebalance the dairy market".
Chinese demand to return
French dairy giant Danone also thinks prices will recover later this year, and they also think it will be a return of China demand that will spur the change.
"The recent evolution of supply and demand is still showing that there would be a rebound between the third-fourth quarters and the beginning of next year," Cecile Cabanis, the Danone finance director is reported to have said.
"We expect that the Chinese imports will start again, and they will create more pressure on demand, hence have an impact on prices," Cabanis said.
Rabobank agrees
Rabobank last month forecast price "will start to rise from the third quarter, gaining more momentum in the October-to-December period". Rabobank's change in tone was the first to sniff out a coming rise in prices.
Three analysts views in themselves won't turn any markets but all are astute observers.
Price improvements in the October quarter won't come in time to 'save' the 2015/16 Fonterra payout level or payout levels for any other dairy company.
But the prospects of improving prices on the horizon should help the dairy industry with the knowledge that better prices are a realistic possibility within the next year.