Peter Weblin assesses the consequences of harvesting the large forest plantings of 20+ years ago and the implications facing forest owners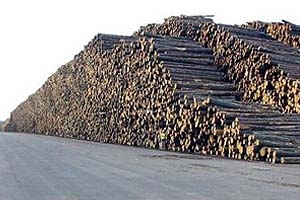 During the 1990s forestry investment was at an all-time high in New Zealand.
This was stimulated by a price spike in 1993 which saw log prices reach an historic record high in the third quarter of 1993.
Export A-grade peaked at $370/m3 delivered to wharf gate (NZ port).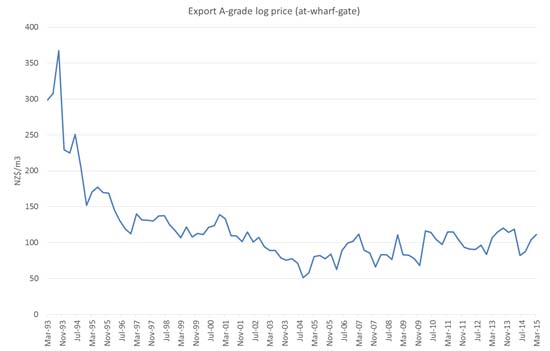 Source: MPI
From 1992 to 1999 there was an average of 65,000 hectares per year of new commercial forest planting. In 1994 new planting levels peaked at 98,000 hectares. Radiata pine forestry was the new "green gold" with the associated talk of riches and a "paradigm" shift in the markets.
What has transpired in the market since is radically different from most of the expectations of those that participated in the planting boom and financial returns from well-managed forests have gravitated to be more in line with other comparable land uses.
Twenty three years on from the start of the planting boom, these forests are nearing maturity. The chart below shows one scenario of the potential wood availability. A key characteristic of the massive increase in wood availability is that it is entirely from the smaller (less than 1,000 hectare) forest owners.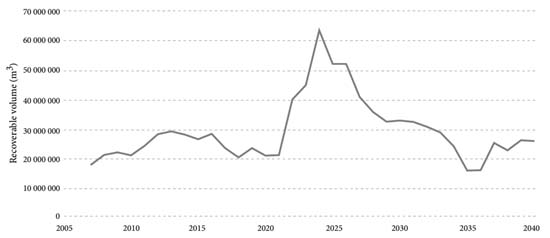 Source: MPI
The actual increase in harvested volumes won't look like this chart. This is partly because the chart is based on harvesting at age 30, whereas the average harvesting age is actually several years younger than that, especially when the log market is strong.
The increase will also be constrained by logging, transport and port capacity. PF Olsen conservatively estimates that 300 additional harvesting crews and 900 additional logging trucks will be required to tackle the projected volumes. Most of the volume will have to be exported unless there are significant expansions in domestic processing. This is expected to double the current volumes going through New Zealand's log export ports. With these constraints, it is unlikely that harvest volumes will be able to increase any more than 20% year-on-year.
The profile of these large areas of maturing forests are:
Smaller blocks. An estimated 80-90% of the owners have forests less than 100 hectares.
 
Greater distance to domestic processors and ports – higher log transport costs.
 
Steeper (more hilly) terrain and higher logging costs.
 
More rigorous environmental and safety compliance based on revised legislation relating to principal's duties and higher societal expectations.
 
As a result of the above, relatively lower stumpages (net return to the forest owner). Lower stumpages are much more sensitive to log price swings. For example, a $10 log price increase means a 50% increase in a $20 stumpage, but only a 20% increase in a $50 stumpage.
 
Higher volatility in harvesting volumes based on more market-sensitive stumpages (above) and shorter harvesting time-frames. Smaller blocks are exposed to the market for shorter periods. Smaller forest owners are, therefore, more likely to suspend harvesting during market downturns.
There will be increased tension between forest owners wanting to avoid selling logs in a down market and harvesting contractors needing steady work to maintain financial viability and skilled workers. While this tension exists today, it will be much more significant in the future as harvesting shifts from predominantly larger forests to predominantly much smaller blocks.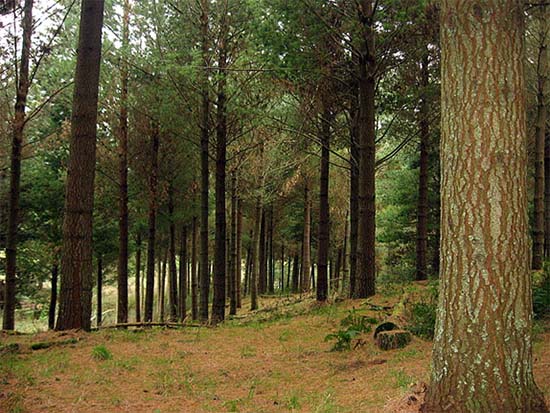 Large areas planted in Radiata pine forests in the 1990s are approaching maturity with significant implications for the sector.
The other big question is whether the markets can take the volume.
Announcements of large increases in capacity at Red Stag and Lumbercube will make a material difference in log demand in the Rotorua area, but have little impact elsewhere. Other areas will likely have to rely almost entirely on increased log exports. Our current log markets have the potential to easily absorb the increased volume, so long as the key purchasing countries' economies continue their current strong growth.
Competition of supply from other sources is not expected to be too big an issue especially if the current momentum to reduce illegal harvesting around the world continues. However, when the above are unfavourable, New Zealand's increased harvesting volumes do have the potential to weigh heavily on a soft market.
Implications for the sector
The above context is expected to result in the following trends:
Rationalisation – aggregation of the larger forest blocks into single ownership entities (usually specialist timber investors).
 

Attempts to form harvesting cooperatives/clubs to provide more efficient working programmes, more work stability and better log marketing. Such arrangements, however, have had low uptake in the past mainly due to individual forest owners all believing that they can time their harvesting for the peak of the market (despite the physical impossibility).


 

Increased challenges for harvesting-related contractors, mainly in the form of attracting and retaining safe and skilled workers and high debt levels with volatile work programmes.


 

Congestion at those log export ports that have made insufficient investment in infrastructure to handle the increased volumes.


 

Greater benefits from getting Harvest-Ready early. This includes mapping, developing an inventory of the timber in the block and harvest planning.


 

Widespread disappointment amongst forest owners who take an opportunistic approach to harvesting and try to time the market, but get left with no harvesting capacity or the high risk of using unsafe and low-quality contractors.


 

A higher level of sales of near mature/mature forests (and land) as owners opt for an easier sales option and earlier cashflow. This options can also take away the residual land issue after harvesting.

 
---------------------------------------------------------------
This article is reproduced from PF Olsen's Wood Matters, with permission.